Comfortable Camping Chairs
Comfortable Camping Chairs
This post may contain affiliate links so I earn a commission.
Whether you're relaxing at a campfire or sitting on the sidelines enjoying your favorite sporting event, comfortable camping chairs are a necessity.
You can walk into any big box store and buy a camping chair, but it's worth doing a little research to find a chair that's perfect for your needs.
For example, do you want a chair with adjustable legs that can adapt for uneven ground at a concert?
Or, if you just plan on sitting around the fire at your campsite, maybe comfort is your number one goal.
With a magnitude of price points and options, it's easy to feel lost or overwhelmed, so we've created this review to make things simple for you!
So, if you're sick of having a sore back or numb bottom from a cheap chair, check out some of the options below which are sure to change your next outdoor experience.

How To Store Your Camping Chair
A good quality camping chair isn't cheap.
With costs ranging from $50-$150 you'll want to make sure you take care of your investment by learning how to store camping chairs when they're not being used.
Comfortable camping chairs that are left outside throughout the summer will soon develop mold when they get rained on and start to rot.
Or, when the summer months are done, winter storage might be your main concern.
You don't need a huge pole barn or spacious garage to keep your chairs neatly tucked away.
Try these ideas for easy and cost effective ways to store your comfortable camping chairs when they are not in use:

Large totes or bins
Hang them on a wall with hooks
Create a loft space in the ceiling where they can be neatly stacked
Purchase an easy to assemble chair rack
When considering garage storage for camping chairs, you basically want to conserve space since we all need extra room in our garage.
I always like to elevate my chairs off the ground which keeps the dirt and water off of them, especially in the winter months when ice and snow melts off of our vehicles.
Plus when they're elevated, it makes sweeping or blowing out the garage a lot easier throughout the warmer months!
Oversized Comfortable Camping Charis
Just like humans, camping chairs come in all different shapes and sizes.
So if you're a larger person, check out this link that details the best camping chairs for big people.
As a tall person myself, I always feel like the chair I'm sitting in is too small.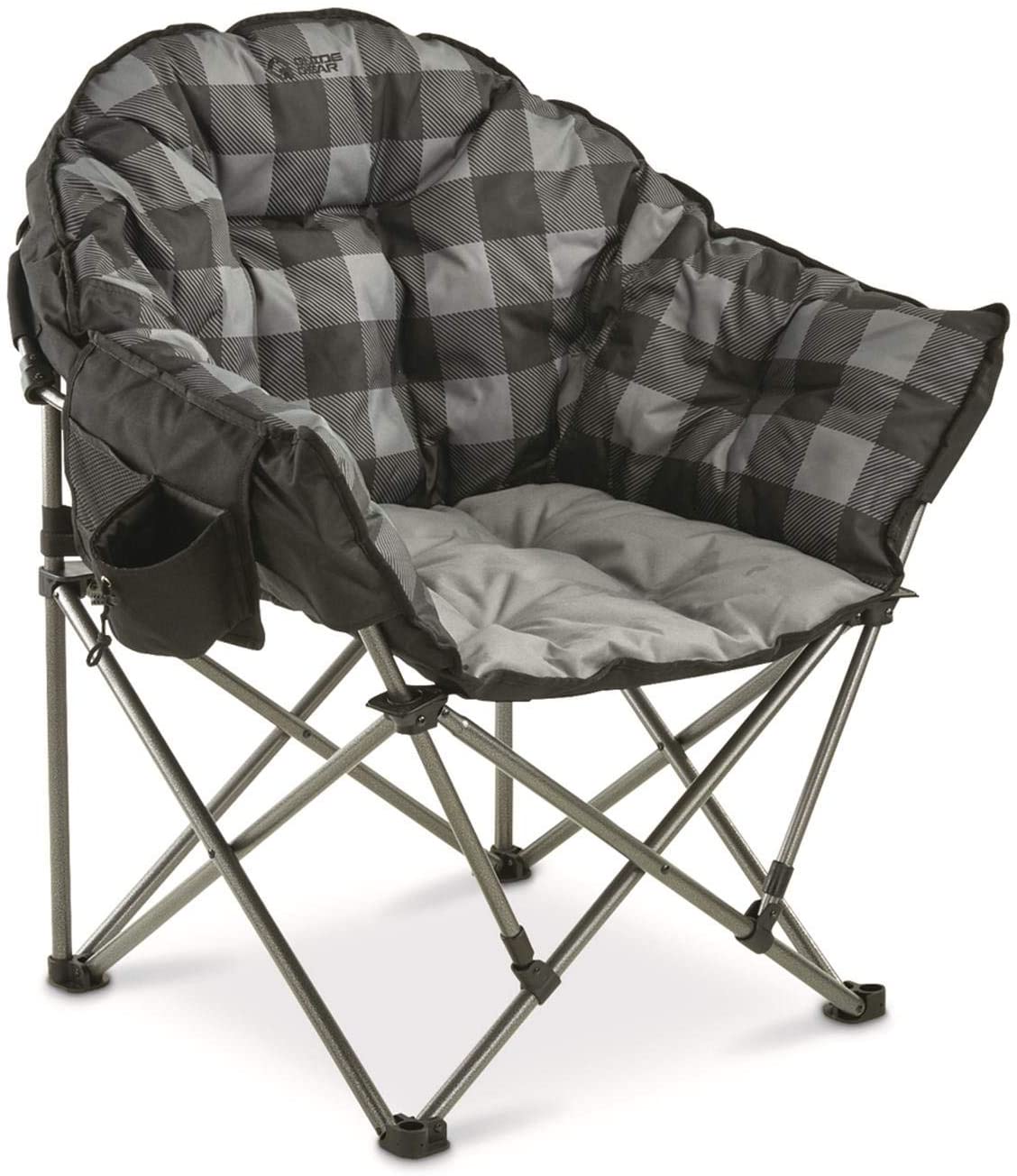 I need something with a larger frame that doesn't make me feel like I'm sitting a foot off the ground, or confined to a small space.

For maximum comfort, check out these tall fold up camping chairs or these high back folding camping chairs that are perfect for larger people.
Camping with a guest, or want even more room to relax?
Check out these double fold up camping chairs for maximum room and comfort.
Comfortable Camping Chairs For Seniors
Traveling the countryside is a retirement dream for many people.
You've worked your entire life to save up for a travel trailer or motorhome and be able to camp across the county, relaxing along lakes, rivers and campfires.
However, we all can agree that as we age, comfort is a major concern.
Camping chairs with solid arms are some of the best camping chairs for seniors and elderly people because they create a sturdy platform to push down against when you get in or out of the chair.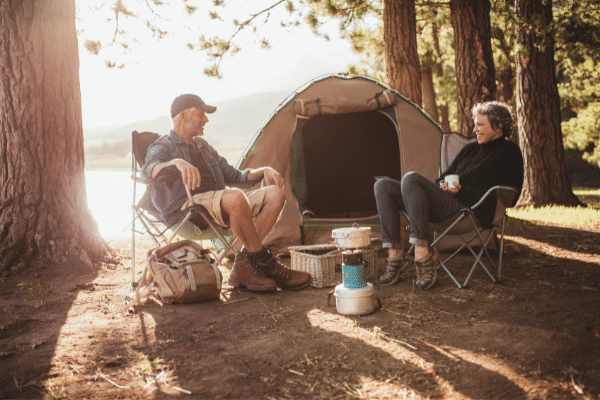 Also, some of the best camping chairs for comfort will have adjustable legs to keep you level on a slanted slope, or a padded seat to keep your lower body as comfortable as possible.

Do you enjoy being outside but don't want to get a sunburn?
Camping chairs with a sun shade will allow you enjoy a sporting event or concert without the concern of getting too much sun.
Small, Lightweight And Budget Friendly Camping Chairs
A comfortable camping chairs don't have to be expensive, or have to be large.
In fact, a lot of us only use a camping chair occasionally, so you might not want to spend a fortune on your next chair.
If you're on a budget, check out our picks for the best camping chairs under 50 dollars.
Backpackers or hunters deep in the bush can appreciate small and lightweight items.

Do you have a hunting or fishing trip planned where you'll be backpacking in?
Take a look at our top picks for compact folding camping chairs that are small and lightweight.
Top Rated Comfortable Camping Chairs
If you're looking for the most comfortable camping chairs that have the highest quality standards and best customer reviews, then you'll want to check out our picks for the best quality folding camping chairs.
These chairs are built for comfort while giving you the quality to last for years.
Sure, they might be a little more expensive than your average folding chair found at a local hardware store, but the extra money is definitely worth the benefits you receive.
Still need more options and don't like to shop in person?
Check out the best camping chairs on Amazon for a high quality chair delivered directly to your door.
Comfortable Camping Chairs - Overall
Large or small, short or tall, there's a lot of different comfortable camping chairs to choose from that are sure to fit your budget and meet your needs.
Sitting in a comfortable chair can make all the difference at a campfire or sporting event, so check out the options listed above for some of the best camping chairs on the market today!