Camping Chairs for Big People
Camping Chairs For Big People
This post may contain affiliate links so I earn a commission.
Camping chairs for big people are important because people don't come as "one size fits all" so your camping chair shouldn't either.

If you, a family member, or a camping buddy could be described as "party sized," you should have a few camping chairs for big people among your outdoor gear.
Then, it won't be awkward if you invite a friend over for a night around the campfire or to meet you at the campground for a cookout at your RV.
Neither of you will have to worry about a flimsy folding camp chair being too uncomfortable or in danger of breaking if your larger friend sits in it.
When folding camp chairs first hit the market, they were only available in one basic size.
Very quickly, it became clear that these chairs weren't designed for everyone.
People who were built like the average American, with a little extra weight around the middle, struggled to get comfortable in these chairs.

And then there was the constant fear that one of the plastic fasteners would snap, sending the person plunging to the ground in a heap of embarrassment.
Still, it was convenient to have camping chairs that could be easily folded up and carried from place to place.
The good news is that the manufacturers of folding camping chairs listened to their customer base and began to design and build camping chairs to accommodate taller and larger people.
These chairs aren't just built for comfort.
They are also made to be durable enough to handle the extra load, yet still be lightweight and portable enough to easily carry it to a campsite, cookout, or sporting event.
Camping Chairs For Big People - What To Look For When Shopping
When shopping for camping chairs for big people, be sure to read the load ratings on the labels.
A basic, inexpensive camping chair will be rated for "up to 200 pounds" or "up to 250 pounds".
This is the maximum weight the chair can safely hold.
If you or your friend are hovering around that limit, look for a chair with a higher load capacity.
Better safe than sorry.
Seek out camping chairs for big people that have been thoughtfully designed for comfort and usability.
For example, there are chairs on the market that have a longer front to the seat and padded front edging because customers complained that the seam on the front edge of the seat dug into the backs of their legs.

Pay attention to the materials that have gone into the construction of the chair.
Steel, powder-coated metal frames are typically stronger than aluminum frames.
See what fabric material is used and if the stitching is reinforced.
Look for fasteners that are solidly built with strong plastic composites.
You may have to pay a little bit more for these features, but it'll be worth it.
You will have the peace of mind knowing you probably won't end up on the ground at your next camping trip.
The Best Camping Chairs For Big People - Our Top Picks
We have searched for our picks for some of the best camping chairs for big people on the market today.
Below, you will find a few of our favorites.
Each of these folding camping chairs has been designated as suitable for larger individuals.
XL Oversized Camping Chair by Sunnyfeel
Sunnyfeel's XL Oversized Camping Chair has been designed for big and tall users.
In fact, it can accommodate people over 6-feet, 4-inches in height and weighing up to 500 pounds.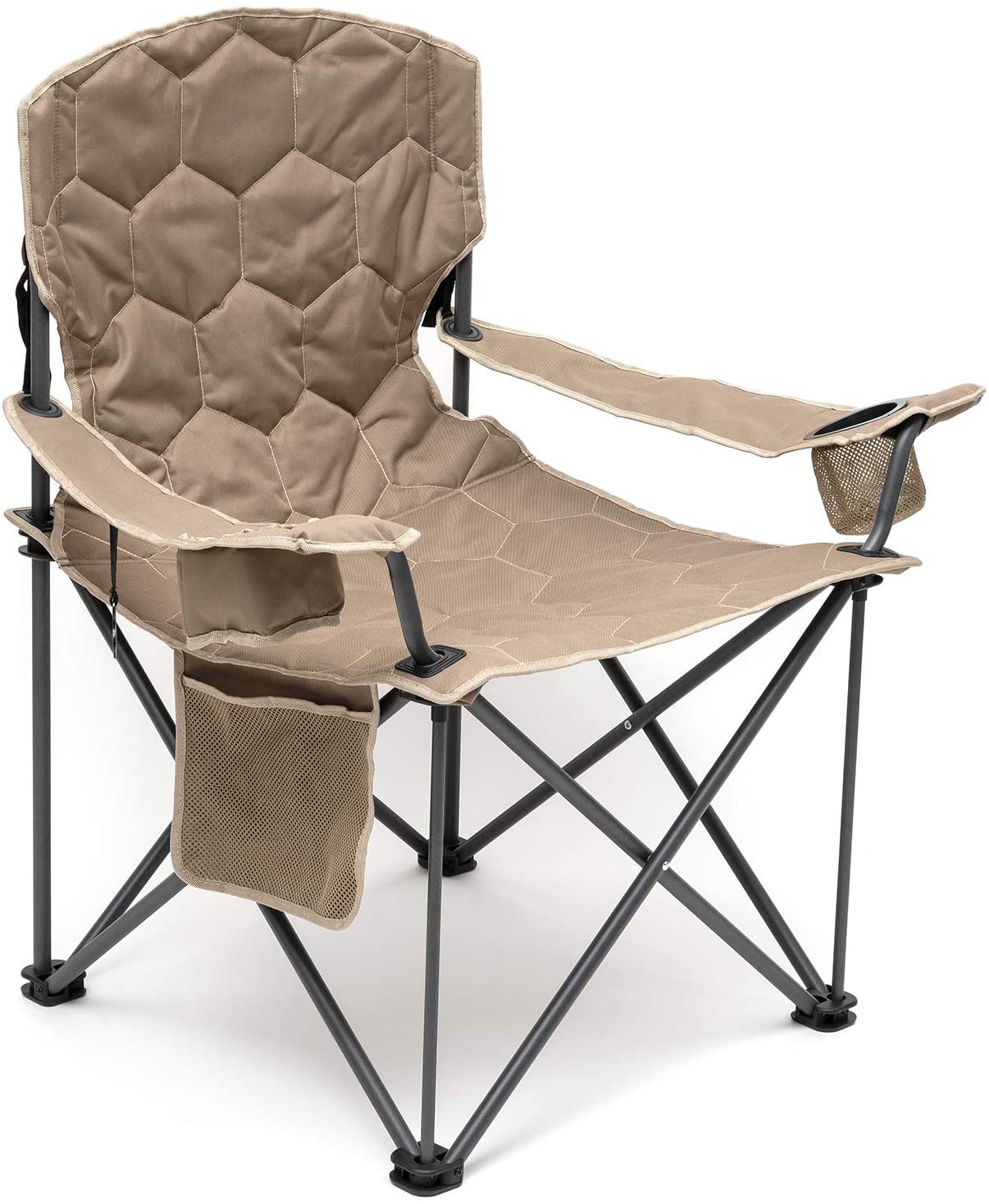 XL Oversized Chair By Sunnyfeel
The sturdy, steel frame prevents the chair from buckling.

The seat, back, and armrests are made with 600x300 Oxford cloth that has double seams and reinforced stitching.
The chair is well-padded with 140g foam padding that is strong, comfortable, and breathable.
The XL Oversized Camping Chair doesn't skim on extras, either.
The folding chair has two cup holders and a built-in bottle opener.
There is a storage pouch that can hold your cell phone, sunglasses, car keys, and more.
The chair may be big, but it still easily folds into its convenient carrying bag so you can swing it over your shoulder and transport it to the picnic, concert, or campsite.
XXL Oversized Directors Chair by Timber Ridge
This folding camping chair is a bit different because it is modeled after a director's chair, but it still folds up for ease of transport.
The seat of this Timber Ridge chair is 28-inches wide and can support up to 600 pounds.
The 25mm powder-coated steel tubes are sturdy enough to hold bigger people.
The fully padded seat and back are made using 600D polyester embossed fabric and double stitching.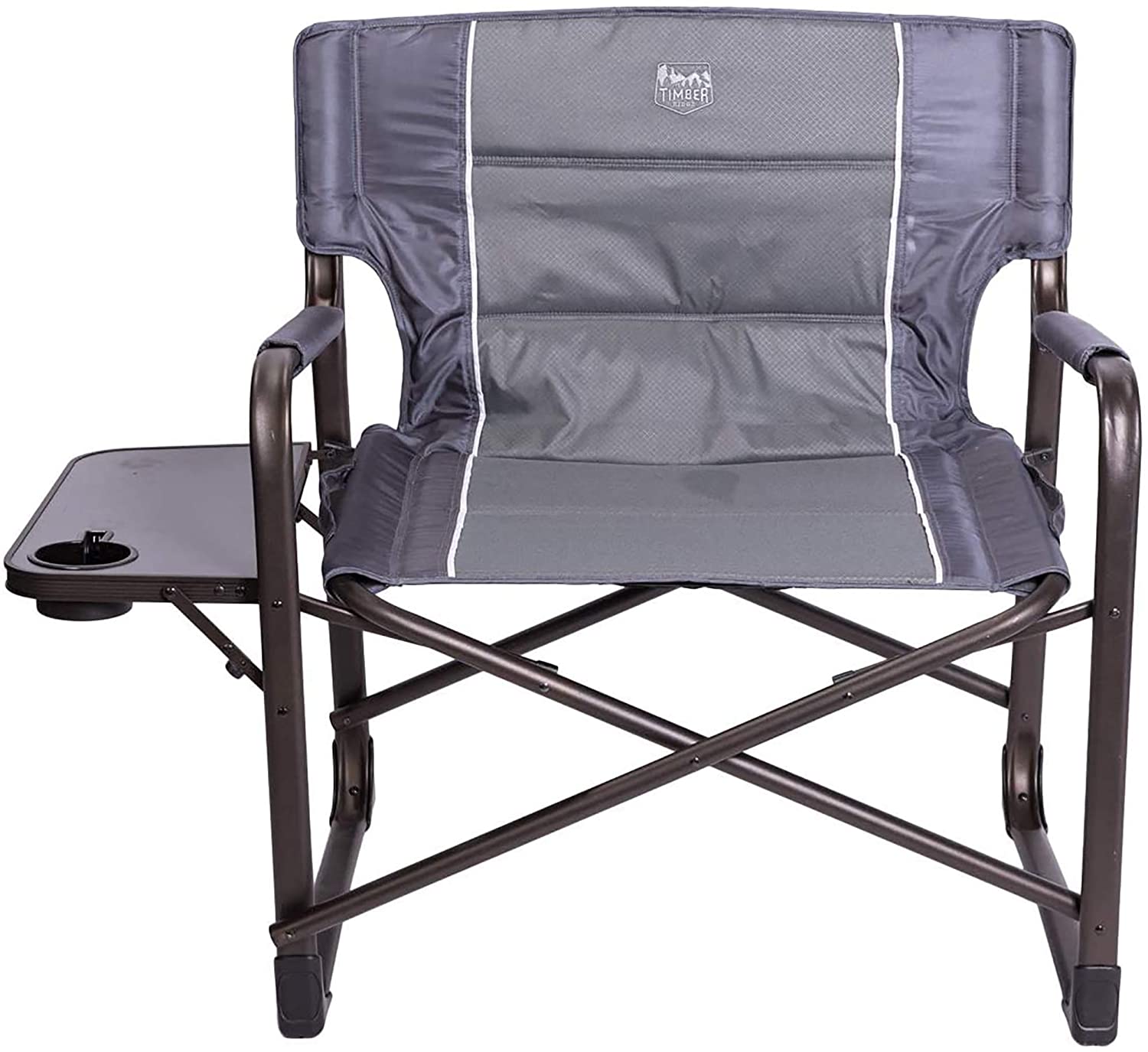 Oversized Directors Chair by Timber Ridge
Because of its director's chair design, the Timber Ridge chair doesn't rely on plastic grommets or fasteners that are prone to breakage.

Designed with big and tall people in mind, this folding camping chair has a taller-than-average back for added comfort and relaxation.
Not only is this chair roomy and well padded, but it has a handy side table with a cup holder.
The side table is large enough to hold your dinner plate or you can use it for your cell phone or tablet, book, or sunscreen.
It all folds up easily and fits in a car's trunk.
1000-Pound Capacity Heavy-Duty Portable Oversized Chair by LivingXL
How about a folding camping chair with a weight limit of 1000-pounds?
That's what you get with LivingXL's Heavy-Duty Portable Oversized Chair.
Everything about this chair is larger and stronger.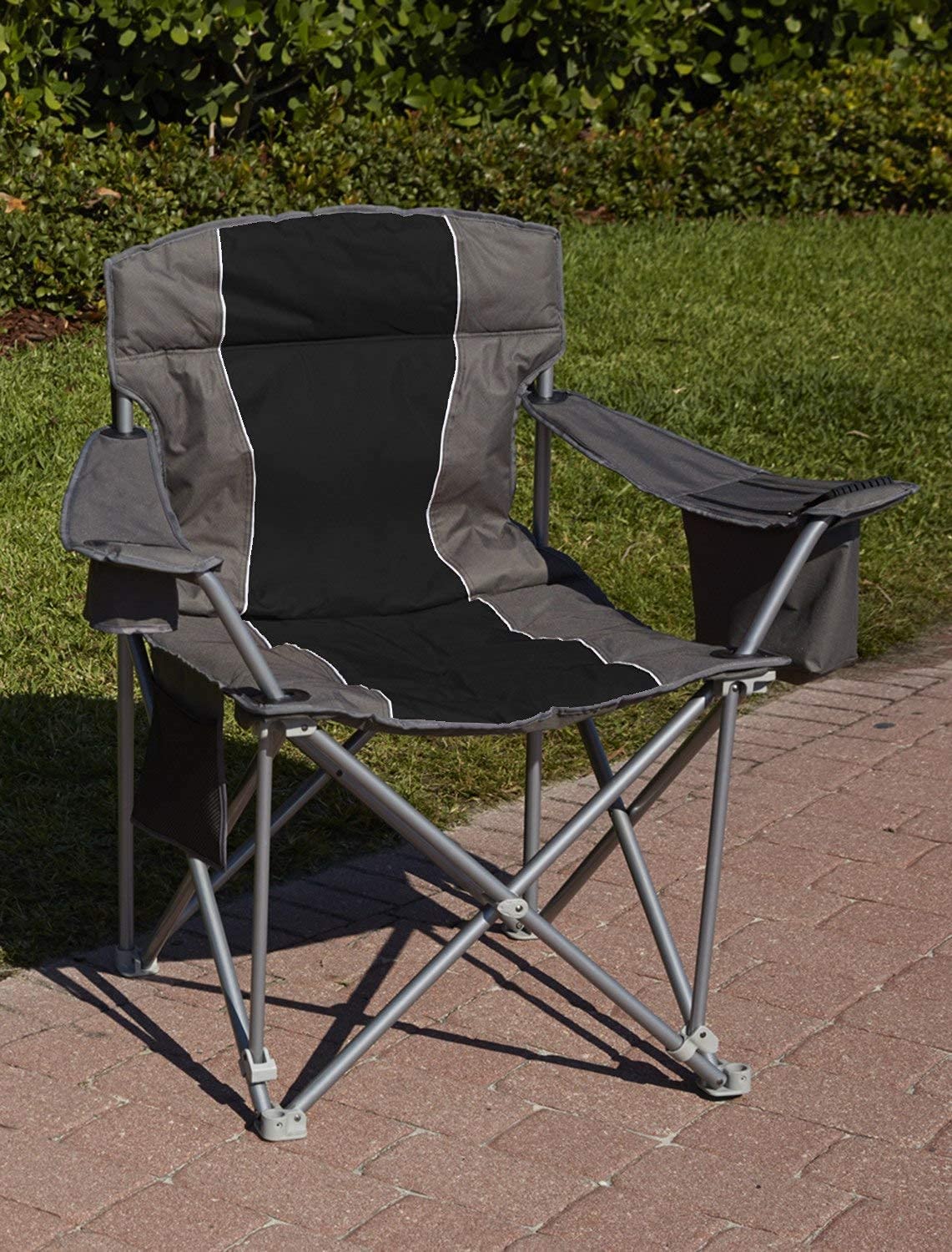 LivingXL Heavy Duty Oversized Chair
The frame is made using extra heavy-duty 22mm steel tubes to accommodate the increased weight and to add stability.

The fabric used is a 600D high-quality, fully padded polyester that helps to evenly distribute weight across the frame.
Since LivingXL is one of the leading American-owned brands for big and tall men, you will have the peace of mind knowing that you are purchasing from a reputable company with longevity in the industry.
The chair has a mesh back panel for airflow comfort on hot summer days.
The left armrest has a large cup holder while the right one has a gadget holder for your phone, earbuds, or camera.
Hanging off the side of the seat is a mesh pouch that is roomy enough for your bug spray and sunglasses.
Camping Chairs For Big People - Overall
Camping, cookouts, and outdoor concerts are meant to be enjoyed by all people regardless of size.
Your big and tall friends can enjoy an evening of relaxation in the comfort of camping chairs for big people, knowing that they can trust the strength and durability of their products.