High Back Folding Camping Chairs
High Back Folding Camping Chairs
This post may contain affiliate links so I earn a commission.
Looking for the best high back folding camping chairs?
You've come to the right spot!
Camping has once again become a very great alternative to other forms of entertainment.
With the onset of a pandemic, many people either flocked to campgrounds or set up camp in their own backyards.
The camping experience brings with it many challenges.
Where to camp?
Where to find shelter?
What to eat for food?

And most importantly - where to sit when the evening arrives when your campfire is blazing!
There are many benefits to owning a good set of camping chairs.
In this article, we'll review the seven best choices for camping chairs so you can find out what other people are ordering - and what you should consider next.
What Is A High Back Folding Camping Chair?
High-back folding camping chairs are just that!
Camping chairs that offer a high-back.
These chairs are increasing in popularity, as the higher backs provide so much more support and comfort over their shorter counterparts.
Portability is another important aspect of camping chairs.
Most camping chairs have the capability to be folded and carried.
Usually very light in weight, camping chairs are a great choice for any temporary seating.
Many options now come with folding capabilities as they have evolved in the past few years.
Cupholders, canopy options to provide shade, and many other features have also been incorporated to make your camping or backyard experience more enjoyable.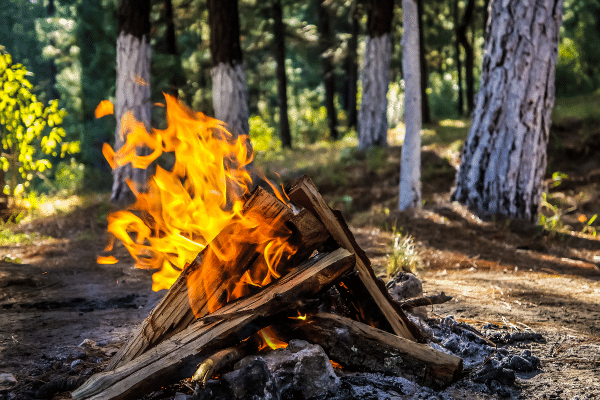 As with any product, there will always be some drawbacks or particular aspects of camping chairs that may not be favorable.

Common complaints about folding camping chairs are most frequently about the support systems.
Metal bars or rods form the chair and, depending upon your size and stature, may not fall in the right place for comfort.
Height is also a determining factor in comfort, as this dictates where your legs will come in contact with these supports.
Certain models of high back camping chairs have self-adjusting seats so that the backs recline according to how far back you sit in the seat.
This is a wonderful feature, but many feel the back should lock in place.
These are important factors to keep in mind as you're shopping for a new camping chair.
We'll give you some ideas of which products to consider - with these features in mind - as you prepare for your next backwoods excursion (or hey - your next tailgating party).
Top 7 Best High Back Folding Camping Chairs
These high back folding camping chairs offer superior comfort and support, and are built to last.
#1 - GCI Outdoor Freestyle Rocker
The GCI rocking camping chair is one of the top items being bought on Amazon right now.
With reviewers touting its comfort and durability, it is easy to see why this chair is in such high demand.

Constructed with heavy-duty powder-coated steel, this lightweight, foldable frame has been rated to support up to 250 pounds.
Its patented Spring-Action Rocking Technology ensures you experience a smooth rocking motion when out camping or on your patio/garden/lawn.

The majority of reviews for the chair are extremely positive - purchasers love how comfortable and strong it is - but some have noted that 250 pounds might not be sufficient enough as a weight limit, while others miss the padded armrests typically included on other camping chairs.
Pros:
Comes with Spring-Action Rocking Technology for comfort
Durable and lightweight
Attractive to look at
Cons:

#2 - Coleman Camping Chair With Built-In 4 Can Cooler
Enjoy the outdoors with comfort in your Coleman camping chair.
It offers superior padding at a relatively inexpensive price, making it affordable for your whole family.
Stay hydrated by keeping up to four cans of your favorite drink cooler in the convenient side pocket and never worry about spilling them thanks to the built-in mesh cup holders.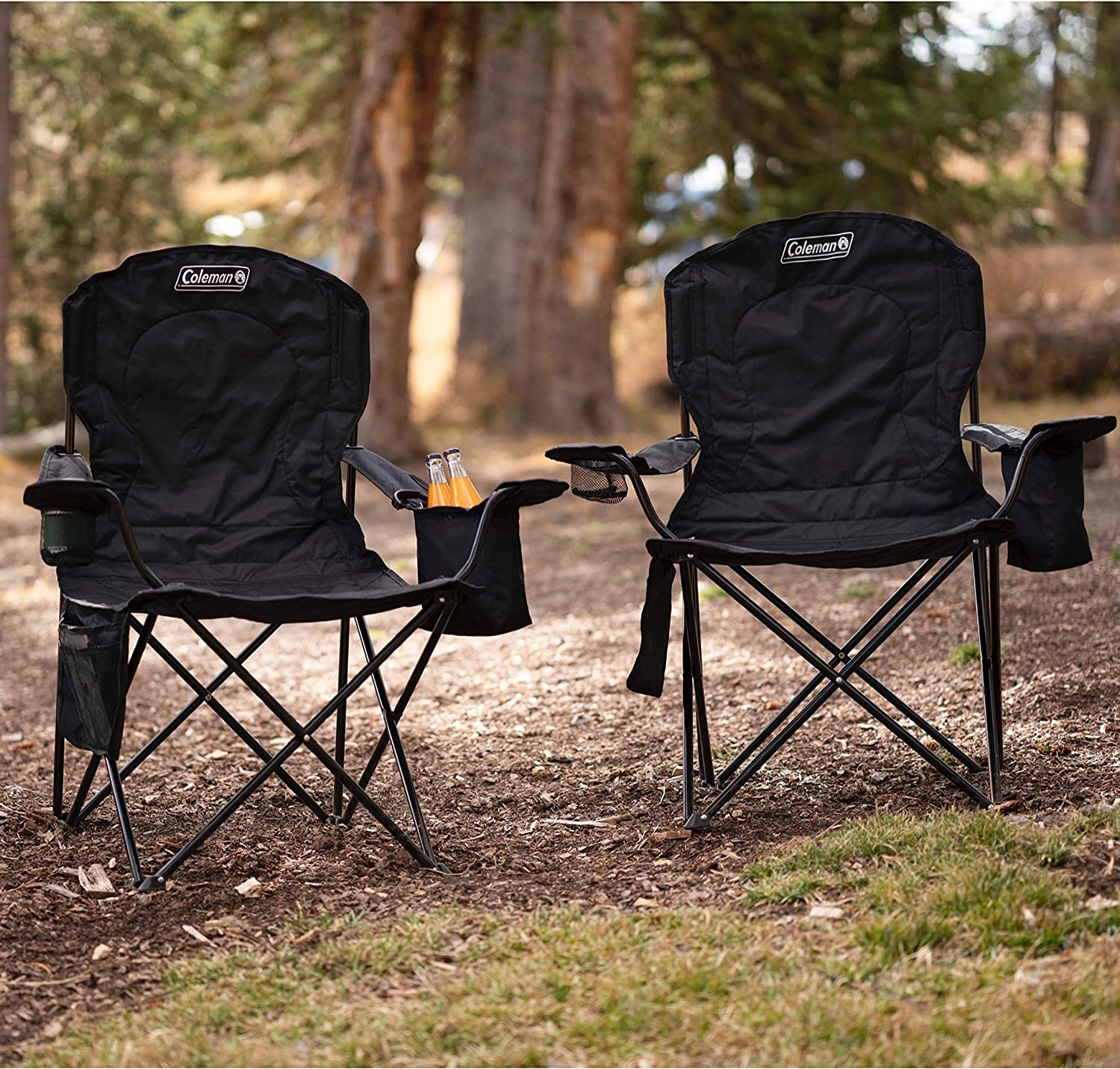 Coleman Camping Chair With Cooler
The adjustable armrests make sure that you are always able to find the perfect position while the steel frame will withstand weights of up to 325 pounds.

The fully cushioned seat and back add extra support, although some customers have commented about the durability of the carry bag and how low the chair sits from the floor, making it more strenuous for some people to get out from.
Pros:
Great padding
Drink storage built-in
Adjustable armrests
Cons:
#3 - Kiljaro Dual Lock Portable Camping Chair
The Kijaro camping chair is an affordable option for those looking for a comfortable, well-made seat.
Its lightweight and durable design can support up to 300 pounds with ease.
One of its specifications that differentiates it from other camping chairs is the extra height – great for taller people – and its wider seat, which provides more comfort and stability than most models.
Kiljaro Portable Camping Chair
Unfortunately, due to its size and weight, the Kiljaro chair does not fold down in a compact way, making it difficult to transport or store.

In addition, some customers have found that the chair is not as solid as some heavier models.
Additionally, its height may be an issue for shorter people who cannot rest their feet on the ground when seated.
Pros:
Added height for taller people
High weight capacity
Lightweight and durable
Cons:
Not the ideal height for shorter folks
#4 - Cliq Camping Chair
The Cliq compact chair is a great solution to those on the move that still have to ensure comfort and convenience.
Crafted from aircraft grade aluminum, ripstop nylon and tarpaulin that make this chair very lightweight yet strong enough to support up to 300 pounds of weight.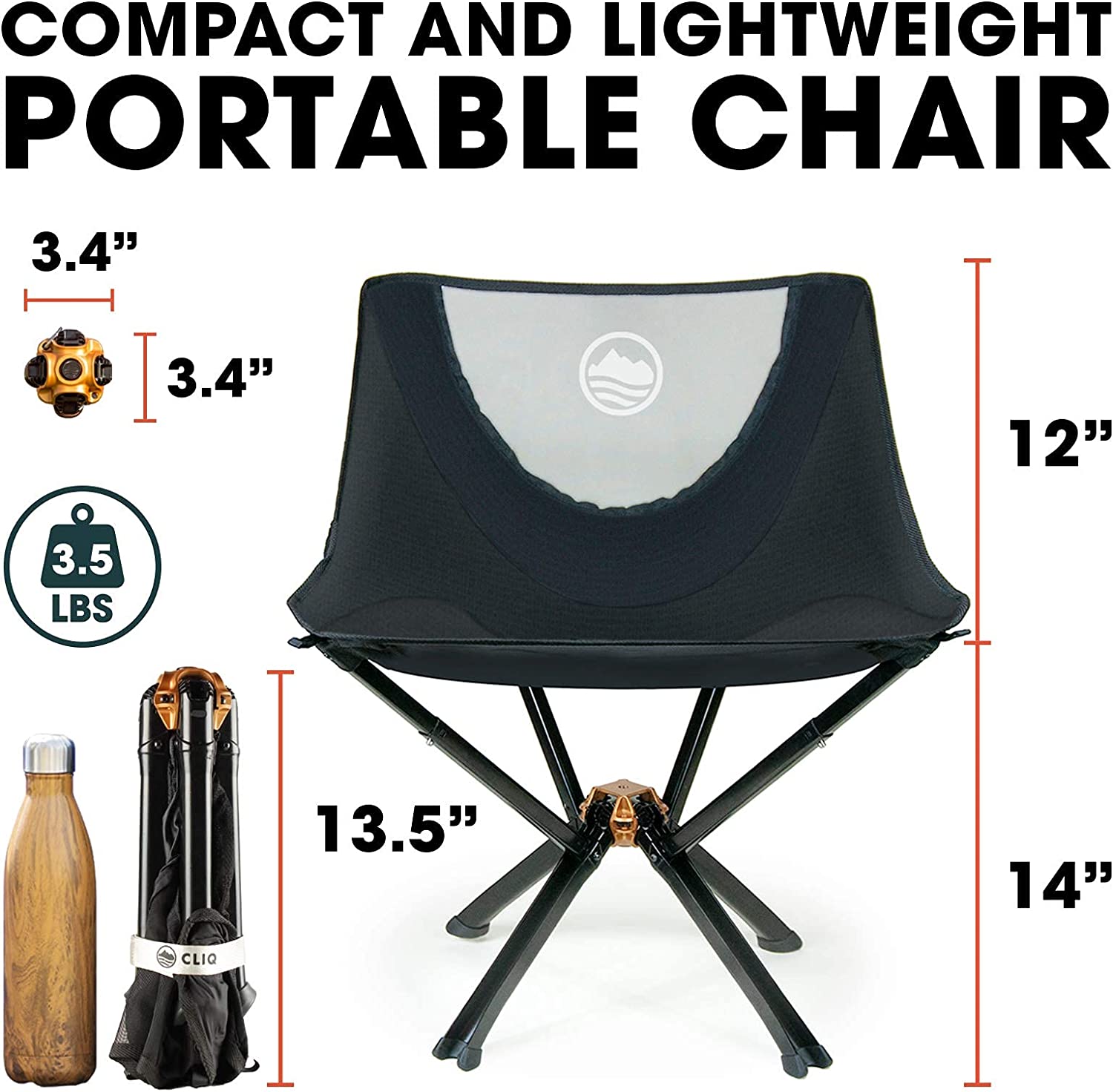 With an assembled height of 27 inches tall, with a front of 17 inches tall and a seat of 12 inches from the floor users found the contoured canopy design provides good lumbar support.

When folded, the chair itself fits into a bottle sized size making it very convenient for transport or storage.
However, many felt that the price tag was too much, since the chair appears to be lightly built compared to some other chairs in its class.
Having to collapse the arms unless you want to carry it unfolded is an annoying extra step, but overall, this is not enough of a deterrent, given all its features.
Pros:
Canopy design for coverage
High weight capacity
Durable build
Cons:
#5 - Tommy Bahama Five Position Classic Chair
The Tommy Bahama five position classic chair's unique design is great for the beach; it offers five positions for seating, including a lay flat position which makes it perfect for tanning.
Tommy Bahama Five Position Chair
With its lightweight aluminum construction and 8.5 inch seat height from ground, it is ideal for camping, concerts or afternoons in the park; plus the convenient towel bar and storage pouch add extra convenience to this chair, making it a great value.

While some buyers felt that the chair could benefit from increased padding, overall reviews are quite positive with people praising the adjustable positions and lightweight build of the chair.
That said, when it's in the backpack position for easy transport, it's quite awkward and hard to carry on one's shoulder due to its size and structure.
Pros:
Lightweight construction
Ideal seat height
Add-ons like towel bar and storage pouch for convenience
Cons:
#6 - Kings Trek Heated Camping Chair
The Kings Trek camping chair is an incredibly practical item for anyone who likes spending time outdoors, especially during cooler weather.
With three adjustable heat settings and a heavy duty construction that supports up to 300 pounds, it's perfect for fall sporting events, hiking, or even late season camping.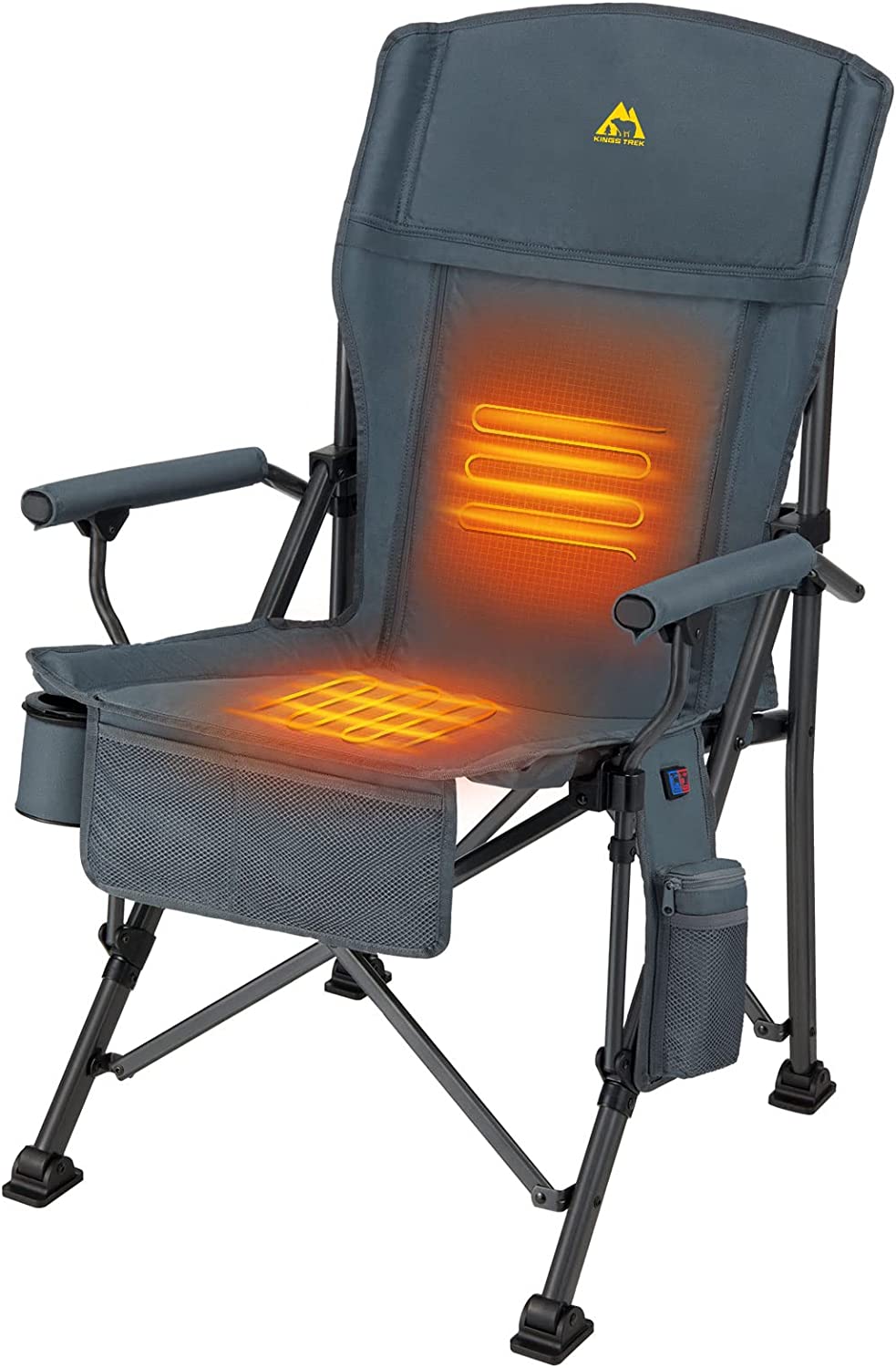 Kings Trek Heated Camping Chair
The convenience doesn't stop there either - the chair comes with a carry bag so transporting it is effortless and its built-in battery pack can provide heat for up to ten hours per charge depending on the setting you choose.

Additionally, you can even charge your cell phone right off the battery pack!
If you're willing to invest in this high-end chair, you won't be disappointed; these features make it well worth the cost.
Pros:
Allows you to charge your phone
Has a built-in battery pack
Heavy duty construction
Cons:
#7 - Coleman Outpost Breeze Portable Folding Deck Chair With Side Table
The Coleman Outpost Breeze portable folding deck chair with wide table is a great value because it comes with not only the deck chair itself but also one free-standing camping table.
The chair features a 20.5-inch seat and sitting height of 17 inches, providing enough room for comfort.
Coleman Folding Chair With Table
Its angled back and arms provide a relaxed position that many have found brought relief to their lower backs.
Though some may find the lack of arm adjustments an issue, those who purchased the chair had no problem with the setup, since its snap-together design makes it easy to assemble and fold up when finished.
Its highly durable steel frame and weather-resistant fabric make this an ideal outdoor furniture set for any outdoor enthusiast.
Pros:
Ergonomic position to sit in
Easy to set up
Cons:
High Back Folding Camping Chairs - Overall
So, there you have it – a comprehensive guide to the best high back folding camping chairs on the market today.
We've covered everything from budget options to luxury picks, so whatever your needs and preferences, you should be able to find a chair that's perfect for you.
Whichever route you choose, we hope that our guide has helped make your decision a little bit easier.