Double Fold Up Camping Chair
Double Fold Up Camping Chairs
This post may contain affiliate links so I earn a commission.
Double fold up camping chairs are perfect for those who want to stretch out, or snuggle up to a loved one by the campfire.
Not only do these loveseats have the durability and camping-friendly function of single-seat camping chairs, but they increase the comfort of your camping experience!
Don't camp?
These chairs are still perfect for beach outings, Saturday games for the kids, or park visits.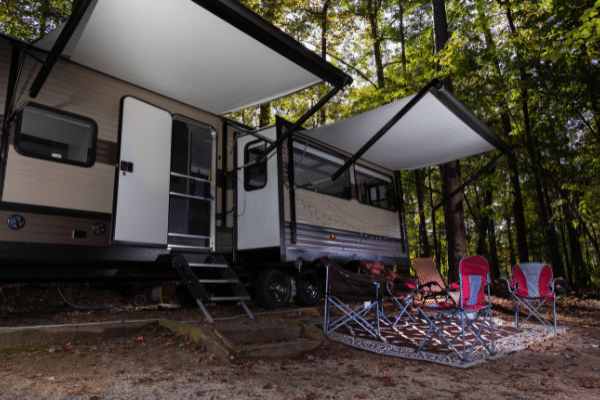 In this article, we are going to dive into what these chairs are, what to look out for before purchasing, and give you an idea of some of the best double fold up camping chairs you can buy.

Let's take a look.
What Is A Double Fold Up Camping Chair?
Have you ever wanted to curl up in your camping chair?
Perhaps you wanted to get into a sitting posture that goes beyond crossing your legs while you cozy up next to your campfire?
Well, double fold up camping chairs are the love seats you need for the great outdoors!
These camping chairs are twice as large as single camping chairs - and also more convenient.
That's because they allow two people to sit on them or just one person who likes to stretch out.
Single fold-up camping chairs are great, but double fold-up chairs allow you a chance to maximize your comfort while you're outside.
You can kick your feet up, snuggle up with your significant other, or have enough room to sit right next to your kids.
Double Fold Up Camping Chair Buying Guide - What To Look For
It might be tempting to think "a camping chair is a camping chair" no matter the size, shape, or how many people can fit on it.
However, it is still extremely important to consider certain factors depending on your intended use of the chair.
Let's look at what to look out for when buying a double fold up camping chair.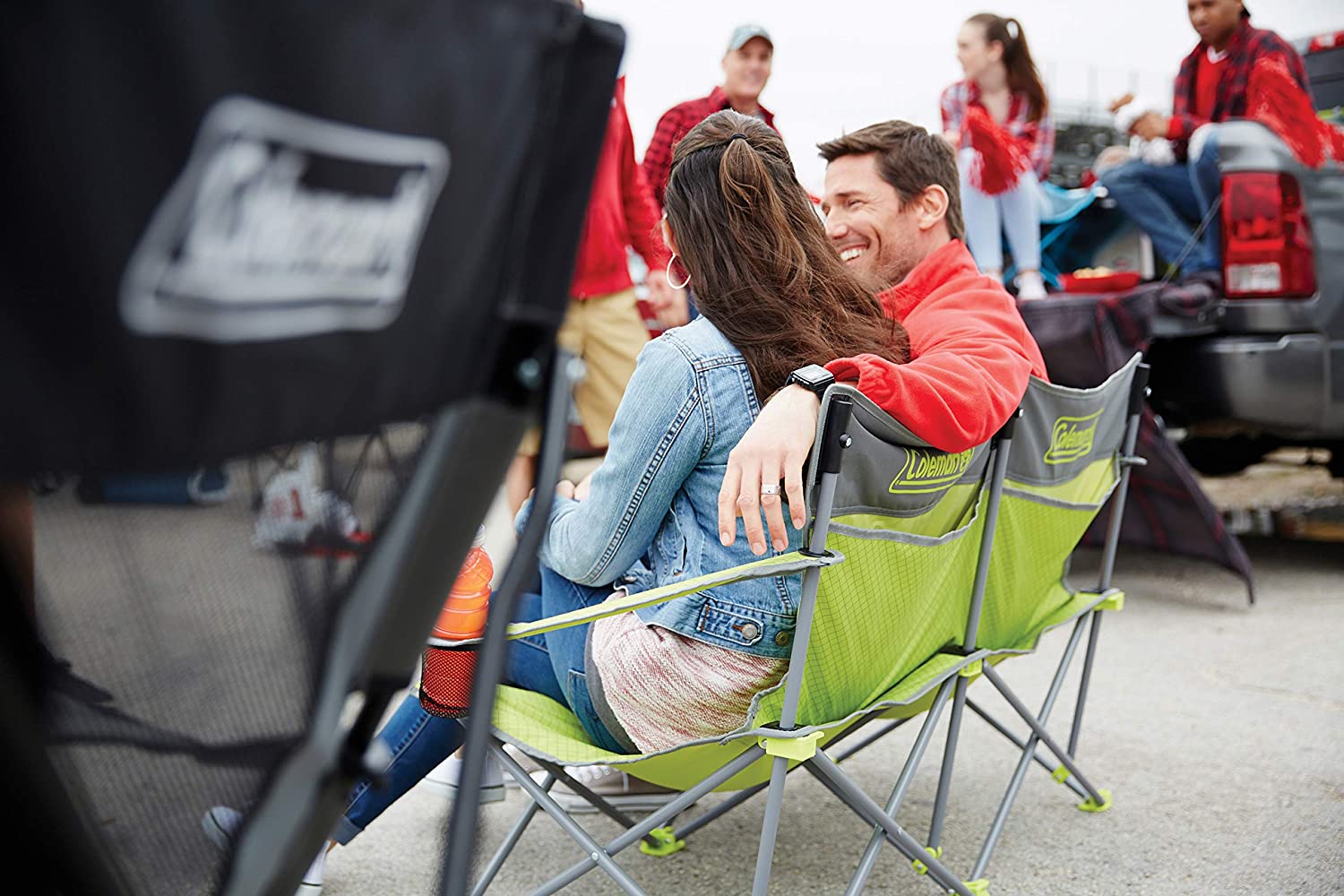 The Weight Of The Chair

Twice the seat means twice the weight.
If you're a backpacker, most double-seated camping chairs might not be for you.
Even though the initial weight of most of these chairs is around 20 pounds, that will end up weighing you down if you're walking or hiking for more than 20 minutes.
In addition to the weight of the chair itself, you might want to consider the overall weight limit that each chair can hold.
A per-seat weight maybe somewhere around 250, so it's best not to have more than two people sitting in the chair at a time.
Care & Maintenance
These chairs, much like other camping chairs, do not require a ton of maintenance because they are manufactured to withstand the outdoors.
However, that doesn't mean to leave it out to face harsh weather or throw it around outside.
Especially with the double seat, make sure to be careful when unfolding it so nothing tears or breaks.
Bring in your chairs if you're expecting extreme cold or rainy weather for long periods of time.
How It Will Fit With The Rest Of Your Camping Equipment
The carrying size of these chairs is a little bigger than a single fold-up chair.
Therefore, make sure that you're planning ahead when it comes to packing up your gear into the back of your car, truck, or trailer.
Added Luxuries
If you want a double fold-up chair with a small canopy or footrest, make sure to look out for those options!
4 Best Double Fold Up Camping Chairs
Now that we know what to look out for when picking out our loveseat camping chairs, let's look at the four best options to buy!
1. EasyGo Product Camping Chair - Double Love Seat Heavy Duty Oversized
This chair is rated one of amazon's choices for camping chairs.
It is about 40"H and 12"W. 
It comes with cup holders, a mesh carry bag, and mesh storage in the center.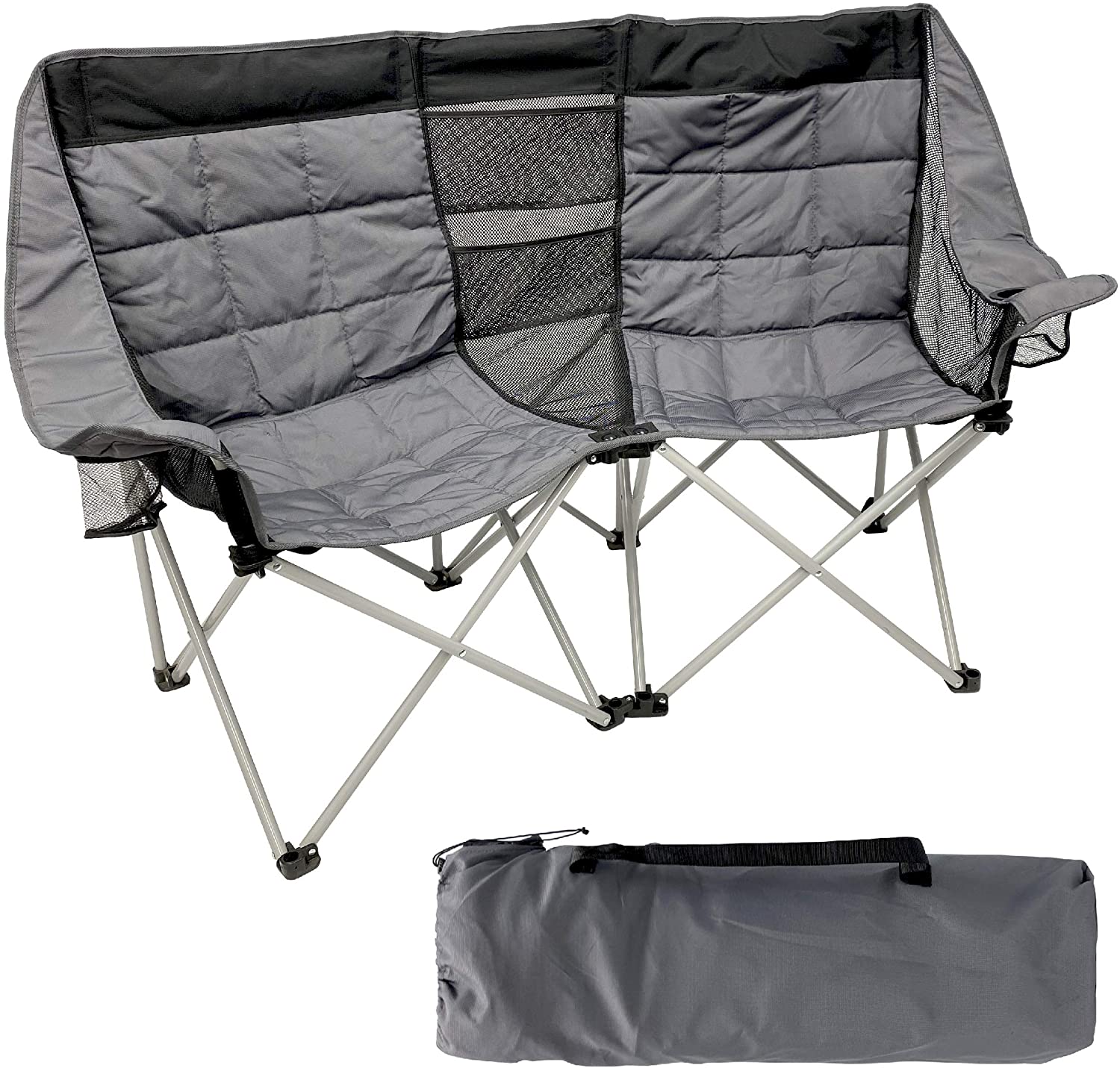 EasyGo Double Love Seat Heavy Duty Camp Chair
Pros:

Padded and rounded so the chair is made for a little extra comfort
Durable cupholders and extra storage allow for you to keep drinks or personal items close by without disrupting comfort
Cons:
The way the seats are divided makes it harder to sit more toward the center, if you want to sit closer to someone in the seat or just by yourself
2. Coleman Quattro Lax Double Quad Chair
This chair is 7.87" W and 6.69" H with two cupholders, seatback pockets, and is made of polyester.
Coleman Double Quad Chair
Pros:

The chair is relatively lightweight
It is easier to store than most double fold-up chairs in terms of packing it away
Cons:
No extra padding in the seat, back, or armrests so it might get uncomfortable after a while
3. Outsunny Double Seat Camping Chair Folding Lawn Loveseat
The Outsunny Double Seat Camping Chair is 31.5" W x 39.25" T, has cupholders and pockets to store personal belongings.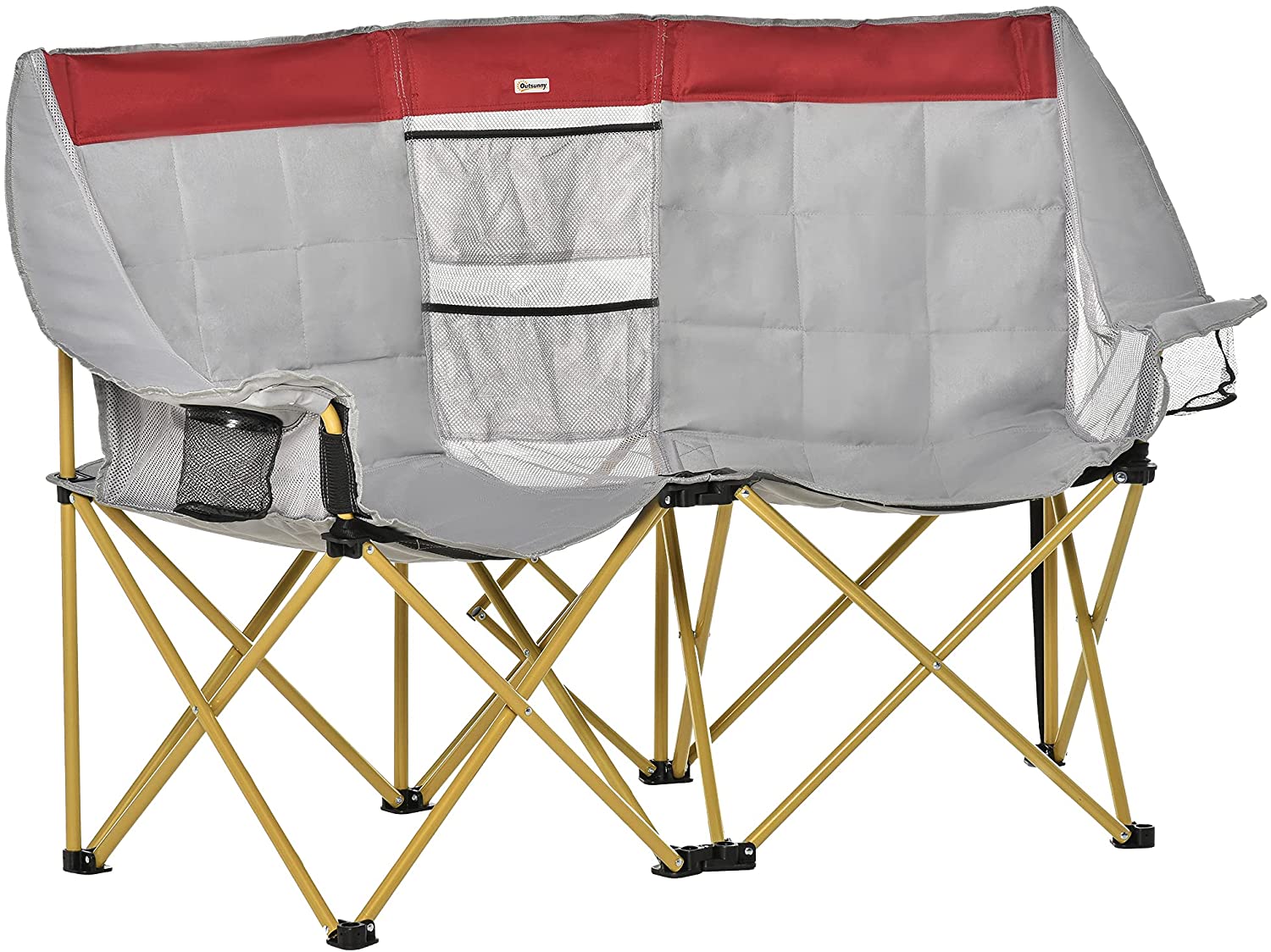 Outsunny Double Seat Camping Chair
Pros:
This chair is made up of durable material and can withstand being exposed to sun, wind, rain, and snow for longer periods of time
This chair also has extra padding
Cons:
It is slightly curved so it might make it harder to sit comfortably with someone if you want to sit closer with them.
4. Timber Ridge Cedar 2 Person Love Seat Folding Director's Chair
This chair is stylish and sturdy.

Its dimensions come in a 38" W x 16.5" D x 35.5" H, has cupholders that are not mesh material, and doesn't have a center bar dividing the chair in half.
Timber Ridge Cedar 2 Person Love Seat
Pros:
No center bar divides the chair so it maximizes the comfort of the person or persons sitting in the chair
The cupholders are not a mesh material and therefore will last longer and serve as a sturdy place to hold your drink
The cupholders are built into the small side tables
Cons:
No extra storage compartments
The chair has more of a "sporty" function and therefore doesn't have the extra padding if you're looking for something with increased levels of comfort.
The Best Double Fold Up Camping Chair - Overall
Ready to take a step up in your camping game?
Need some extra seating for the family?
Then a double fold up camping chair is right for you.
Not only will it allow you to sit closer to your family and friends, but it will allow you to stretch out if you want to take the chair for yourself.
There are so many different camping loveseats to choose from, so it is important to keep in mind the weight, weight capacity, size, luxury accessories, and overall look of the chair.
Take a look at the four we have listed here for you and feel free to go down the rabbit hole of searching for the perfect loveseat for your outdoor adventures on your own!