Best Camping Chairs for Comfort
Best Camping Chairs For Comfort
This post may contain affiliate links so I earn a commission.
If you're looking for the best camping chairs for comfort, you've come to the right spot!  
Who says you have to give up being comfortable when you are camping?
No one.
Unless you are into roughing it, chances are your camping gear includes some of the comforts of home, like an air mattress, pillows, and a coffee pot.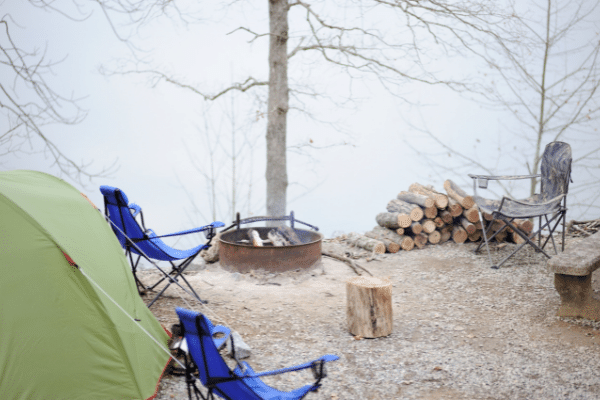 If you are like most people, a good portion of your camping adventures will involve sitting around a campfire, so you'll want a chair that that not only makes you feel relaxed, but also doesn't leave you sore the next morning.

What are some of the best camping chairs for comfort?

That all depends on what you are looking for.
To learn more, let's look at some must have features that should be included in your next camping chair purchase.
Shopping For The Best Camping Chairs For Comfort
Today's camping chairs are a far cry from the aluminum and woven webbing of generations past.
The quality of the materials is much more durable.
Camping chair manufacturers have invested in research and development to design the best camping chairs for comfort.
They have listened to their customers and added features to their chairs to enhance the camping experience.
Let's take a look at some of these features: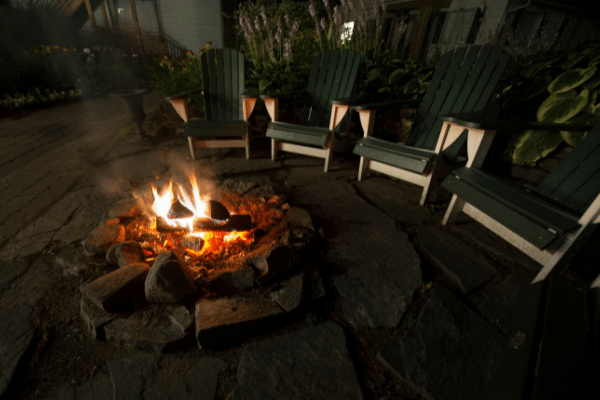 Extra Lumbar Support For Bad Backs
After a day of hiking or dragging a deer out of the woods, your back might be screaming.
Portable camping chairs of the past, with their flimsy webbing and straight back, would have only added to your discomfort.

Many of today's camping chairs have been designed to ease back pain.
A padded cushion or pillow has been added to cradle the lower back in comfort.
Do You Want A Chair That Rocks?
What is more soothing than a slow, gentle rocker to lull you into relaxation as you stare, transfixed, into the campfire?
You don't have to drag grandma's rocking chair into the woods to get this level of comfort.
Some new camping chairs have a built-in rocking mechanism.
You can rock out if you want or keep the chair stationary.
Camping with a little one?
This is a great option.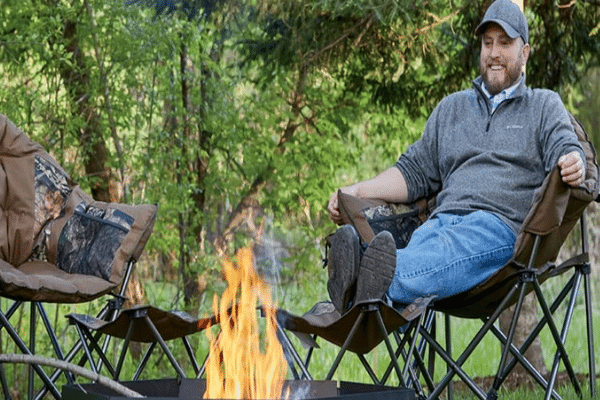 Don't Forget The Foot Rest
You may want to kick your feet up at the end of the day.
If so, look for a portable camping chair with a built-in foot rest.
It is just like sitting in your Laz-E-Boy recliner at home.
Take off your hiking boots and warm your toes by the fire.
Pockets And Cup Holders For Storage
Vintage camping chairs didn't have cup holders.
They were added to chairs several years ago, but it was typically just one cup holder.
If that was being used by your beer, where were you supposed to put your cell phone, bug spray, chap stick, sunglasses, and car keys?
Instead of balancing these items on your lap or overloading your pants pockets, look for a camping chair with multiple pockets and cup holders.
You can keep all your essentials right at your side.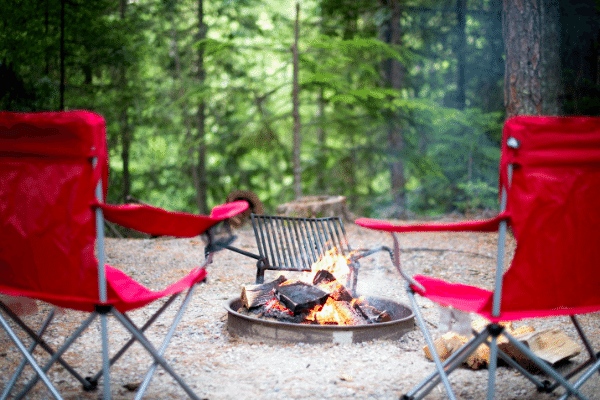 Extra Thick Padding
The nylon sack-style chairs are only a slight improvement over those camp chairs with the woven plastic strips.
Today's campers are demanding more comfortable material and padding on their portable camp chairs.
You can now find camping chairs with thick cushions and padding at all your pressure points.
Built In Side Table
Balancing your plate of food on your lap as you sit in a camping chair is always a risky endeavor.
You won't have to worry about getting a plateful of baked beans in your lap if you purchase a portable camping chair with a side table.
Just like your end table at home, you can use this side table to hold your glasses, book, sunscreen, or your dinner.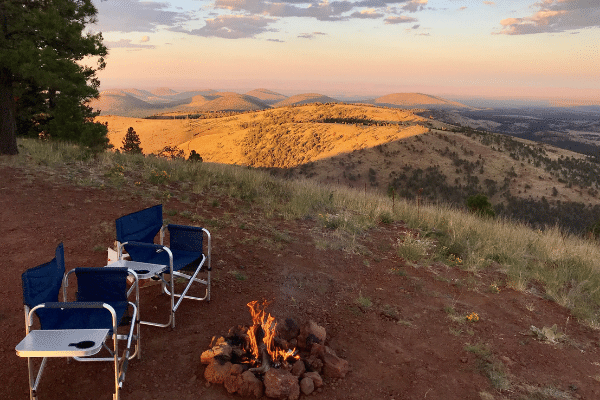 Canopy For Sun And Rain Protection
Maybe you need a portable camping chair for something other than camping … like going to the beach or to your kid's soccer matches.
If you want to escape from the sun's rays or stay (somewhat) dry in the rain, you may want to look for a portable camping chair with a built-in canopy or rain cover.
Since soccer season coincides with the rainy season, these chairs are worth the investment.
Best Camping Chairs For Comfort - Top 3 Choices
No matter which features you prefer, there is a camping chair for you.
Below are just a few of the best camping chairs for comfort that you may want to consider buying before the start of camping season.
The Hot Seat by POP Design
This portable camping chair has a built-in seat warmer.
That will feel amazing after the sun goes down and the air gets crisp.
The Hot Seat is powered by a USB battery pack and can warm your seat up to 110 degrees.
That's not the only feature designed for the user's comfort.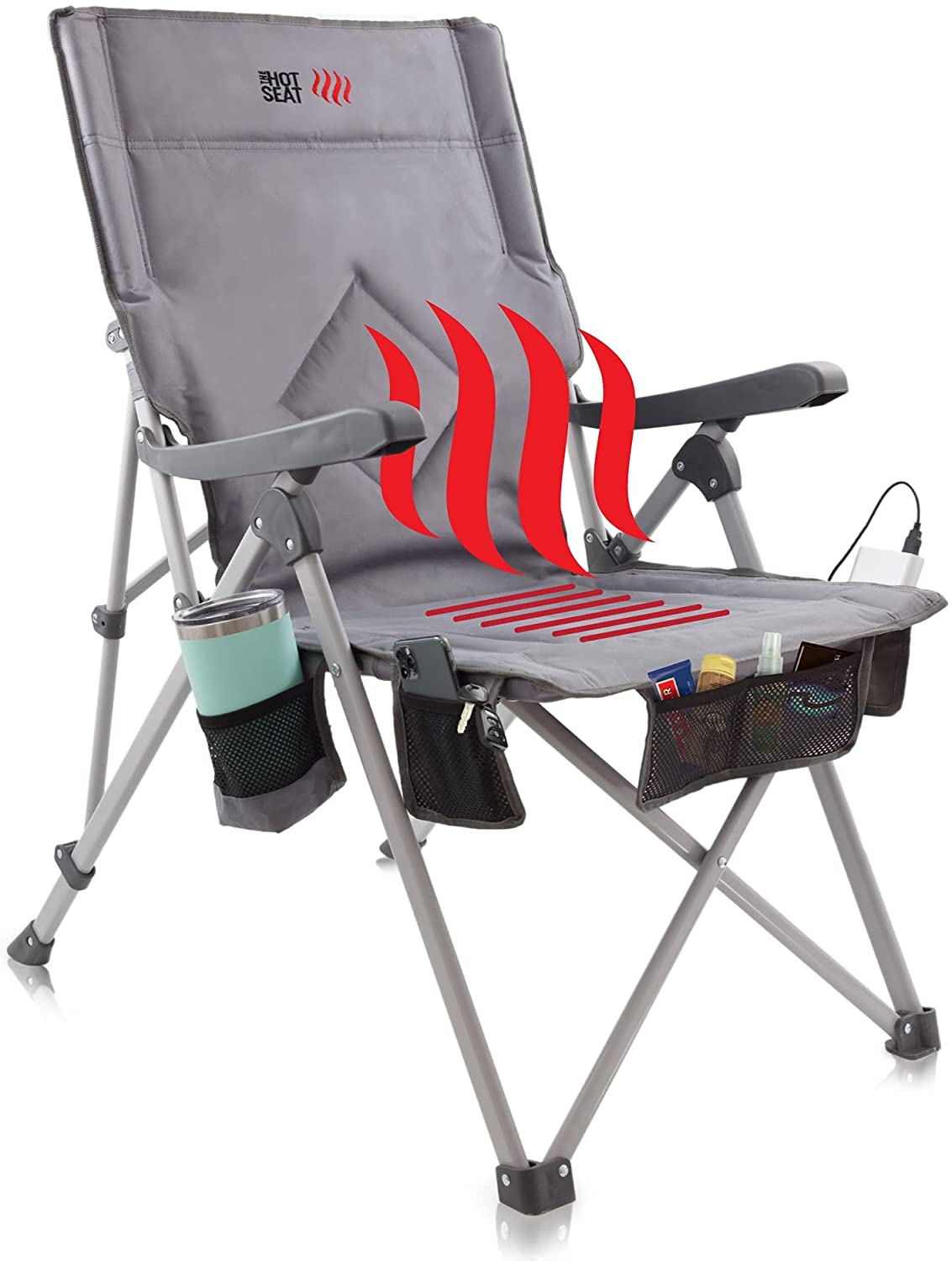 POP Design The Hot Seat, Heated Portable Chair
The chair cushions are made with high-density foam on the seat and back.
The armrests are extra wide so you can relax with ease.
The chair also adjusts to three different reclining positions that lock into place, so you don't have to worry about jerking backward.
Since this is a portable chair, the designers even added comfort to the carrying sack.
The shoulder strap is wide and padded so it won't dig into your shoulder as you hike to your campsite.
Lastly, the Hot Seat has five storage pockets to hold all your important items and a cup holder to hold the most important item of all … your beer.
Oversized Club Camp Chair and Foot Stool by Guide Gear
You'll have the best seat in the house.…err, camp.…with this cushy, comfy oversize camping chair by Guide Gear that comes with a separate foot stool.
Just like a chair and ottoman combo in your living room, this camp chair allows you to put your feet up after a long day outdoors.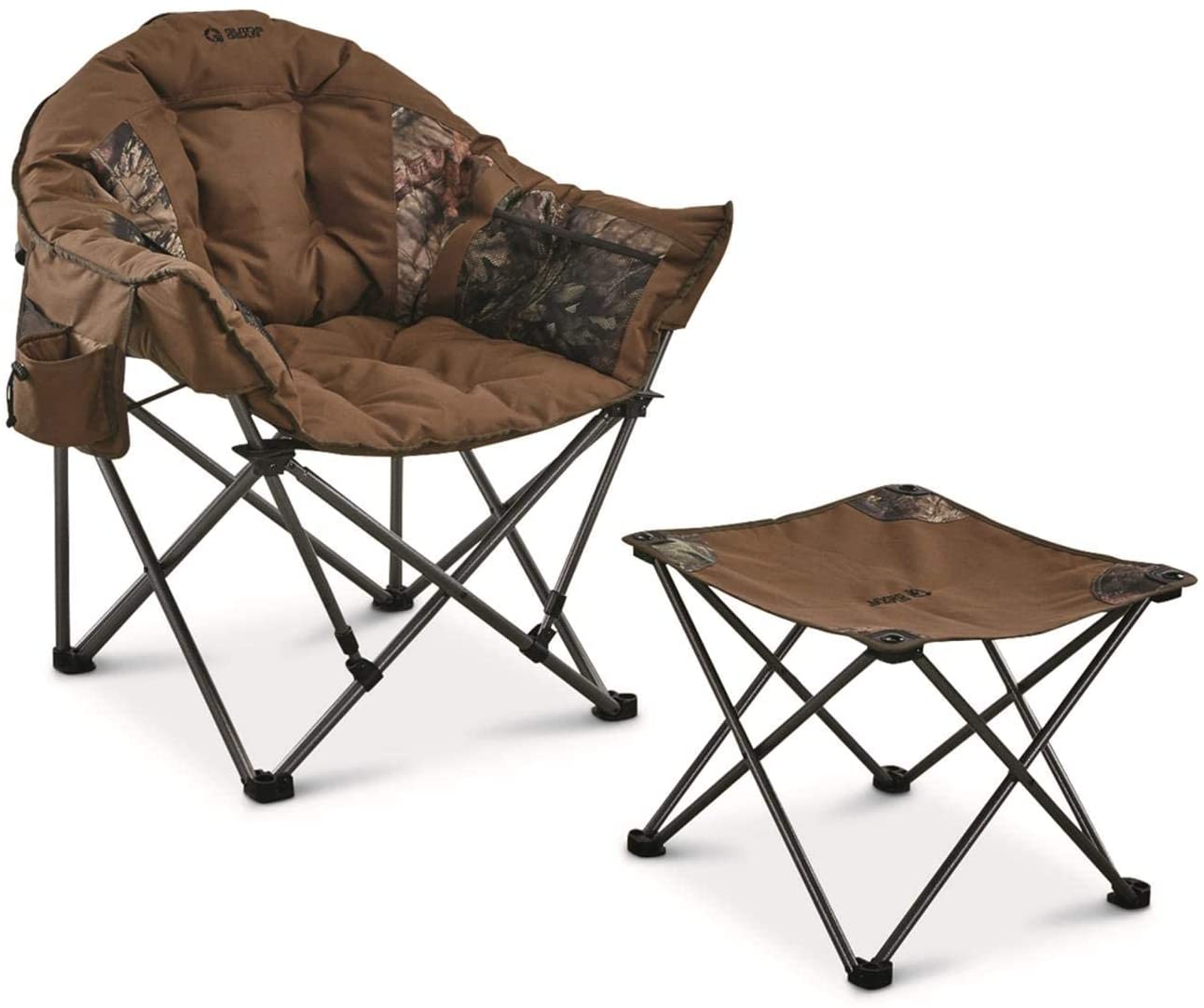 Guide Gear Oversized Club Camp Chair and Foot Stool
The chair itself is sturdy and durable.
It is designed to hold up to 500-pounds.
The seat, back, and sides are covered in a plush, thick cushion with high-quality padding.
It is like sitting on a cloud.
This chair might look bulky and weighty, but it folds up quite easily and fits in its carrying bag so you can transport it deep into the wilderness or to your own backward, which is why it made our list as one of the best camping chairs for comfort.
Stargazer Recliner Luxury Camping Chair by Nemo
As the name implies, this uniquely designed portable camping chair is perfect for stargazers.
In fact, it is more like a hammock for your butt than a real chair.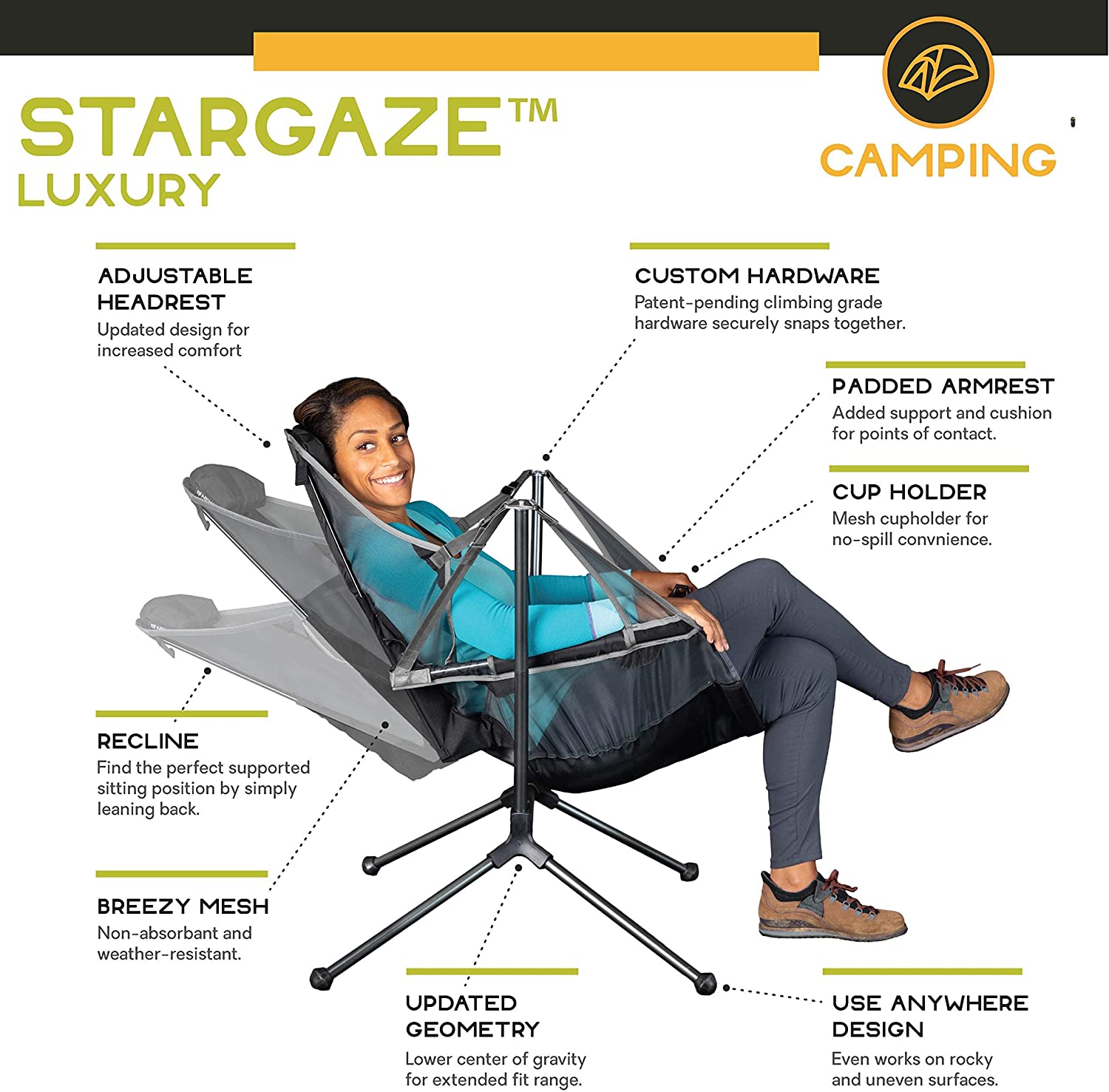 Nemo Stargaze Recliner Luxury Camp Chair
The heavy-duty frame supports a high-back, padded, comfortable chair that swings freely on the frame.
There is a neck support and head pillow to add to your comfort as you tip back and watch the night sky.
Since it is designed like a hammock, you can gently rock in the Stargazer Recliner if you want to enjoy the slight movement.
The Stargazer Recliner is stable on any surface.
It has been designed, with a lower center of gravity and widely spaced legs, to be safe and stable on sand, pebbles, rocks, and uneven terrain.
The Best Camping Chairs For Comfort - Overall
Comfort is a matter of opinion but no matter if you place a priority on soft padding, a head pillow, or a reclining back, you will be able to find some of the best camping chairs for comfort that will check all your boxes.
Having the perfect portable camping chair can add to your outdoor experiences, where you'll be all set for a night of ghost stories and s'mores around the campfire with your friends, family, or hunting buddies.