Best Camping Chairs for Seniors
Best Camping Chairs For Seniors
This post may contain affiliate links so I earn a commission.
If you're looking to buy the best camping chairs for seniors, you've come to the right spot!
Perhaps the nicest part of sitting around a bonfire is that it is an activity that brings families together.
We definitely need more fun, family-focused, outdoor activities these days to help us all become less distant and more connected.
Young and old alike can benefit from a relaxing evening at a bonfire.
Finding the best camping chairs for seniors can ensure that older family and friends are comfortable and secure for their night under the stars.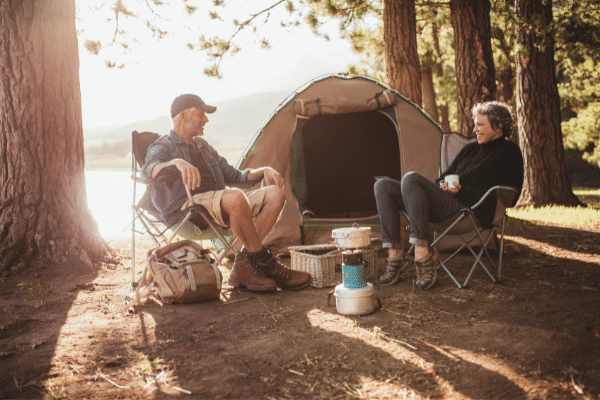 How do you know what the best chairs for the elderly or seniors are?

What features should you look for?
Let's find out.
The Best Camping Chairs - What To Look For
Camp chairs come in all shapes and sizes, in all price points, and with different features.
To find the best camping chairs for seniors, you need to have an understanding of the unique challenges facing older people.
That way, you can select camp chairs that help to minimize these challenges.
As people age, they may experience issues with mobility, stability, and accessibility.
Their camp chair needs to be lightweight enough for them to carry.
They need a camp chair that will provide them with comfort and allow them to move and shift without fear of toppling over.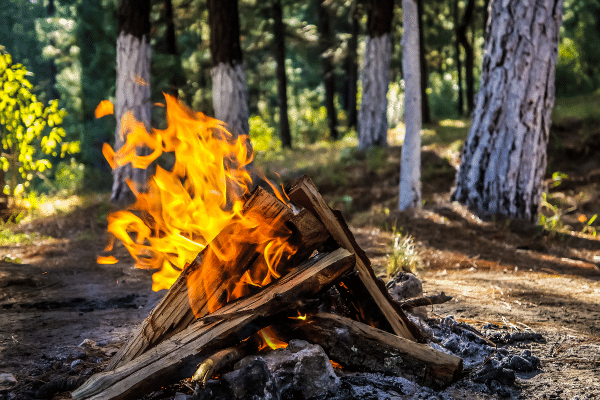 They need to be able to get into the chair with ease and be able to stand up from sitting in the chair with minimal help.

A chair with armrests is a must.
In addition, they may have put on some extra pounds over the years, so they need a camp chair that is strong and durable.
Ideally, the best camping chairs for seniors will have a cushioned seat, adjustable backrest, and footrest.
Below are some great options when searching for the best camping chairs to have on hand for your next family bonfire.
Oniva Sports Chair With Side Table by Graphic Image
This camping chair, available on Amazon, has numerous features that make it an ideal choice as one of the best camping chairs for seniors who want to enjoy a bonfire night.
The aluminum frame folds open to create a stable square frame and is sturdy enough to handle the weight of a mature adult.
The design of the aluminum frame includes solid armrests.
Unlike traditional sack-style camp chairs, the solid armrests give the user a hard surface to hold on to when standing up.
They can push themselves up by the armrest without it buckling under their weight.
Additionally, this camping chair has a wider-than-average seat.
It measures a full 19-inches across.
The polyester canvas fabric is strong and durable enough to securely hold up to 300 pounds.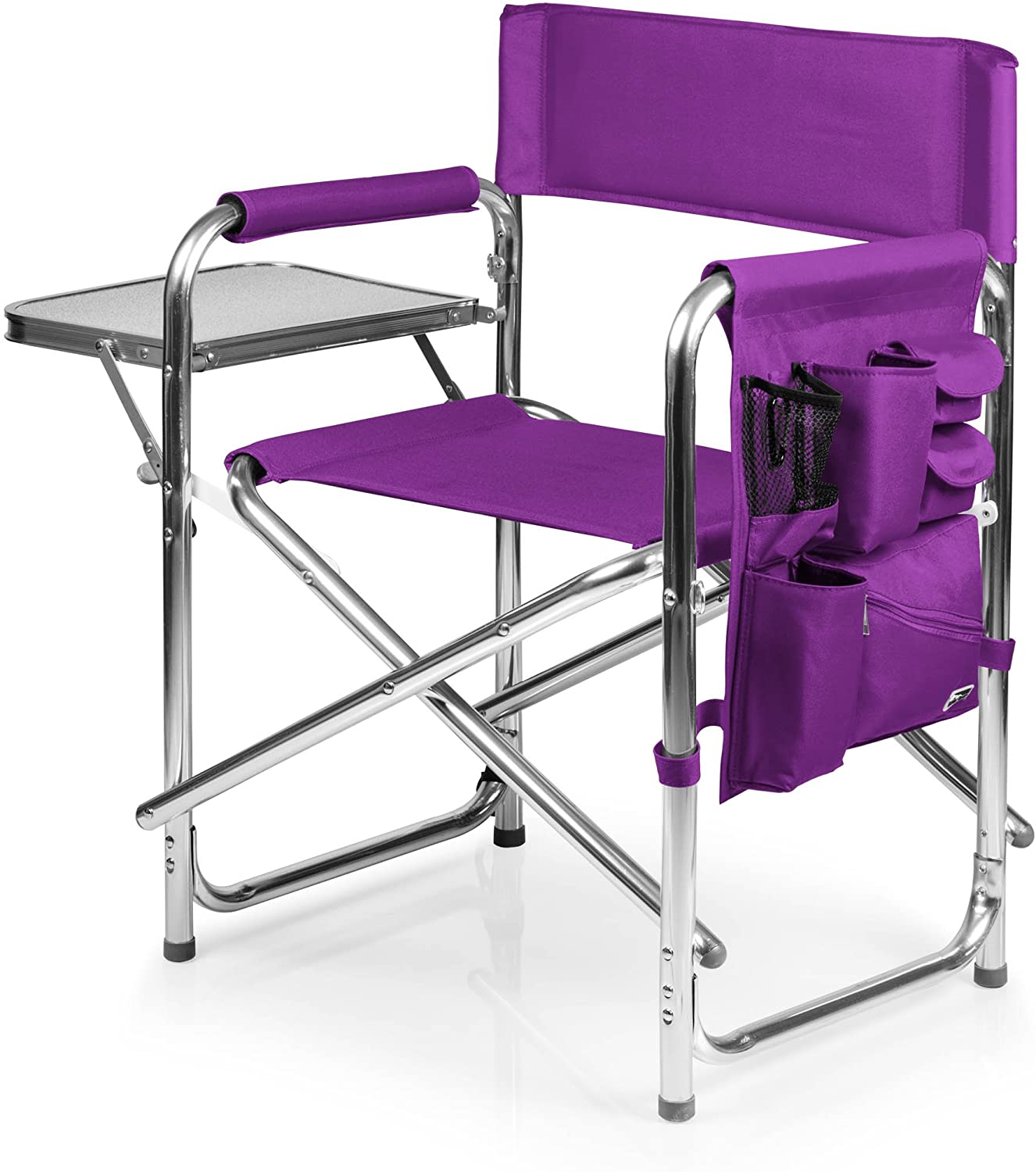 Oniva Sports Chair with Side Table
Another thing to note is that the fabric connects to the aluminum frame via wide, double-reinforced casings rather than the grommets that you see on traditional camp chairs.

When one of these traditional camp chairs breaks, it often breaks at the grommets.
If it does happen to break, however, you won't have to worry.
This camp chair comes with a built-to-last lifetime guarantee.
The Oniva Sports Chair has a small side table on one side and storage pockets on the other side.
Grandma and grandpa won't have to balance their paper plates on their laps or risk spilling them when they stand up.
The handy table helps prevent these accidents.
The storage pockets on the other side feature a beverage holder and several pockets for things like sunglasses, bug spray, gloves, and more.
The point of a camping chair is to be able to easily carry it into a camp in the woods or to a backyard bonfire or to a soccer game.
Even though this camp chair doesn't fold up like a traditional sack-style camping chair, it is still highly portable.
It comes with an adjustable shoulder strap that makes it easy to carry from one spot to the next.
Fraser Deluxe Folding Outdoor Bungee Chair by Timer Ridge
Timber Ridge's Fraser Deluxe Folding Outdoor Bungee Chair is another excellent option when you are shopping for the best camping chairs for seniors.
It is comfortable, portable, and sturdy.
The frame is constructed from a durable powder-coated steel that resists bending and breaking.
TIMBER RIDGE Fraser Deluxe Folding Outdoor Chair
The bungee suspension system allows the chair to give slightly to maximize the comfort of the user.
The steel frame even includes metal armrests that are strong enough to serve as an aid when an older person is pushing themselves to their feet.
Speaking of comfort, the camping chair offers the senior members of your group to experience the great outdoors in relaxing comfort.

Both the seat and back are padded so grandma or grandpa won't feel aches and pains from sitting around the bonfire all evening.
In fact, the back of this chair tilts back slightly for a truly relaxing experience.
The water-resistant fabric covering the cushions is a 600D polyester.
The fabric, along with the reinforced stitching, can accommodate up to 300 pounds.
This camping chair is designed to fold up smoothly and effortlessly.
Just slide it into its carrying bag and sling it over your shoulder with the strap and you can easily transport it to your camping site.…if it is well off the beaten path or in your own backyard.

Most bag-style camping chairs have the beverage holder on the arm rest.
It is a convenient location, but how many times have you spilled your beer trying to get up from the chair?
The cup holder on this camping chair is on the side, adjacent to the seat.
It is still easy to reach, but safe from accidental spills when grandpa starts telling stories about the old days.
The cup holder is even designed to accommodate a wine glass!
Oversized Portable Camping Chair with Padded Seats by Guide Gear Club
When looking for the best camping chairs for seniors, be sure to check out this Oversized Camping Chair with Padded Seats by Guide Gear Club, available on Amazon.
It is like sitting on a big, comfy pillow!
The padding surrounds the whole seat, including the back and sides.
And it truly is oversized, especially when it comes to the padding.
The fabric is made from a durable, water-resistant polyester that won't rip or tear.
Guide Gear Club's oversized camping chair has a steel frame.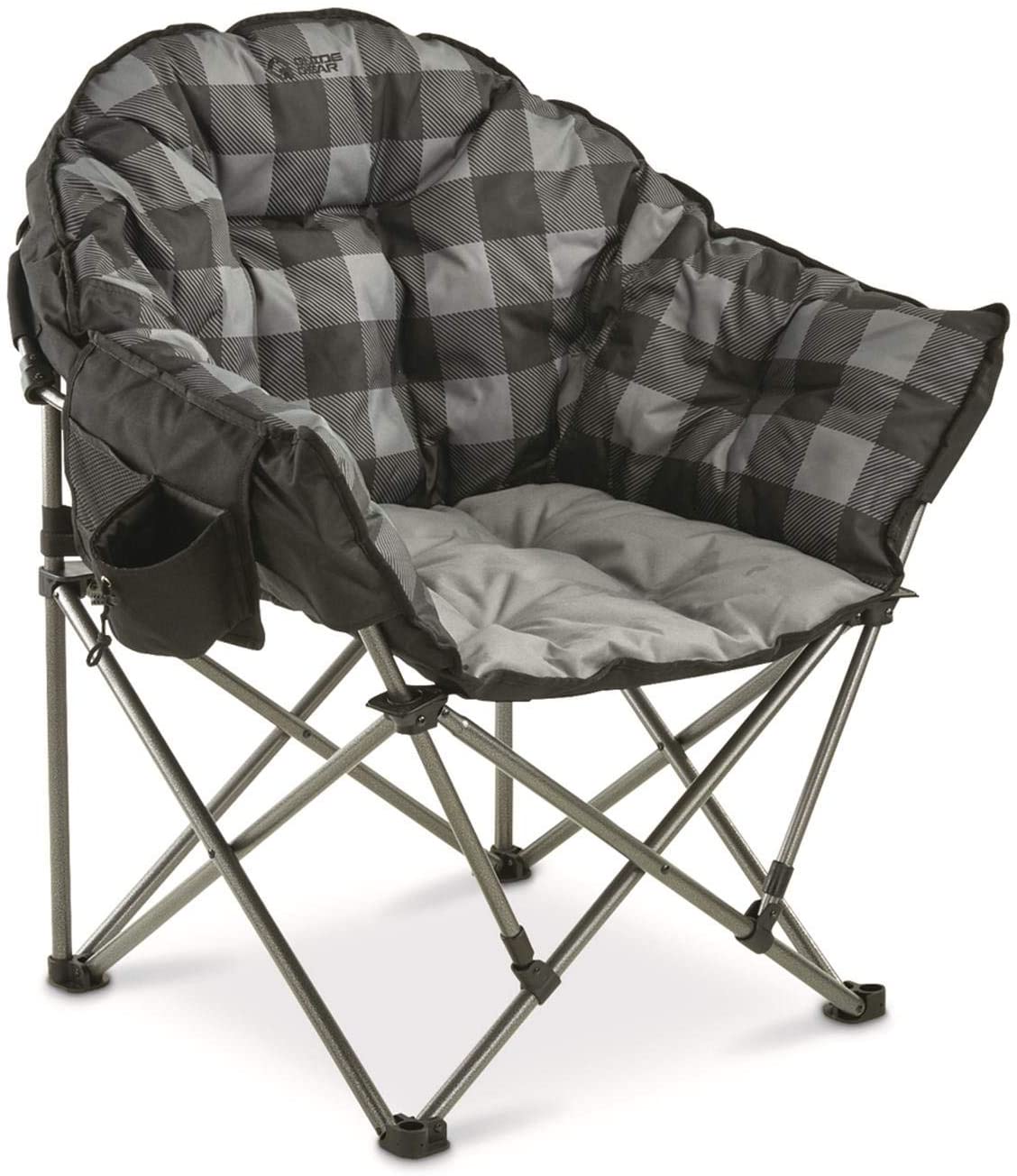 Guide Gear Club Camping Chair
The folding legs are reinforced with cross bars to add to the sturdiness and stability.

The steel frame is designed to hold up to 500 pounds, so you'll have peace of mind knowing it won't buckle under your grandfather.
Beneath the padding, the armrests on this chair have a solid metal frame so the user can get some leverage when standing.
There is a cup holder and a storage packet built in so the user can keep his or her hands free to hold a marshmallow roasting stick or a freshly grilled hot dog.
This chair may be oversized, but that doesn't mean it is not portable.
The stash-and-go legs quickly fold flat and the chair, despite its abundant padding, easily slides into its carrying bag.
It only weighs about 13 pounds, so it is not too heavy or cumbersome to take with you anytime you need a camping chair for an elderly friend or family member.
The Best Camping Chairs For Seniors - Overall
Before your next camping trip or backyard bonfire, invest in a few good, quality camping chairs for the older members of your tribe.
They will appreciate your thoughtfulness.
They will enjoy the time with friends and family so much more if they know they will be comfortable, safe from tumbles or breakage, and be able to get in and out of their camp chair with ease.
If you keep the special needs of the older generation in mind when you do your shopping and seek out products with ideal features, you will be able to find the best camping chairs for seniors in time for your next outdoor adventure.