Do You Want To Build The Perfect Fire Pit That Everyone Will Love And Enjoy?

Are You Ready To Create The Ultimate Outdoor Experience?
This post may contain affiliate links so I earn a commission.
Whether it's in your own backyard or at a rustic campsite, a fire pit offers a place for everyone to gather where we can enjoy food, drinks and the company of family and friends.
There's just something about a fire that creates a calm, relaxing environment that's impossible to duplicate.
Can you imagine camping without the smell of a freshly lit fire?
Or how about sitting around on a cool fall night, listening to music without the sights and sounds of a crackling flame?
From campfire cooking to a supplemental heating source, fire plays a huge role in many of our lives.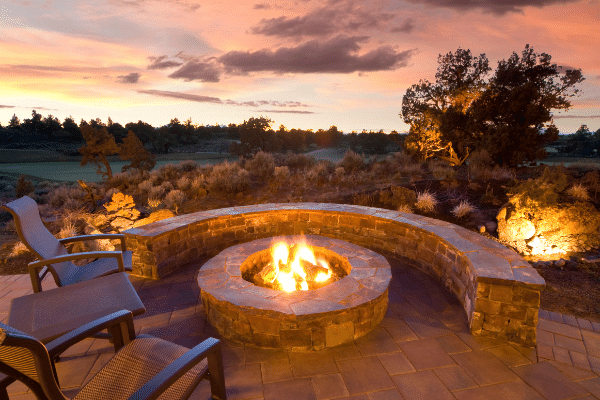 However, we all know how dangerous a fire can be, which is why it's important to consider fire pit safety and how to keep the flames properly contained within a pit.

Today's fire pits are available in a wide variety of styles and made from various types of materials ranging from concrete to paving stones.
For some, a real wood fire is the only way to go while others prefer the convenience of flipping a switch and turning on a propane or natural gas flame.
These modern additions have taken the traditional fire ring sitting in your back yard and allowed it to find a new home on your deck or patio, places where open fires would normally be considered too dangerous.
Build Your Own Fire Pit Or Buy One?
If you like DIY projects, building your own wood burning fire pit could be the perfect weekend activity.
After all, they're pretty simple and depending on how elaborate your design is, you should be able to finish the project in just a few days.
Not quite sure what materials to use or which design will fit your yard the best?
Don't worry!
This site contains all the information you need to build the perfect device to enjoy an outdoor fire in nearly any location.

Not in the mood for a big project?
There are lots of high quality, professionally made fire pits on the market that are sure to fit right in with your backyard landscape.
Whether it's natural gas, propane or wood burning heat, you can check out our fire pit reviews to help you choose a device that will not only fit your lawn, but it will also fit your budget.
Stay Warm And Enjoy Your Patio At The Same Time!
Not only are we obsessed with fire, we're also aware that no one will have a good time hanging out on the back patio if they're cold.
To keep everyone warm and happy, we've even included a section on this website dedicated to patio fire pits and heaters.
Sure, hanging out on the back deck might be fine in July when the temperatures are warm, but as fall arrives and the evenings become cooler, choosing the best outdoor patio heater can help create a more enjoyable experience.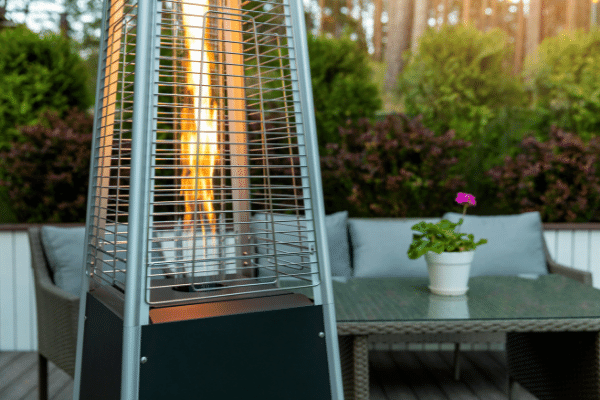 Patio heaters are really convenient because they're not only portable, but they can burn natural gas, propane or simply run off of electricity if you don't have any other option.

As a frugal person, I love doing research and knowing I'm making the best available purchase.
So, I've done the research and put together a list of outdoor patio heater reviews that you'll defiantly want to check out!
How To Choose The Best Firewood
If you're passionate about a wood burning fire, you know that high quality, seasoned firewood is critical.
Choosing where to store firewood is equally important because freshly cut wood can take around 1 year to season.
This means you'll need to have a long term plan where you stack the wood so the summer sun can evaporate the moisture from the firewood, allowing it to light easily and burn hot.
Wet firewood that hasn't been properly split or stacked just won't burn.
We've all sat around a smoking campfire that just smolders and refuses to create a nice hot flame.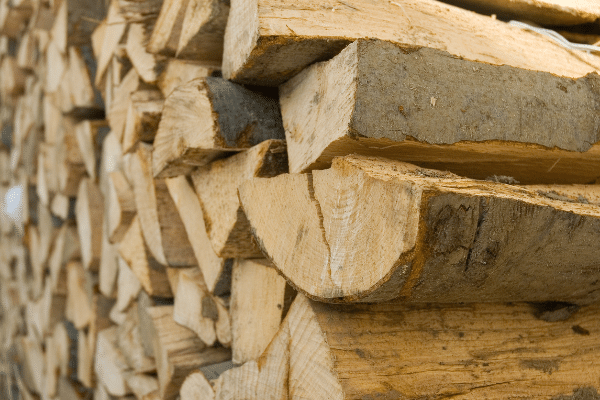 The concept of building a fire inside your fire pit is much easier when you're working with dry firewood.
It all depends on where you live because different parts of the country will all have different species of trees that we consider to be the best.
Don't worry though!
Since we're fanatics about firewood, this site covers everything you need to know to create the perfect fire for any occasion.
Are You Ready?
If you love the thought of a crackling fire with family and friends, or you simply want to enjoy a cup of coffee on your patio while staying warm, this site has everything you need to know to create a warm, comfortable environment.
So what are you waiting for?
Go ahead and take a look around, and you too, might just become a fire pit fanatic!