Best Quality Folding Camping Chairs
Best Quality Folding Camping Chairs
This post may contain affiliate links so I earn a commission.
A good folding chair is a key part of your camping equipment, but how do you find the best quality folding camping chairs?
Have you ever sunk into a folding camp chair around a campfire, beer in hand, ready for a relaxing evening with friends?
Then – boom! – your butt hits the ground, you are covered in beer, and you are tangled up in bent aluminum and ripped nylon fabric?
Your old, reliable camping chair has let you down.….literally.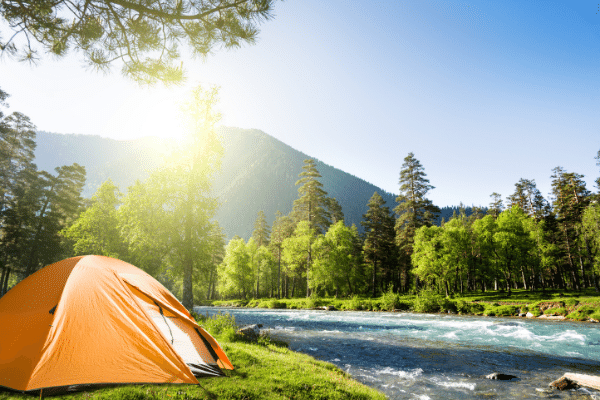 After years of holding your backside in place at backyard barbecues, beach days, soccer games, camping trips, and family reunions, the structural integrity of the little chair finally gave out.

Now you are stuck in the wilderness, with no place to sit except the hard ground.
Plus you will have to drag the dead chair out of the woods because you don't want to be the person that discards it like litter.
What are some of the things you should look for when purchasing a quality folding camping chair?
How can you make sure that you purchase a sturdy, durable, long-lasting chair that can be your companion for outdoor adventures for years to come?
Here are some of the things to consider when shopping for the best quality folding camping chairs along with a few of our recommendations.

How Will You Use The Chair?
Before you know what features to look for when buying the best quality folding camping chair, you first need to consider how you plan to use it.
Of course, you plan to sit in it.….that's a given.
But how often will you sit in it?
Where will you be when you sit in it?
How will the chair get to the location where it will be used?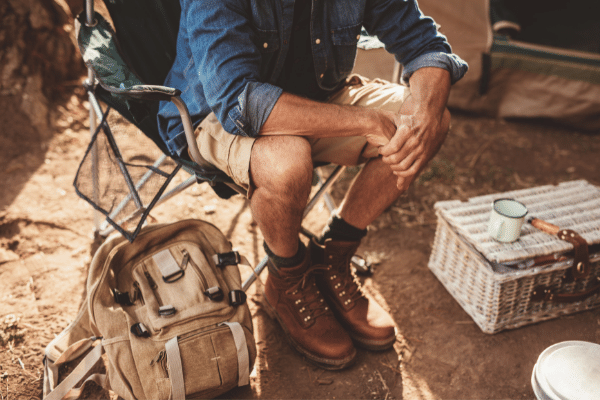 Let's unpack this.
If you are a hard-core camper, soccer mom, hunter, or your folding camp chair doubles as lawn furniture, you will want to find a product that is well designed and well built, using top-quality materials.
After all, it is going to get a lot of use.
But if you only plan to use the chair only on occasion, you may not need to invest in a top-quality product.
Think about where you will be using the chair the most because this will impact the type of chair you will need.
For example, say you are looking for a chair to take to the beach or outdoor concerts that have lawn seating.
You may want a low chair for these occasions.
Will the chair be part of your sports or camping gear?
A taller chair may be in order.….one that has a cup holder and a pocket for your cell phone.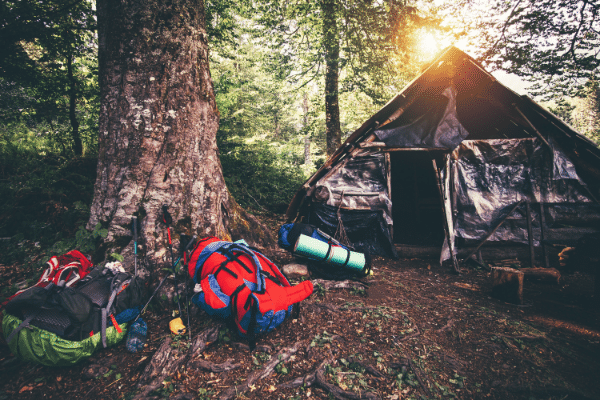 Now consider how you will get your chair from point A to point B.
This may seem like a silly question, but it is worth thinking about.
If the chair will primarily be used in your backyard or if you will drive your RV to a campsite, it's okay to buy a bigger, heavier camp chair.
But if you want to use it for hiking and wilderness camping, a smaller, more lightweight chair would be better.
Who wants to cart around a huge, hefty chair, along with all the rest of your camping gear?
Not me!
Best Quality Folding Camping Charis - Style, Cost And Design
There used to be just one style of folding camping chair on the market.
It was a basic, no-frills folding chair that was sort of a modern take on the old-timey director's chairs.
Today, the camping chair market is flooded with all sorts of innovative styles and unique designs.
There are reclining camp chairs, rocker camp chairs, and swing camp chairs that are sort of like hammocks.
There are chairs with four legs, three legs, and even two legs.
You have plenty of styles to choose from when you are shopping for the best quality folding camping chairs.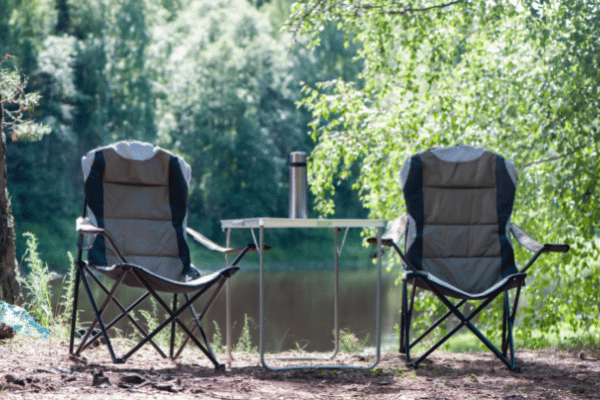 Size and Comfort - What's The Best Choice For You? 

You want your folding camp chair to be as roomy and comfortable as it can be, especially if you will be sitting it in for any length of time.
A larger chair with a taller back is probably comfier than a low-back chair, but you need to factor in the extra size and weight of a larger, well-padded camp chair.
A bigger chair will, in all likelihood, be designed to hold more weight.
The best quality folding camping chairs will have attention to strength and durability, with reinforced stitching, steel frame, and unbreakable grommets.
How Much Do You Want To Spend?
When it comes to the best quality folding camping chairs, it is true that you get what you pay for.
A low-cost folding chair will probably be lower in quality.
If you are shopping for camping chairs on a budget, you may have to sacrifice some of the quality.
A better option would be to allocate more money to your camping chair budget if at all possible.
There are some lower-cost camp chairs, however, that may suit your needs.
The best advice would be to read customer reviews, look at the materials and construction of the chair, and purchase from well-respected companies before making your purchasing decision.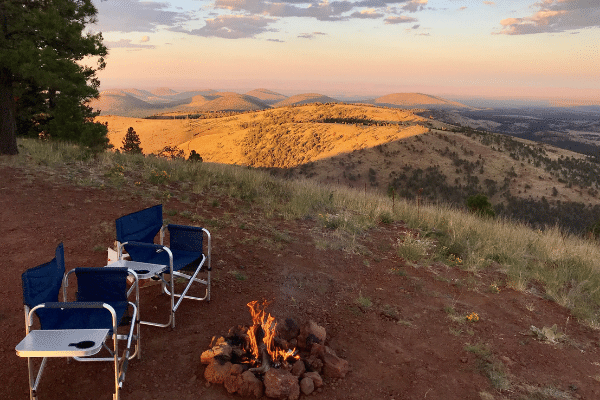 Important Features - Best Quality Folding Camping Chairs
Camping chairs today come with all sorts of handy features.
While these extra features may not add to the quality of the chair, they certainly add to the quality of the experience you have when using the chair.
You can find chairs with additional padding at pressure point areas, head pillows, and lumbar supports.
There are chairs with rain canopies, heated seats, and footrests.
You can purchase a chair with a side table to hold your dinner plate and, of course, there are beverage holders, cell phone holders, and extra pockets for your sunglasses, car keys, bug spray, and more.
When shopping for the best quality folding camping chairs, you should consider all these points before making your purchasing decision.
Remember to consider how (and how often) you will use the folding camping chair and look for solid construction, quality materials, sturdy design, and a manufacturer with a good reputation.
Don't be dazzled by bells and whistles.
Those extra features are nice, but not if they are on a poorly made camping chair.
Below are a few folding camping chairs that pass our test for for some of the best quality folding camping chairs you can buy.
Oversized Outdoor Camping Chair By Coastrail
The steel frame on this folding camping chair by Coastrail is strong, durable, and designed to hold up to 400 pounds.
The steel tubes are powder-coated for added strength and to resist rusting.
The fabric material is a 600D Oxford polyester that is manufactured for outdoor use.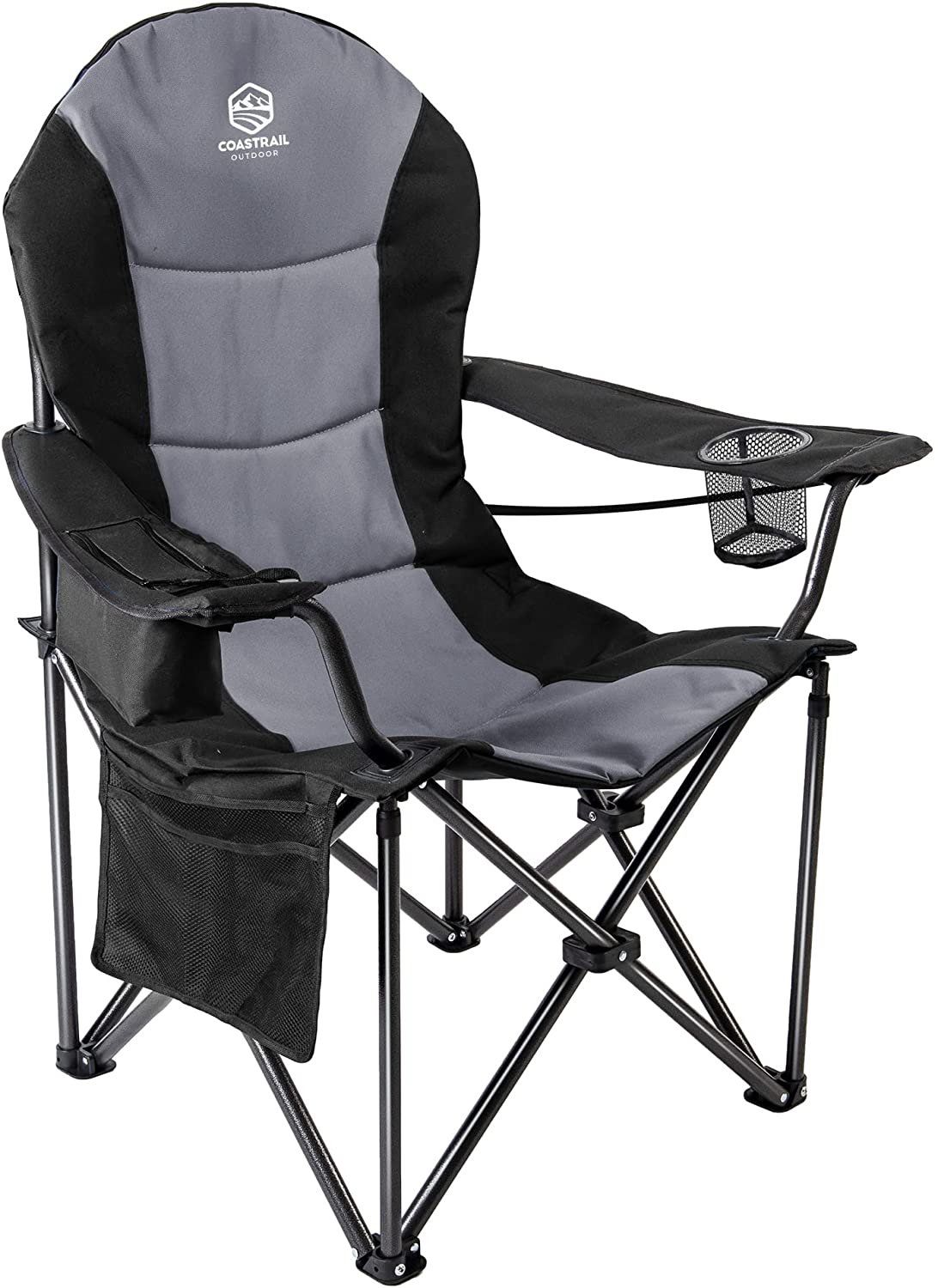 Coastrail Camping Chair with Lumbar Back Support
That means the sun and heat won't weaken the fabric, leading to rips.

On Amazon, this folding camp chair has a 5-star, 100% rating with several glowing customer reviews.
Customers not only love the quality of this chair, but they appreciate the padded arms, lumbar back support, and the built-in cooler in the armrest that can hold three cans or bottles.

Outdoor Freestyle Portable Folding Rocking Chair By GCI
If an outdoor camping chair with a rocking motion is what you are looking for, check out the Outdoor Freestyle Portable Folding Rocker by GCI.
Another Amazon 5-star rated product, this folding camping chair is lightweight enough to carry on your hike, yet strong enough to hold up to 250 pounds.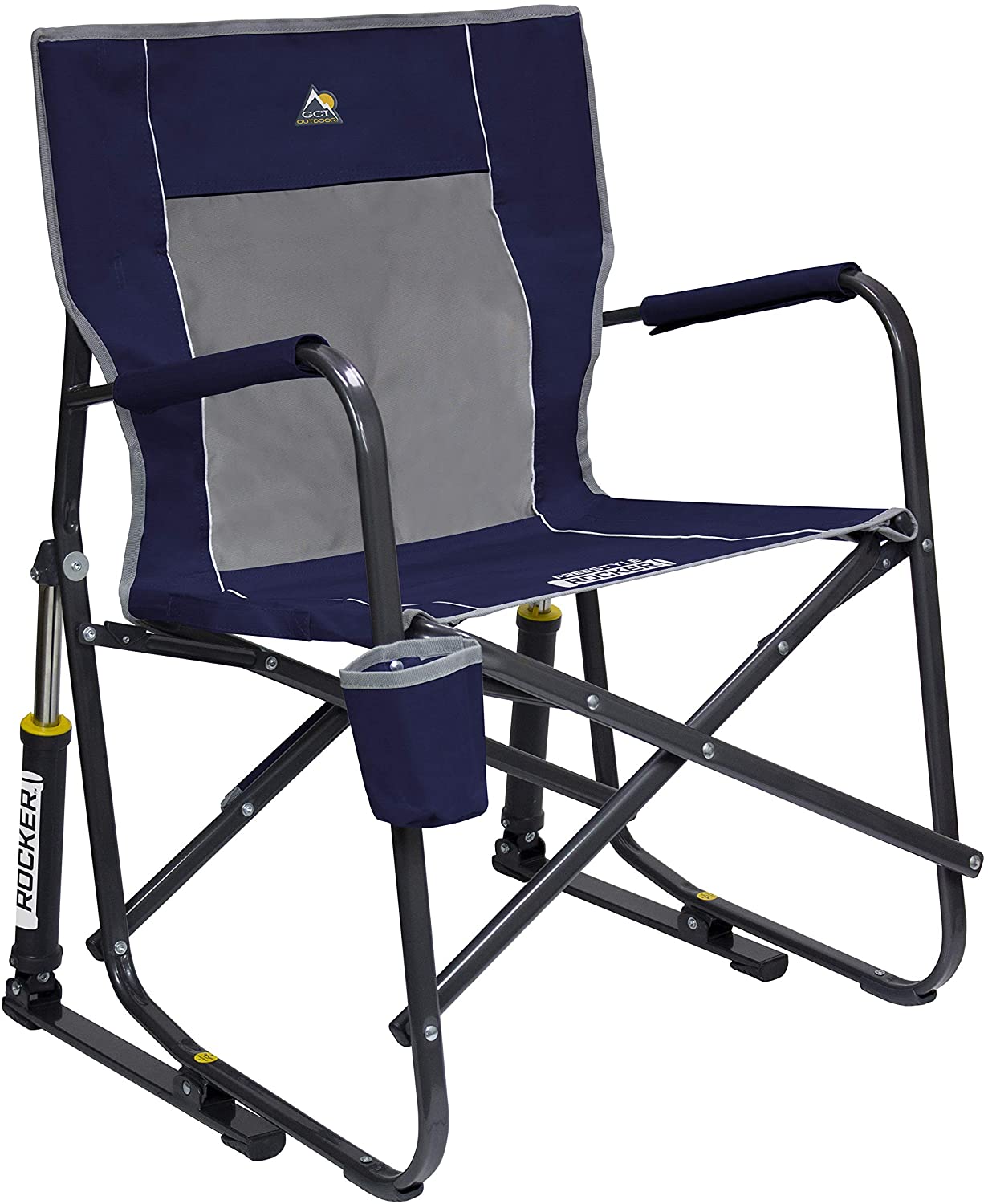 GCI Outdoor Freestyle Portable Rocking Chair
It is constructed with sturdy powder-coated steel that won't rust or buckle under everyday use.

The fabric is a strong, rip-resistant, polyurethane-backed polyester.
This portable camping chair uses a patented rocker technology with a spring-action motion for a smooth glide.
The reinforced mesh backrest allows air to circulate through the chair to cool your sweat after a summer hike.
Oversized Padded Moon Camping Chair By KAHOO
Like sitting in a cloud, this KAHOO portable oversized camping chair is well-padded and roomy enough for a larger person.
Despite its large size and plush padding, the Moon Chair easily folds into its carrying bag so it can be easily transported.
This camping chair is not just comfortable; it is well-made, too.
The metal frame is made with stainless steel.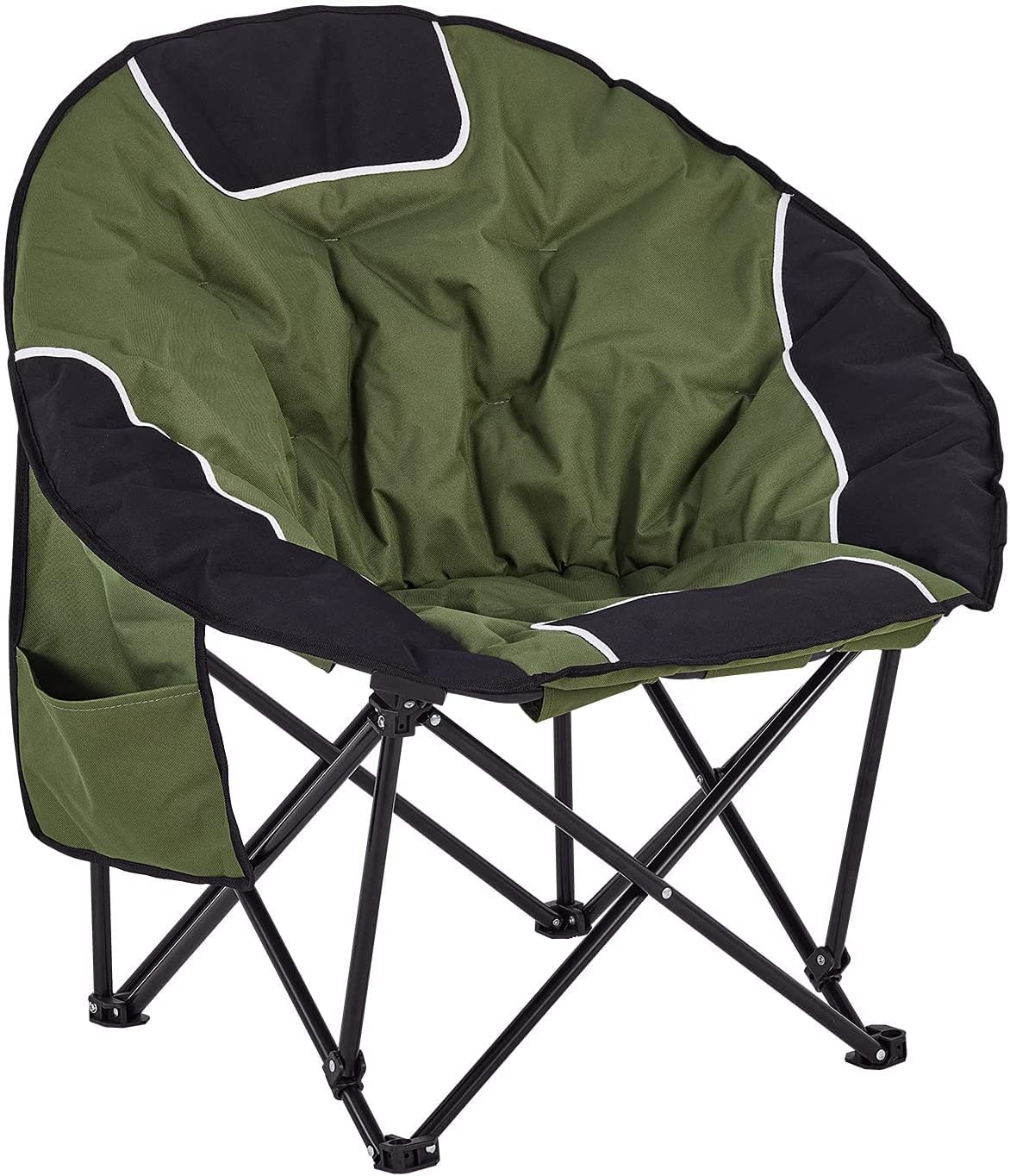 KAHOO Folding Oversized Padded Moon Sofa Chairs
The seat covering is constructed from soft 600D Oxford polyester fabric and the plastic fasteners were made from a strong, durable, break-resistant material.

The chair can accommodate a weight capacity of 250 pounds.
The KAHOO company is committed to customer satisfaction which is why they designed a truly unique camping chair that is well built using quality material.
The 5-star rating on Amazon and several positive customer reviews are a testament to the craftsmanship of this chair.
Best Quality Folding Camping Chairs - Overall
You want your camping and outdoor equipment to be as hardy and strong as you are.
When you are in the market for some of the best quality folding camping chairs, look for products made using durable, quality materials.
Read the customer reviews and look for a brand you can trust.
You are relying on your portable camping chair to enhance your outdoor experiences.
You don't want a shoddy chair that may, quite literally, let you down.