Camping Chairs With a Sun Shade
Camping Chairs With A Sun Shade
This post may contain affiliate links so I earn a commission.
Camping chairs with a sun shade can help keep you cool and sunburn free on even the hottest summer days. 
When you need a good seat for your next camping trip, beach outing, tailgate, or soccer game, you probably absently grab your folding camping chair.
That's a good option, but you may find yourself sitting in the direct sunlight.
That can get really hot and even lead to dehydration.
If you had opted for a camping chair with a sun shade, you would have been much more comfortable.
Chairs that contain a built in canopy can come in a wide range of styles, sizes, and price points.

What to look for when purchasing a folding chair with a canopy depends largely on how you plan to use the chair.

If you want it for tailgates and sporting events, you may want to look for a chair that will hold up in windy and rainy weather, as well as providing protection from the sun.
If this chair will accompany you on your camping trips, you want it to be lightweight and easy to carry.
Let's examine some of the top features of camping chairs with sun shades to help you make the best selection.
Camping Chairs With A Canopy
If you are looking to purchase camping chairs with a sun shade, that canopy may be the most important feature for you. 
They are ideal for taking to the beach, sporting events, and other places that are notoriously short on shade. 
Sitting out in the blazing sun all day is not good for our skin. 
It can also lead to overheating and dehydration. 
You can still enjoy being outdoors from under the protection of the sun shade on your camping chair.
Pay attention to the fabric used in the construction of the canopy on your camping chair.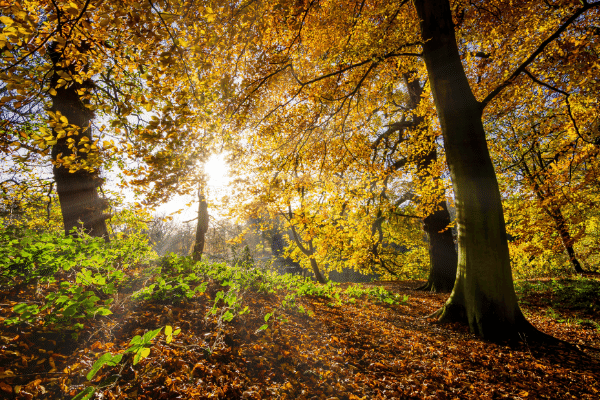 You want to find one that has an SPF of 50 or higher so that it blocks out the harmful rays of the sun.

The fabric should also be strong enough to resist fading and weakening that can be caused by the sun. 
Lastly, you want a shade canopy that is user-friendly.
It should be easy to erect and to take down.
It should be able to fit into the carrying pouch with little difficulty.
When it is not needed, you should be able to fold down the sun shade or quickly remove it from the chair entirely so it is not in the way.
Choosing The Best Camping Chairs With A Sun Shade
Most camping chairs with a sun shade are designed like traditional folding camping chairs. 
When shopping for a new folding chair with a canopy, you should look for the same quality and features you would seek out in a regular camping chair. 
Be sure to get a chair that fits you and your body type. 
If you are taller than the average person, consider a chair that is a bit taller and has an adjustable sun shade. 
If you are a bit larger than the average person, look for a chair that is built to accommodate more weight. 
Find a chair that is comfortable.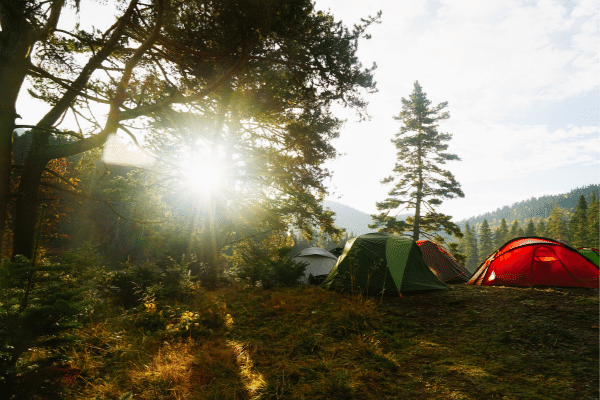 You may end up sitting in the chair for extended periods of time.

Sometimes those softball tournaments drag on all day, or maybe you lost track of time while chatting with friends outside your RV.
Look for a chair that has padding in all the right places, comfortable armrests, and even lower lumbar support. 
Inspect the camping chairs with canopies to make sure they are made using durable materials.
Look for metal frames that won't bend and fabric that won't rip.
The folding mechanisms should glide smoothly so the entire chair can fit into the carrying sack with little fuss.
Camping Chairs With A Sun Shade - Top Reviews
Even when adding the sun shade component to a camping chair, you can still find a great selection of styles and sizes. 
Here are a few of our favorite camping chairs with a sun shade.
Heavy Duty Canopy Lounge Chair by Alpha Camp
The sun canopy on this comfortable, oversized folding chair by Alpha Camp, available on Amazon, offers 50+ UPF sun protection. 
The sun shade has a skirting around the edge to help keep rain from dripping on the user. 
The chair itself has been designed for comfort.
Alpha Camp Heavy Duty Canopy Chair
The seat and armrests are well padded, and the back is made using a breathable mesh.

Air can flow through, so you won't get sweaty and overheated. 
The frame of this chair is constructed using heavy-duty steel tubing that has been powder coated for rust protection.
The metal leg tubes measure 0.9-inches in diameter – larger than average – to add to the structural integrity of the chair.
Oh, and it has a cup holder, too!
Original Foldable Canopy Chair by SwimWays Kelsyus
SwimWays Kelsyus's original folding camp chair with canopy gives you the best of both worlds.
On overcast days or in the evening, you can use the chair just as you would with any other folding camping chair.
But when the sun is beating down on you, you can quickly flip up the canopy from its convenient spot behind the chair back for some instant shade.
The canopy offers sun protection up to 50 UPFs.
With this chair design, the canopy becomes the carrying case. 
It all folds securely and buckles into place without the need for a carrying sack. 
One less thing to worry about. 
There is still a shoulder strap so you can tout the chair around while keeping our hands free to hold your child's hand or carry a beach bag. 
The chair is made with quality materials and has been designed to hold up to 250 pounds. 
The mesh seat has a longer-than-average front section, so the edge of the chair doesn't dig into the back of your legs. 
The mesh back will help keep you cool on those blistering summer days.
Reclining Camping Chair with Shade Canopy by BDL
This might be the granddaddy of all camping chairs with sun shades. 
Manufactured by BDL, and sold on Amazon, this oversized chair reclines and can support up to 450 pounds. 
Despite all this, it still folds easily and into its carry case so you can transport it to your favorite relaxation spot.....the beach, the lake, the campground, or the soccer field. 
This reclining camp chair is built to be durable.
The legs are made using quality 0.9-inch steel tubing to resist buckling. 
The remainder of the frame is also made from powder-coated steel tubing. 
The high-grade 600D polyester material is strong, rip-resistant, and reinforced with double stitching. 
The roomy size and the sun canopy are just the beginning. 
This chair has two cup holders, one in each armrest. 
The chair back has a mesh panel that allows for airflow to help keep you cool. 
The seat has an extra-long front so the seaming on the edge won't cut into your legs. 
All this, and the chair is still small enough for your car's trunk and lightweight enough for you to carry around.
Camping Chairs With A Sun Shade - Overall
Sun protection is important, but some places – like the beach and your son's baseball tournament – lack natural shade.
Camping chairs with a sun shade is a perfect solution.
You can enjoy the outdoors while protecting your skin from the sun's harsh rays.