Best Camping Chairs Under 50
Best Camping Chairs Under 50 Dollars
This post may contain affiliate links so I earn a commission.
If you're looking for the best camping chairs under 50 dollars you've come to the right spot!
We love camping because you can relax.
You can get away from the hustle and bustle of the city and forget about work for a while.
For us, a massive component in the process of our relaxation is planting our tushies in a nice, comfy camp chair and watching the world (and nature!) pass us by.
Everyone deserves that.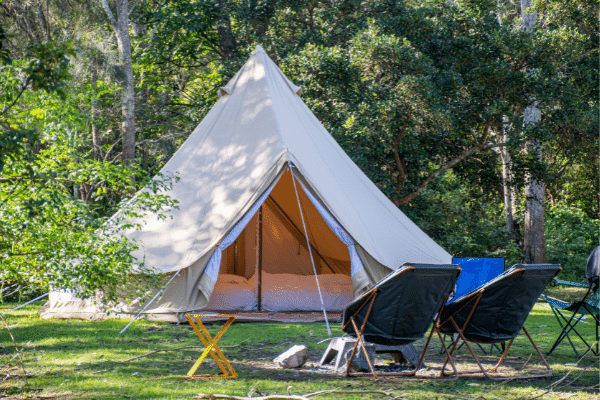 That is why we did some research to compile a shortlist of the best camping chairs for an affordable price.

So if you are on a budget and still want to upgrade your gear, then keep on reading.
We're sure you'll find a product below that will take your camping set-up to the next level.
Best Camping Chairs Under 50 Dollars - What To Look For
Everyone has different ideas for what makes a good camping chair.
To help you begin brainstorming about what sort of camping chair you might need, we recommend you focus on the following items to find the best camping chairs under 50 dollars.
Pay Attention To Your Budget - Best Camping Chairs Under 50 Dollars
You don't want to experience buyers remorse when you decide to invest in a camping chair.
To avoid that pesky feeling of dissatisfaction, we always try to stick to a budget.
In this case, we're focusing on camping chairs for under 50 dollars.
We want the best option that won't break the bank.
What's Your Intended Usage?
Camp chairs are designed with a variety of different usages in mind.
Some are best for car camping, while others are designed specifically for backpacking.
How do you like to camp?
How do you imagine you will use your camp chair?
Answering questions like these will help you narrow down the style of chair that will suit you the best.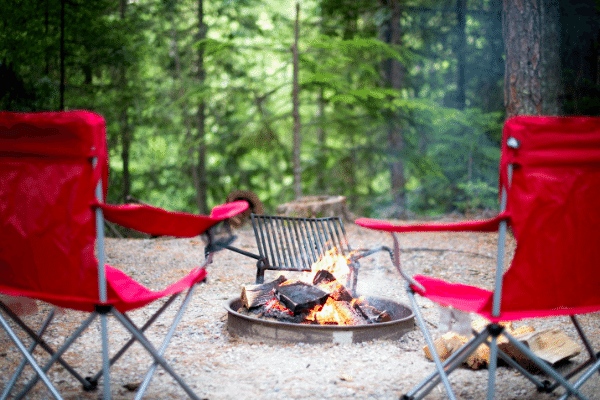 Quality Of Construction and Materials - Best Camping Chairs Under 50 Dollars
Let's be real, camping can be a bit rough on our gear (and our bodies, for that matter).
That is why it's important to select a camping chair that is well-made and constructed with durable materials.
The last thing you want is a broken chair after only one or two adventures into the wilderness.
Now we know that the price of a chair may dictate the quality, and in the world of camp chairs, $50 is on the more affordable side of the spectrum.
However, we've done our best to select chairs that match our budget and will last a long time.
Best Camping Chairs Under 50 Dollars - Top 4 Products to Consider
On the hunt for the best camping chairs under 50 dollars?
Here are our top picks.
1. Best Car Camping Chair - Folding Sling Chair by Kijaro
When it comes to camping chairs, not everyone needs the slickest, most lightweight design.
Some folks prefer the classic folding camping chair design, just like the Folding Sling Chair made by Kijaro.
The Folding Sling Chair from Kijaro gives you comfort without sacrificing quality.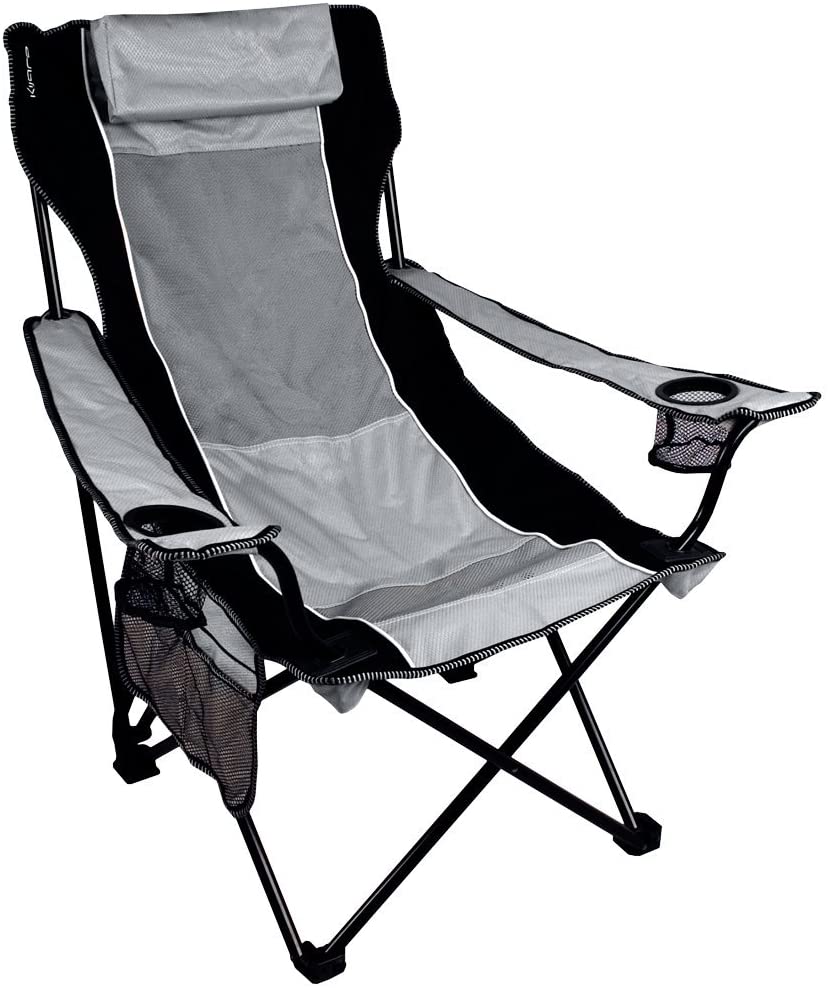 Kijaro Sling Chair
The chair material is constructed with ripstop polyester material that is durable and breathable.

Plus, the steel frame can easily support up to 300 pounds.
The Kijaro Sling chair comes with 2 mesh cupholders (of different sizes), a detachable pillow headrest, and a side accessory organizer. 
Plus we love that the whole thing can be easily folded and slung over your shoulder for no-brainer portability.
Pros:
Comes in a variety of colors
Constructed with sturdy materials
Equipped with many accessories
Cons:
Larger and heavier
Stash sack not included
2. Best Budget Camping Chair - Coleman Camping Char
Camping chairs do not have to break the bank.
That is why we love the Coleman Camping Chair so much.
The Coleman brand is famous for manufacturing quality camping gear that is affordable, and their camp chair is no different.
The Coleman chair is well made.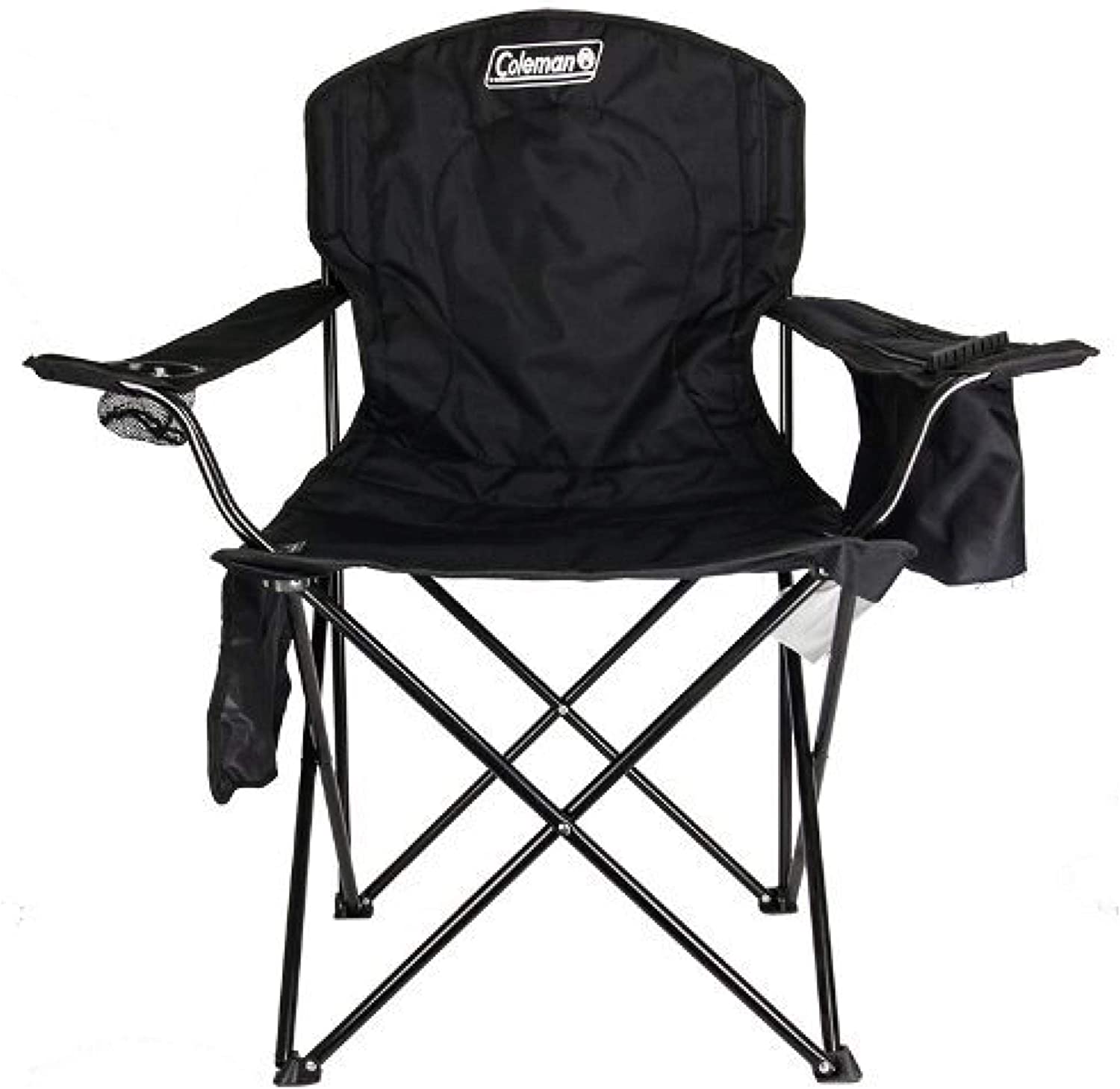 Coleman Camp Chair with 4-Can Cooler
The polyester material, matched with the alloy steel frame, can support up to 325 pounds with no problem. 

Coleman did not skimp on the features of this chair.
It comes with side pockets, a mesh cup holder and boasts a built-in four-can cooler.
Plus, the height of each arm is adjustable to guarantee you find the most comfortable relaxed position.
Pros:
Trusted name brand
Packable
Most affordable
Cons:
Larger and heavier than other chairs
3. Best Ultralight Camping Chair - Ultralight Camp Chair From Mountain Designs
If you value saving weight when it comes to camping, then look no further than the Ultralight Camp Chair from Mountain Designs.
This chair is the epitome of an intelligent and comfortable design.
This camping chair has a bucket seat design that lets you rest your feet and recline in an uber-comfortable position.
Camp Chair by Mountain Designs
The rubber feet keep the chair sturdy and keep you from toppling over even in the most relaxed position.

The lightweight design of this chair makes it a perfect option for camping, sporting events, festivals, and picnics.
Did we mention this thing packs into a 4.7" x 14.5" stash sack?
The space savings you'll get by purchasing this chair will be noticeable right away, especially when you head out for a multi-day backpacking trip.
Pros:
Ultra lightweight
Affordable
Packable
Cons:
Can be difficult to set up
4. Best Camping Stool - GCI Outdoor Packseat
One of our favorite things about camping is the simplicity of things.
If you like to live a simplistic lifestyle also, then the GCI Outdoor Packseat is the right camping chair for you.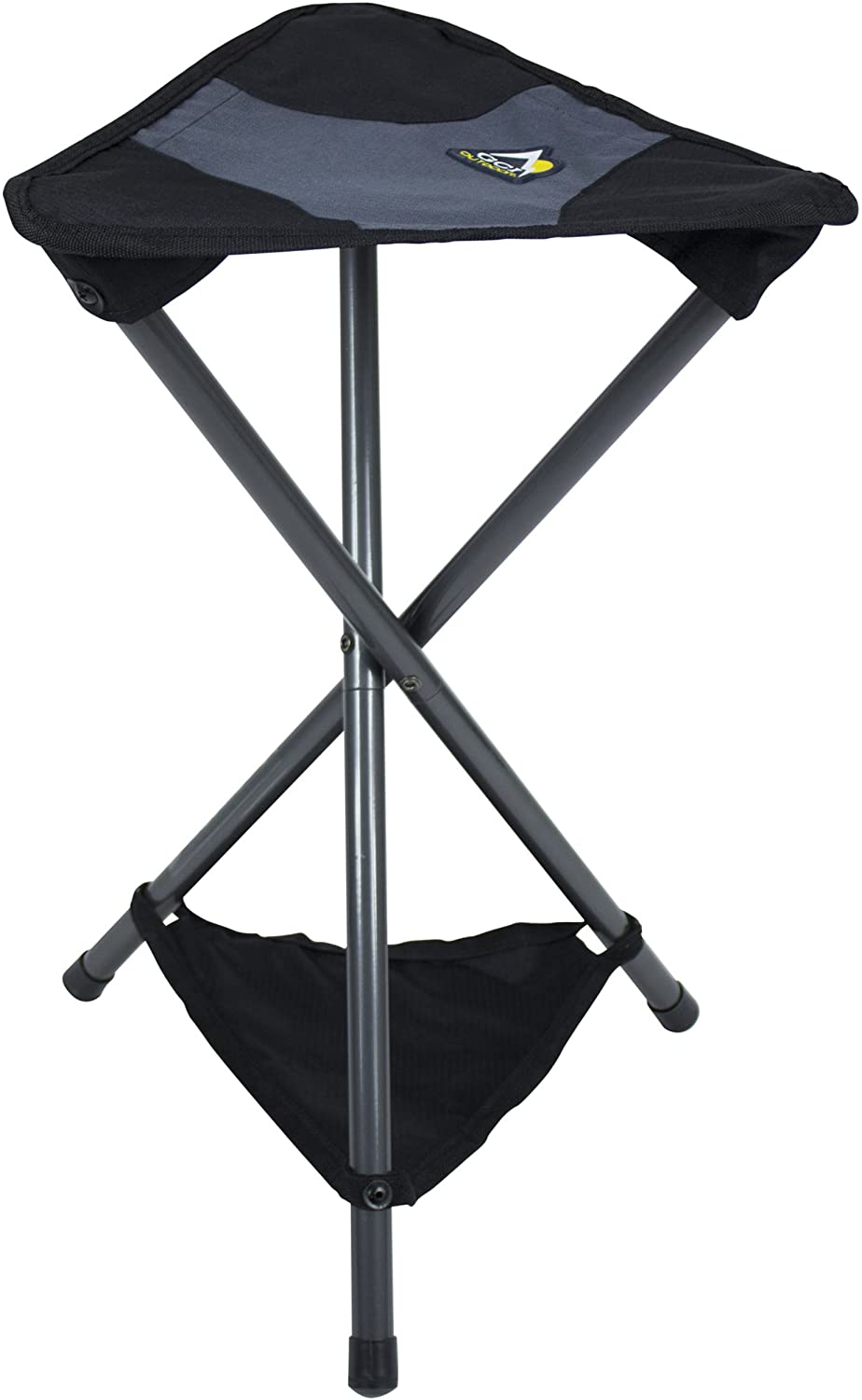 GCI Outdoor PackSeat Camping Stool
The Packseat is a foldable and packable lightweight stool that can go anywhere.
Don't let the small size deter you.
The legs of the Packseat are made with powder-coated steel and can hold up to 250 pounds.
We love this stool for activities where a fast and simple seating solution is necessary, like fishing, hiking, and camping.
Pros:
Lightweight and simple design
Packable
Constructed with steel legs
Cons:
What Is The Most Comfy Camping Chair? 
When it comes to camping chairs, we value comfort above all else.
Your camping chair should welcome you in like a hug, and support your body in the most ergonomic way.
It should position you in your favorite posture for relaxation.
Everyone is a little different when it comes to their ideal way to take a load off and put the dogs to rest when they start barking.
Some folks enjoy leaning back into a slightly reclined chair, while others may only need a stool.
Ultimately, the comfiest camping chair is for you to decide.
With this list of the best camping chairs under 50 dollars, you're off to a good start.
Now it's time to test out some gear on your next big adventure!