How to Store Camping Chairs
How To Store Camping Chairs
This post may contain affiliate links so I earn a commission.
Learning how to store camping chairs the best way will keep your folding chairs looking new and ready for use when you need them again.
Whether you're getting prepared for the season ahead or cleaning up from the one that's just ended, one of the most important things to keep in mind is how to store your bag chairs. 
It doesn't matter if you're an experienced camper or if you're new to the game - storing your camping chairs properly is the best way to keep them in great condition for many years of use.
Plus, a good quality camping chair is not cheap, so you definitely don't want to replace one every couple of years.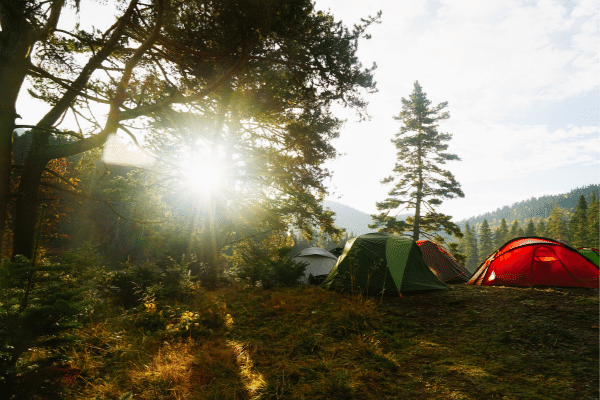 Not sure how to do it?

In this post, we'll tell you everything you need to know about how to keep your camping chairs looking brand new!
How To Store Camping Chairs - What's The Best Way?
You can store camping chairs in the garage, attic, shed, basement, crawl space, or even in your car.
No matter which place you choose, you can store camping chairs by using one of the following techniques:
Store them in bins
Put the chairs away in lockers or large cabinets
Slide them beneath a workbench
Build a loft space in the ceiling
Stack them in an unused corner
Hang the chairs on the wall
How To Store Camping Chairs - 7 Options
Below, we'll detail a few excellent options when considering how to store camping chairs. 
Before choosing any of these methods however, it's important that you take the time to wipe down the legs, back, seat, and underneath the chair base. 
Let the chairs dry before you store them. 
That way your chairs will not only be clean and dry when you take them out for your next camping trip, but they also won't be harboring any mold, mildew, or bacteria.
Next, consider one of these methods for storing your chairs.
Stash The Chairs In Large Storage Bins
If you're able to get your hands on some large storage bins, stashing your camping chairs in these totes is a good idea.
It can protect fabric lawn chairs, in particular, from damages and moisture while they are in storage.
I really like this method of storage because it keeps mice from getting into the chairs and chewing the fabric over the winter months.
Keep Chairs In A Locker, Closet, Or Large Cabinet
If you're planning on storing your camping chairs in the garage, you can usually fit the chairs inside a large locker or cabinet that can be tucked away in the corner.
This option offers a clean and neat appearance for those who like a tidy garage space.
Plus, if you buy a large cabinet, you can also store other camping items along side your chairs so everything is neatly stored in one place.
Slide The Chairs Beneath A Workbench
Don't want to have to look at your folding chairs? 
Slide them beneath something to conceal them.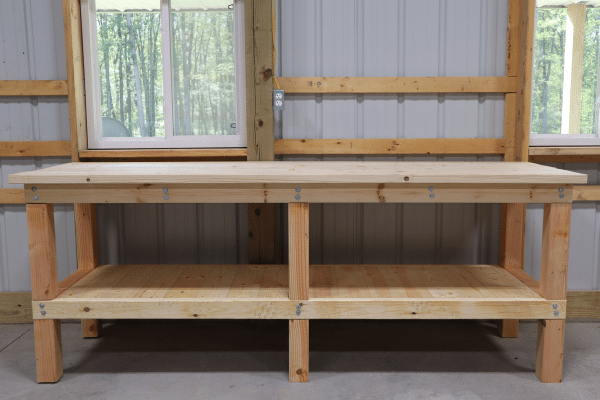 A workbench is a good option, but if you don't have a shed, garage, basement, or attic that houses such a bench, you can always slide them beneath other pieces of furniture as well.

Under the bed, behind dressers or shelves, or even next to the washing machine are good options.
How To Store Camping Chairs - Build A Loft Space 
The ceiling, whether that's in a garage, attic, or even in a basement, is an often unutilized space that can be incredibly helpful when it comes to storing camping chairs.
FLEXIMOUNTS Overhead Garage Storage Rack
Hang metal hooks, shelves, or racks, and you'll be able to keep your camping chairs and other kinds of furniture off the floor - and protected from damages and moisture.
Metal racks like the one pictured above work great because they're designed to hold a lot of weight and they're simple to install.
Stack Your Camping Chairs
Stacking is a good option for plastic or hard-backed camping chairs that don't necessarily hang or fold up well. 
These should be stacked flat on the ground, one on top of the other, or against the wall. 
With this method, you can easily stack dozens of chairs without taking up too much space.
If you're going to be stacking your camping chairs, you may want to cut foam pieces to fit around the top of each one.

This will ensure that the chairs rest against the foam and not each other, which can prevent scuffs and damages.
How To Store Camping Chairs On A Wall 
This is perhaps the best method for storing camping chairs since it gets them off the floor and frees up floor space. 
You don't need to be a carpenter to install hooks in your garage, either.
It takes just a few moments.
Metal hooks are quick and easy to install, and they're available at most hardware stores.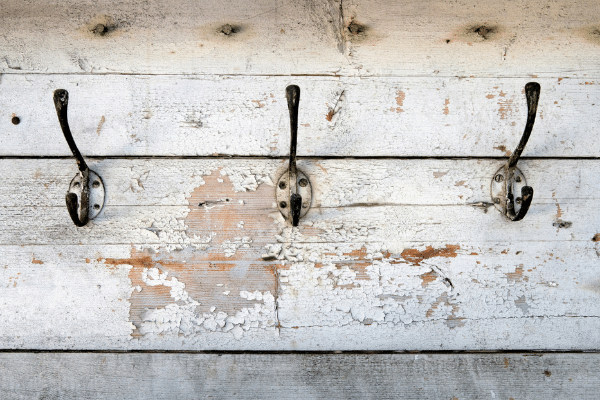 Of course, you can always build hangers out of pieces of 1" x 4" lumber if you want a more permanent solution.

These will be meant to fit the legs of your specific folding chairs and can be mounted directly to the wall.
How To Store Camping Chairs In Your Car
For some people, keeping camping chairs in the car isn't practical because they need that space for other gear (parents of young children - we're talking to you here!).
However, if you find that your trunk is often vacant, you may just want to store your camping chairs there.
That way, they'll be with you whenever the urge to go camping strikes! 
How To Store Camping Chairs - Additional Tips
Regardless of the method you choose for storing your camping chairs, there are a few more general tips that apply.
First, you may want to consider buying some protective covers to keep your camping chairs safe.
This will prevent any dirt, grime, or dust from getting onto the chairs.
Get the right size, as those that are too small or large for your individual chairs won't be effective at keeping debris away.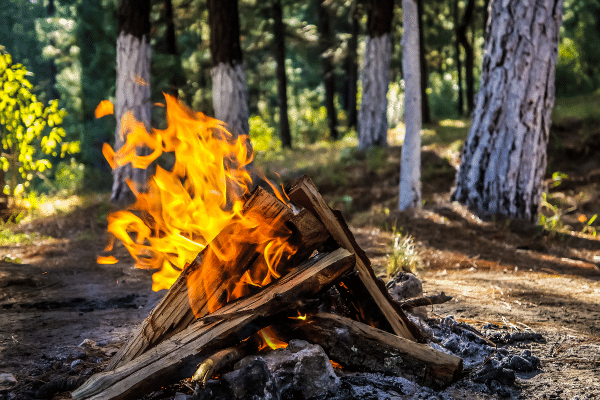 You can even make your own covers from sheets, tarps, or blankets  - just make sure they fit properly.

Even if you clean your chairs well before putting them into storage, give them another good cleaning once you take them out.
Pack your cushions separately, if the folding chairs come with separate seat cushions or headrests.
Put these in storage bins if you'll be storing the chairs outside, since the fabric can attract bugs or become damaged. 
How To Choose The Best Camping Chair
If you're still shopping for camping chairs and are concerned about storage space, be sure to choose collapsible or folding models that are meant to be compact and take up as little space as possible.
There are even some that come with built-in hangers to make them even easier to store, too.
When the weather is warm, your camping chairs usually have their fair share of time in the sun!
But once camping season ends, there's a good chance that you don't want them hanging around, cluttering up your home, until spring finally arrives. 
Fortunately, with the ideas for storing your camping chairs that we detailed above, you don't have to.
Fold them up and stash them away until next season- out of sight, out of mind!