Camping Chairs With Solid Arms
Camping Chairs With Solid Arms
This post may contain affiliate links so I earn a commission.
If you're looking for information regarding the best camping chairs with solid arms, you've come to the right spot!
Everyone remembers their first few camping trips, right?
We have all spent countless hours researching the best stoves, tents and sleeping bags.
All that work - only to ultimately pick out the softest-looking, hammock-like camping chair to keep us comfortable.
We think, "That chair is all plush and all cushioned! It has to be comfortable!"
But what about camping chairs with solid arms?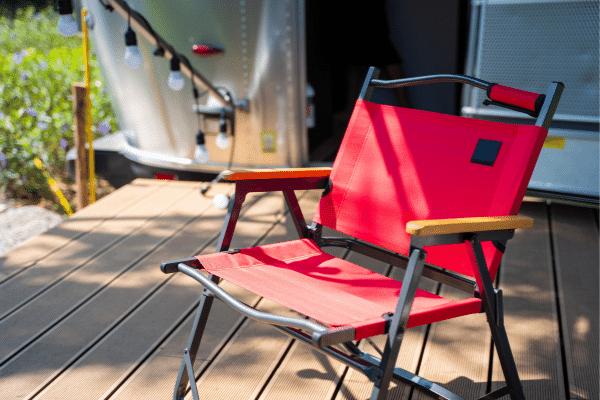 It's easy to write off solid-armed chairs as cumbersome, stiff, or unyielding.

However, there are plenty of reasons to consider them as options on your next trip - the support they provide coming in at the top of the list.
We'll tell you everything you need to know about camping chairs with solid arms - and give you a few products to choose on your next excursion.
Why Choose A Camping Chair With Solid Arms?
Soft does not always mean the most comfortable, and it certainly has no relation to durability.
The last thing we should be concerned about - especially after a long car ride, setting up camp, after a long hike, or simply while just enjoying the fire with family or friends - is how well our chair will hold up.
Camping chairs with solid arms will provide you with the support you need to relax in style.
Because the arms don't contain extra cushioning or padding, you'll get the support you need to sit upright (and comfortably) around the campfire.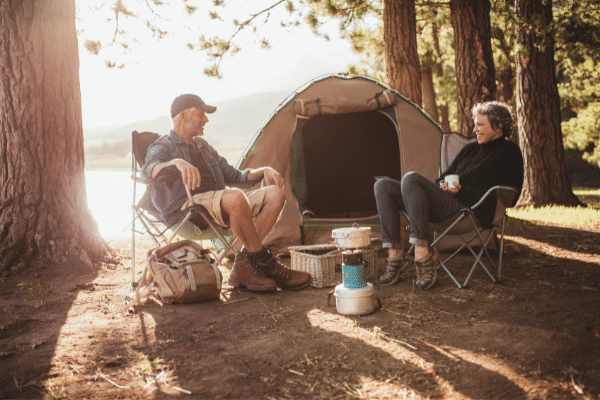 Plus, camping chairs with solid arms are great for elderly people or seniors who need the extra support when using their arms to sit, or stand up from a folding chair.

What To Look For In A Camping Chair With Solid Arms?
Think carefully back to every time you have sat in a camping chair around a fire, or even at a sporting event.
Now consider how much time you spent in a position where you were leaning on one side or another.
The only thing that is keeping you in that chair and not with a shoulder on the ground is the chair's arm.
This thin little area has perhaps the most impact on the enjoyment of our activity.
This area must be firm enough to support the upper parts of our body but also supple enough so that reclining back for a mid-day nap doesn't make you feel like you're leaning against a brick wall.
This is the most important factor to consider when you're looking for camping chairs with solid arms.
Of course, you'll also want to factor in the other characteristics you might look for in any other camping chair, too.

Ask yourself questions like:
Does this need to be a double or single camping chair?
How lightweight and portable does it need to be?
Do I care about how easy it is to clean?
Will it fit in the trunk of my car?
Is it the right fit for my budget?
All of these things are important factors to consider when choosing the best camping chair for your needs, and your wallet.
Top 5 Picks For Comfortable, Solid-Armed Camping Chairs
Finding the perfect camping chair can be a challenge - you want something that's comfortable, lightweight, and easy to transport.
Solid armed camping chairs offer all of this and more, making them a great option for anyone looking for the perfect seat for their next outdoor adventure.
We'll take a look at some of the best solid armed camping chairs on the market, so you can find the perfect one for your needs.
GCI Outdoor Eazy Chair Portable Camping Chair
Starting off our list is an offering from GCI Outdoor.
While this chair does look very similar to the other canvas sling-type chairs, you will appreciate the wide-firm arms as you wind down from your day.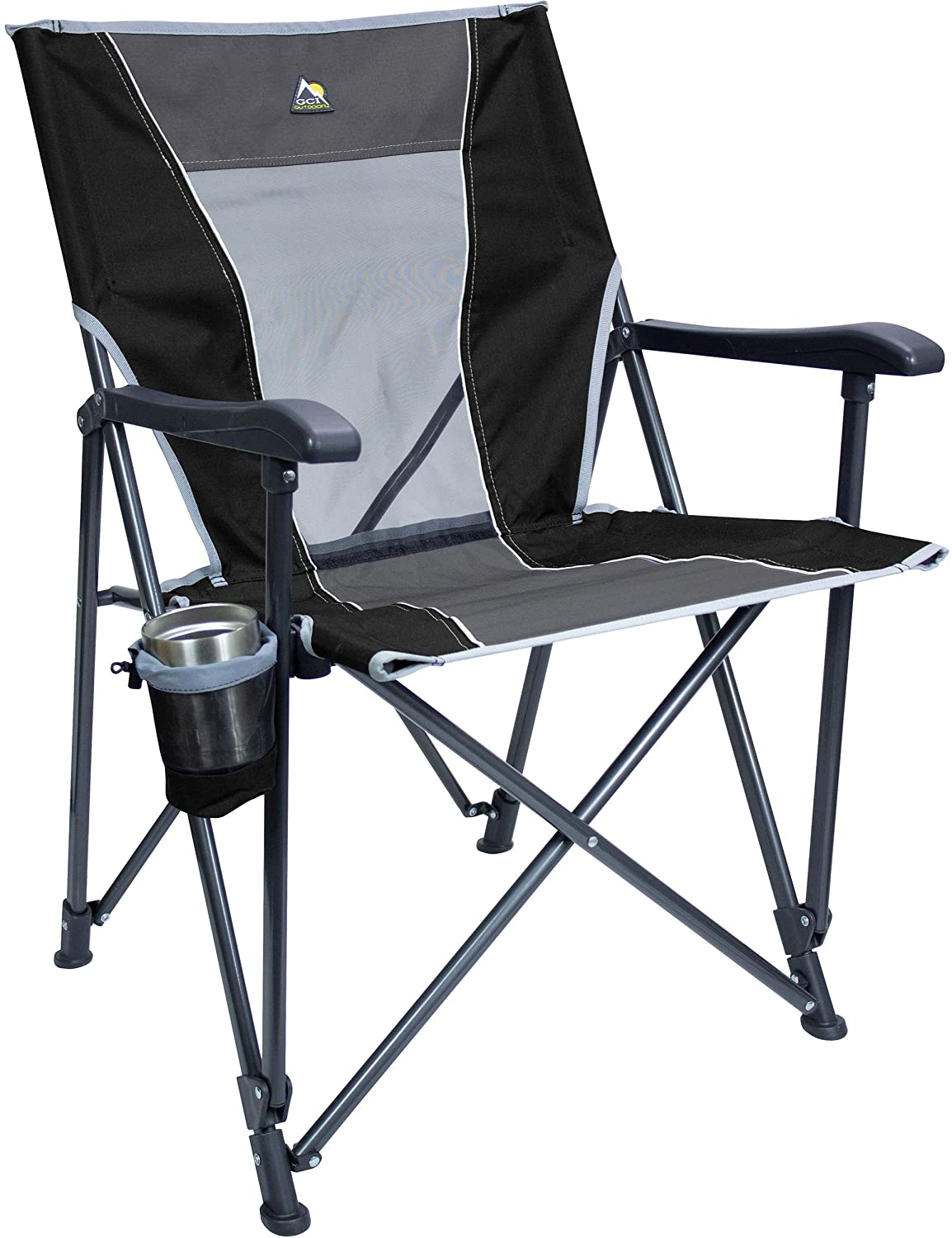 It folds up nicely and comes with a carrying bag, along with a side cup/can holder.
There are a few drawbacks, primarily the seat depth and the back.

With the "all or nothing" support of the canvas, there tends to be a tension line that runs right at the front of the seat.
According to reviews, this can be uncomfortable for some.
Timber Ridge Camping Chair
Next up on our list is a folding chair from Timber Ridge.
This chair folds up to nearly the same size and comes with the same accessories as the GCI.
The similarities end though, when the chair is opened up.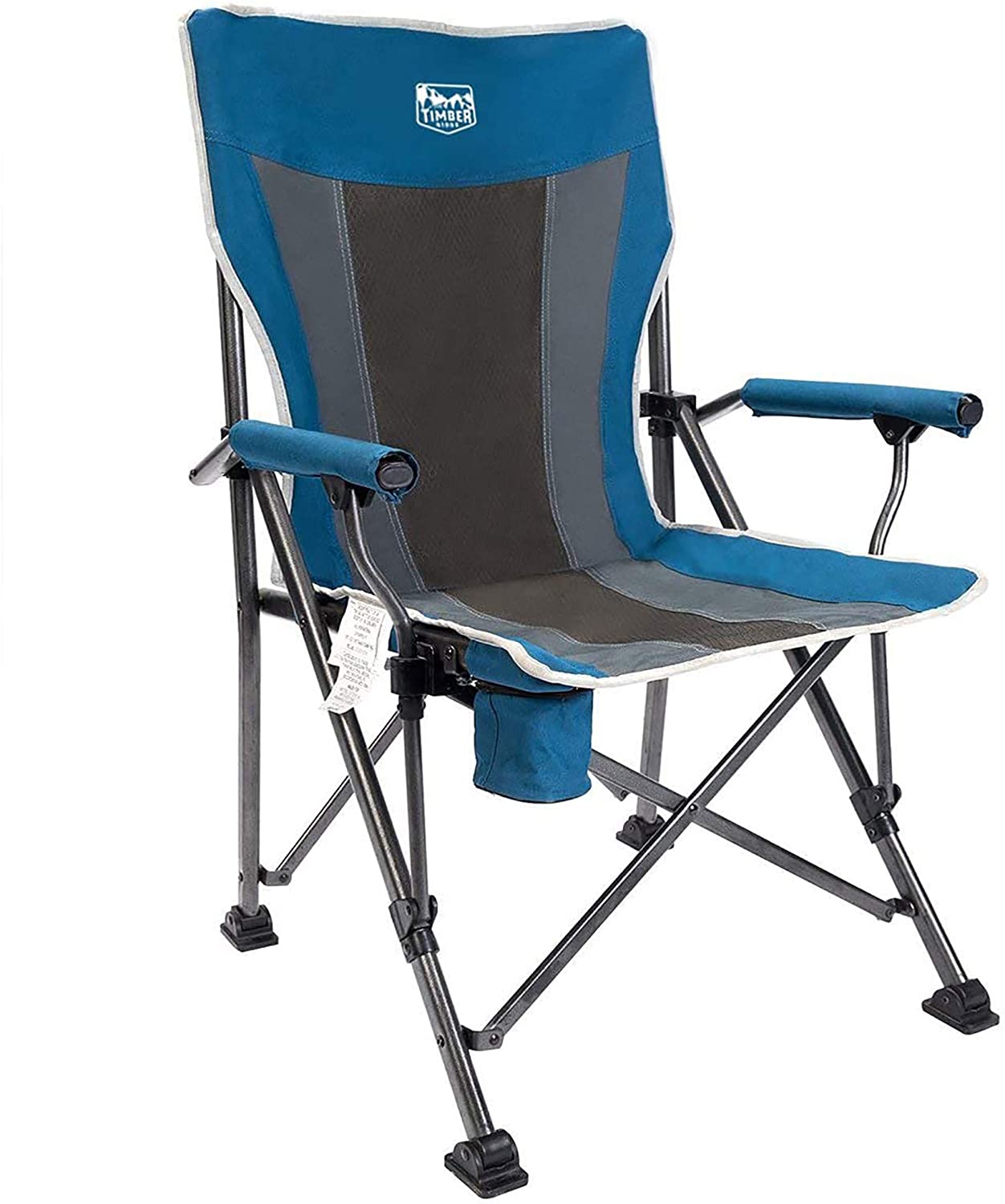 With a back that is nearly 40" (when measured to the ground), this is a large chair and looks the part.

The heavy-duty steel frame instills confidence.
However, there are still some negatives to this chair - primarily with the arms.
They are solid and sturdy.
However, the narrowness of this chair will likely prove bothersome for those of us who have a tendency to lean to one side.
Alpha Camp Director Chair
Number three on our list is this director's chair from Alpha Camp.
It balances some unique luxury features that are one step up from the competitors.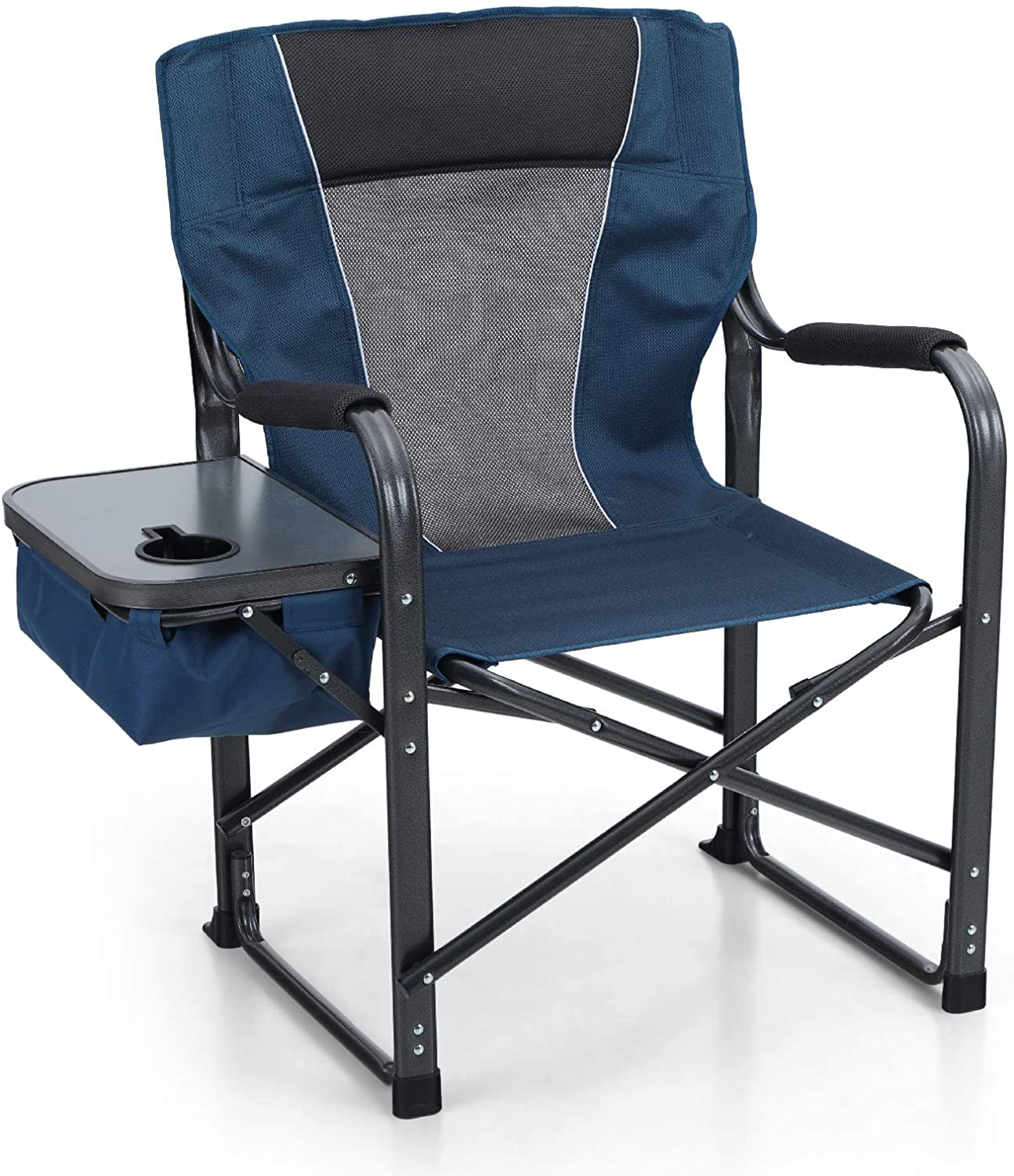 This relatively small director-style chair may look like nothing to write home about - at least, at first glance anyway.

However, the 900D fabric is is a testament to its durability.
The padded arms and shoulder support are another welcome touch.
And who can forget about the cup-holder/storage box on the right side?
This little chair is the most compact on the list, but it comes in at a high price.
Timber Ridge Oversized Zero Gravity Chair
Another offering from Timber Ridge, this oversized zero-gravity chair is among the most comfortable you will find in this category.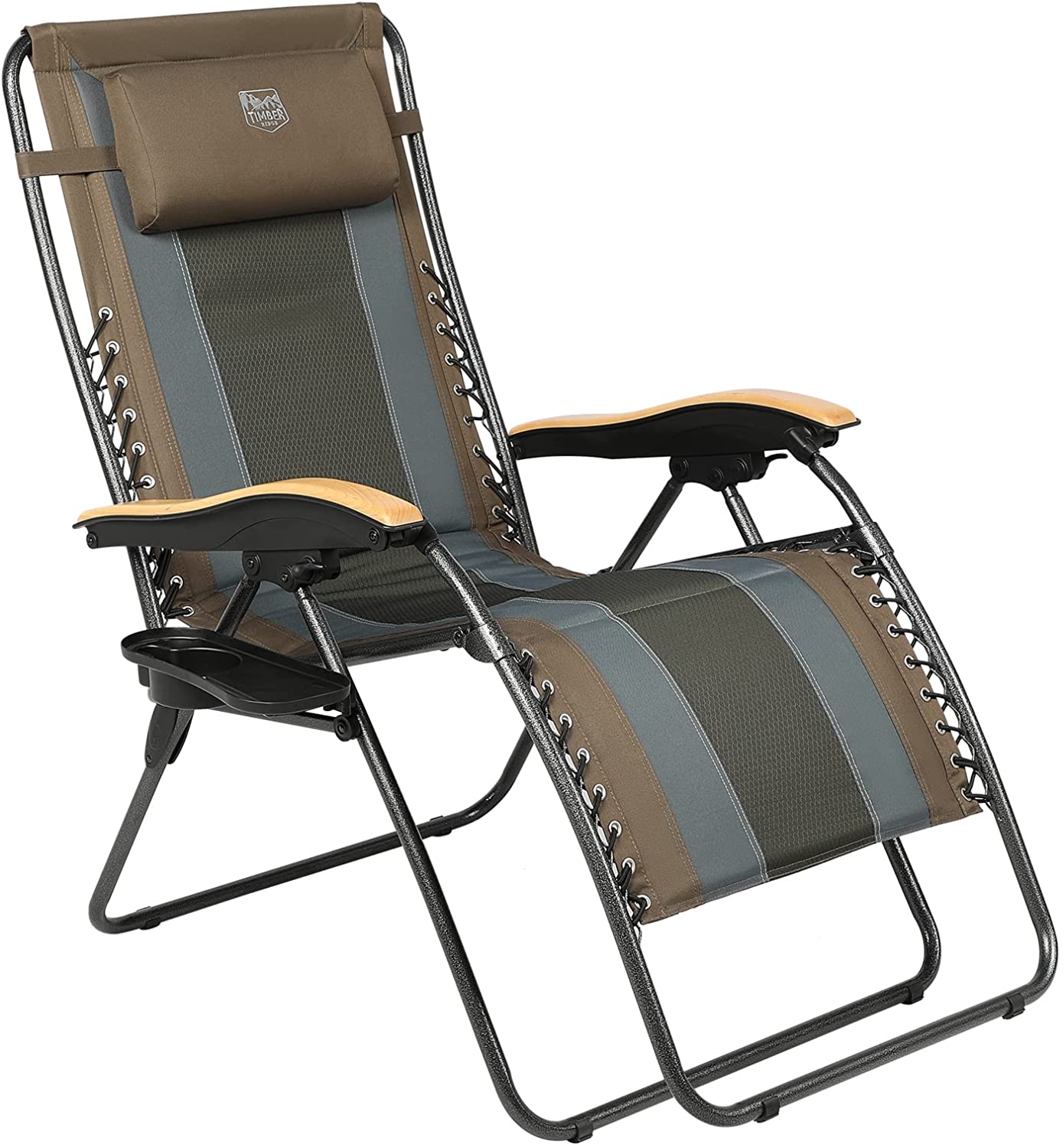 Timber Ridge Zero Gravity Chair
This oversized zero gravity chair will allow you to recline without worrying about tipping too far back.

It's not ideal for backwoods camping trips due to its size, as it will take up most of the space you have available for gear, but for shorter excursions, it's the perfect fit.
YETI Trailhead Collapsible Camp Chair
From a company renowned for creating some of the most rugged outdoor equipment around comes the YETI Trailhead.
Though last on our list, it's certainly not least!
The Trailhead may look like any other "director-style" chair, but it more than makes up for this in its durability and comfort.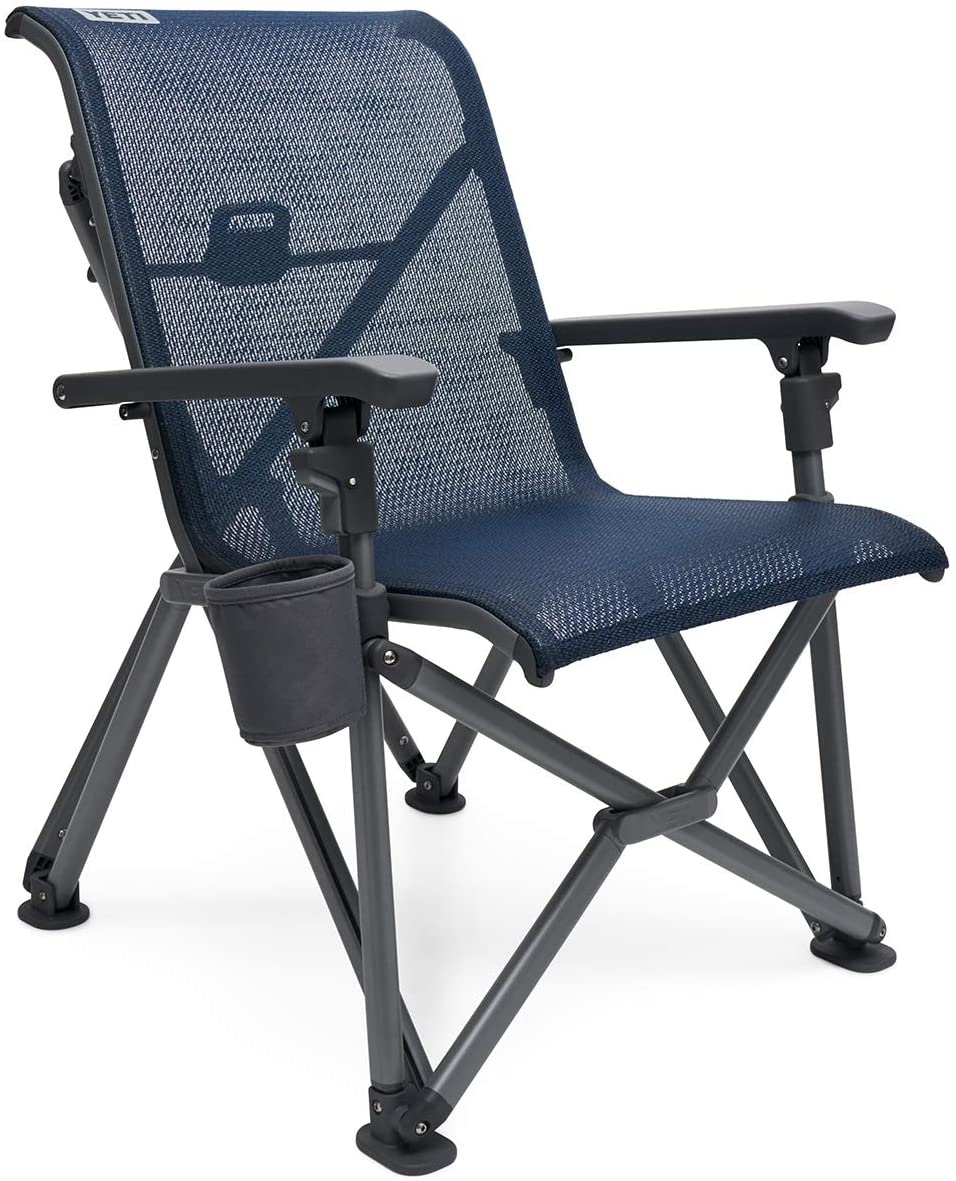 This powerhouse of relaxation will be your go-to spot next to the fire.

The solid frame has several locking features and the "Groundgrip" feet ensure the chair stays where you set it.
Durability is of no concern with the "Flexgrid" fabric and the solid construction.
As a bonus, it folds to a compact size that is among the smallest of all folding chairs of this solid-armed type.
Camping Chairs With Solid Arms - Overall
When it comes to choosing the best camping chairs with solid arms, there are a few things you want to look for.
The first is comfort.
You'll be spending a lot of time sitting in your chair, so it needs to be comfortable.
Second, you want something that's sturdy and will hold up well under pressure.
Finally, you want to choose a style that fits your personality and camping preferences.
Nine times out of ten, camping chairs with solid arms can fit the bill just fine.
When looking for the most comfortable camping chair, it's important to consider all of your options.
Of all the camping chairs on the market, camping chairs with solid arms provide the most comfort.
If you're looking for a durable and long-lasting option, choose a solid armed camping chair.