Compact Folding Camping Chairs
Compact Folding Camping Chairs
This post may contain affiliate links so I earn a commission.
Are you headed out on a camping trip - or looking for a comfortable chair to keep you off the ground the next time you attend a concert or sporting event?
If so, it's time to consider investing in a set of compact folding camping chairs.
But which ones are right for you?
In this post, we'll give you some tips on what to look for - as well as some recommendations for our top products to consider.
Let's get started!
What To Look For In Compact Folding Camping Chairs
There are a few things to keep an eye out for as you're shopping for compact folding camping chairs.
Here's what you need to know.
What Type Of Chair Do You Want?

There are a few types of compact folding camping chairs you can buy.
The one you pick will ultimately depend on how you plan to use it.
For example, there are some chairs that pack down so they still remain relatively large in two dimensions.
They fold like books.
There are other chairs that pack up so that they are more like umbrellas, remaining large in just one dimension.
These are sometimes referred to as "collapsible chairs without assembly."
Of course, there are then chairs that are collapsible - but don't require any assembly.
These tend to be more lightweight and are ideal for backpacking.
Finding A Quality Chair
Although finding a chair that's lightweight, compact, and beyond all, portable, is likely going to be at the top of your priority list, make sure you aren't overlooking other aspects of a chair's design.
It needs to have quality rivets, fabric, and frame materials to make sure it lasts long-term.
That way, you can avoid common issues like frayed seams, holey mesh, and sagging seat fabric.
Comfort Level
One of the most important things to consider when buying a compact folding camping chair is how comfortable it will be to sit in.
It can be tough to get a feel for how comfortable a chair is without actually plopping your bottom in it - which is likely going to be the case if you are shopping online.
However, you can take a close look at its features to get a read on how comfortable it might end up being once you finally get a chance to use it.
For example, what does the padding look like?
Is it padded or unpadded?
Although the padding is essential for a comfortable seat, too much can reduce the compactness of the chair when folded down.
Also, look for features like back and lumbar support, soft yet solid armrests, and ground-to-seat height.
This last feature has to do with how far your chair sits off the ground - the lower options are safer for young campers but will also be far less comfortable for those of us who are on the taller side.
Weight and Dimensions 
The question isn't going to be if it folds but how it folds for this category.
Some chairs fold flat while others fold in a torpedo shape.
If you can, look for one that packs down into the smallest dimensions possible to make your chair easier to carry.
The same goes for its weight!
Don't forget to consider the weight capacity, either.
Double-check your weight against the maximum of the chair to be safe.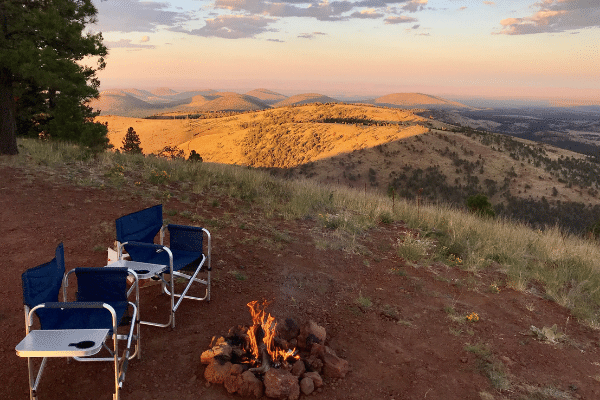 Extra Accessories

Many compact folding camping chairs come with bonus features, like cup holders, coolers, and storage pouches.
Though these aren't essential, they can definitely make a concert or camping trip far more comfortable!
Rocking vs Stationary
You don't have to sit in one place just because you're…you know…sitting!
There are all kinds of unique designs for camping chairs now, including those that recline, rock, and swivel.
These cost a bit more and often aren't quite as compact but can still be beneficial features to consider.
Prep Time To Set Up The Chair
There's not much you need to do to get a folding chair ready to use, in most cases.
You take it out of the bag, unfold, and voila!
You're ready to relax.
However, some folding camping chairs take longer to unfold than others.
Look for one that's ready to use in seconds, even if you have to add on a bonus feature like a swivel or folding side table.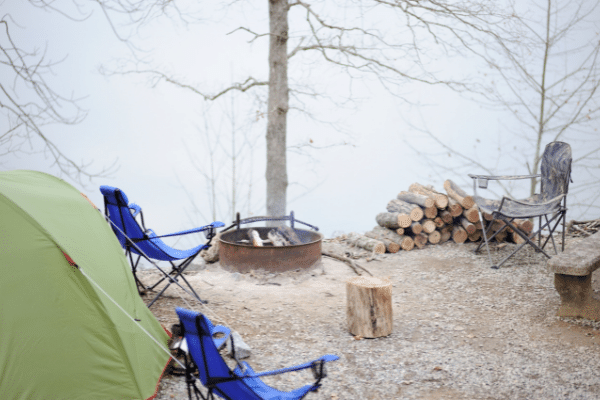 Stability
You'll also want to consider the stability.
Often, ultra-compact and lightweight camping chairs just aren't as sturdy.
They are designed to be portable and packable instead of strong.
However, if you can find some with metal legs, albeit ultralight metal legs, that might be a plus to consider.
The Best Compact Folding Camping Chairs To Buy
If you're going to invest in a camping chair, you're best to purchase one that is compact and folding.
Even if you aren't interested in trekking into the backwoods, a camping chair that takes up as little space as possible is something you're going to want to have around.
Below are our top picks for the four best compact folding camping chairs you can buy.
Consider their benefits as you shop around!
1.  GCI Outdoor Compact Folding Camp Chair
This compact folding camp chair is just about as economical as they come.
Not only is it affordable, but it has a telescoping system that makes it fold down to just 1/16" of its original size - about the size of a laptop bag!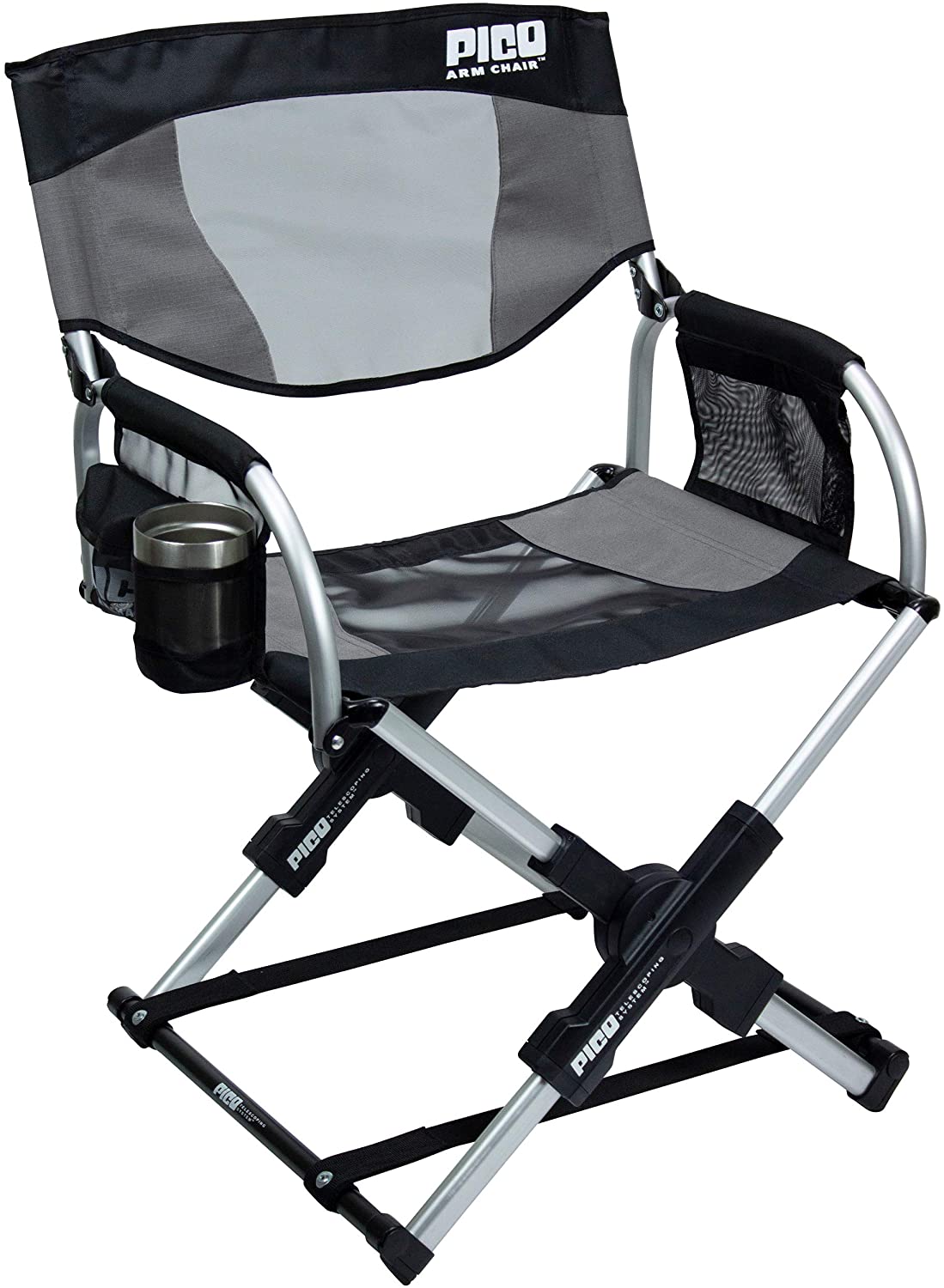 GCI Outdoor Folding Camping Chair
Plus, it comes with its own carrying case for easy portability.

Pros:
Has a storage bag that doubles as a back storage caddy
Made of lightweight aluminum
Supports up to 250 lbs
Cons:
Carrying case is difficult to open and close
2.  iClimb Heavy Duty Compact Folding Camping Chair
Available in multiple colors, this slim and streamlined folding chair comes in with a packed size of just 20.5 × 18.5 × 5.9 inches.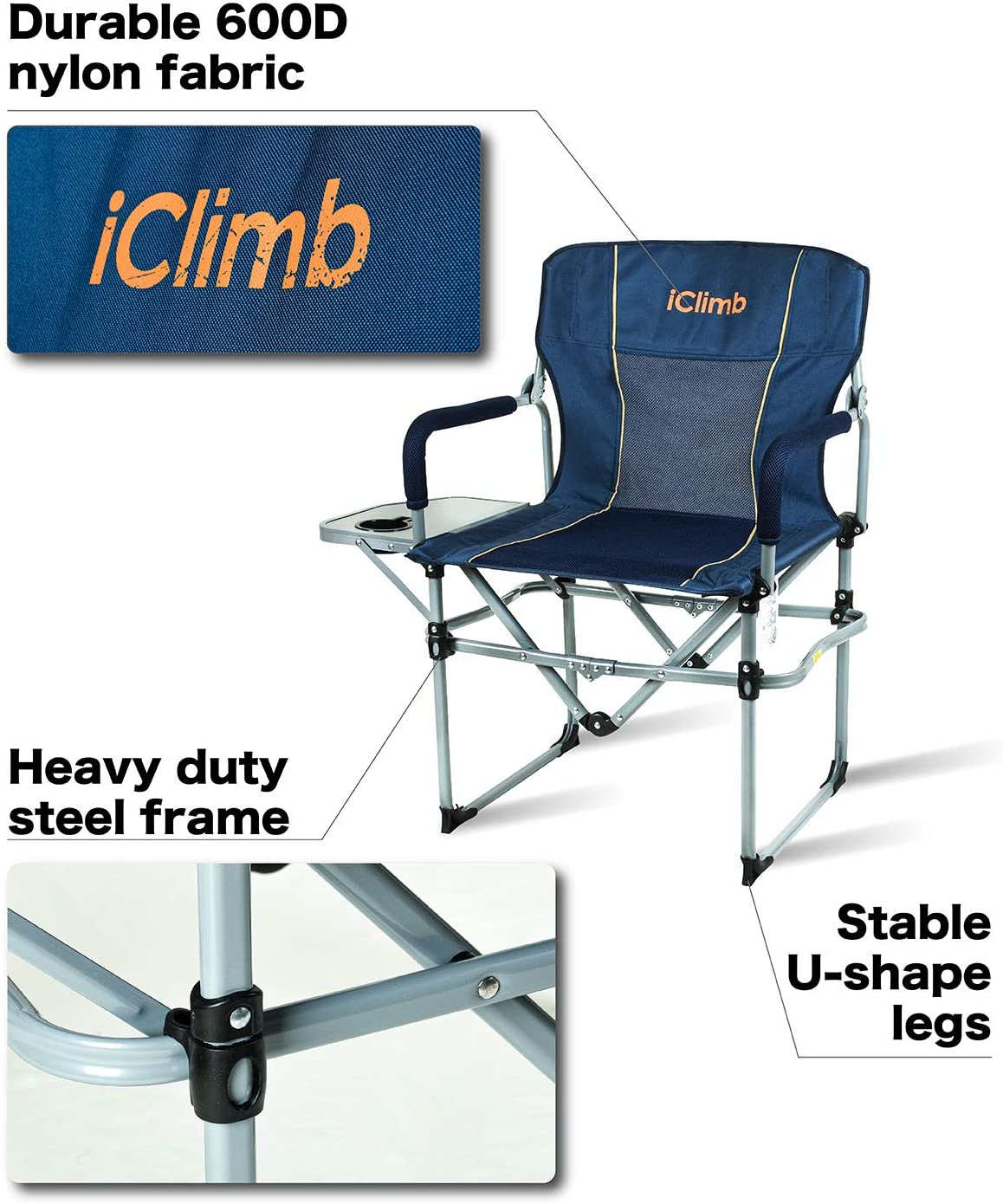 iClimb Heavy Duty Chair with Side Table and Handle
Plus, it has a convenient carrying handle and all kinds of bonus features, like a cup holder and padded armrest.

Pros:
Wear-resistant ripstop Oxford fabric and reinforced mesh back for durability
Deep seat area for added comfort
Heavy-duty sturdy steel frame is rust-resistant and has a high weight capacity
Cons:
Mesh back is slippery and lacks durability
3.  BLUU Backpacking Chair
This affordable, compact chair is perfect for times when space comes at a premium.
It's also available in half a dozen colors and is made primarily of oxford cloth and mesh.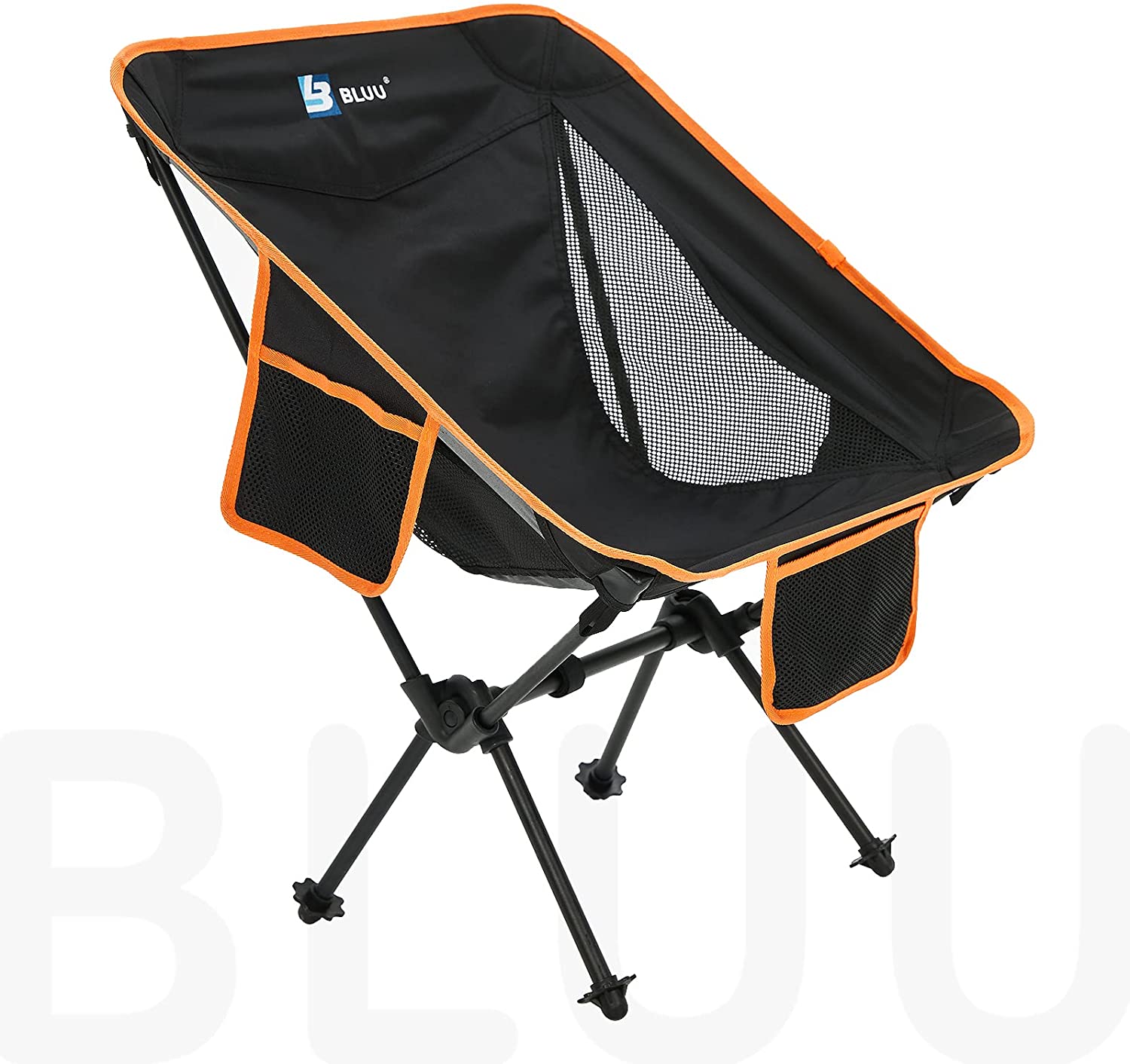 BLUU Small Backpacking Chair
Although the chair itself weighs just two pounds and collapses down to just 15 x 5.5 x 4 inches, it can support up to 280 lbs in return!
Pros:
Fits perfectly in a backpack
Reinforced, upgraded seats for added stability
Three layered pockets and mesh for added airflow
Cons:
4.  KingCamp Camping Chair
Last but not least is this camping chair from KingCamp.
Perfect for tailgating and for camping, it folds down to just 19.6×19.6×5.9 inches.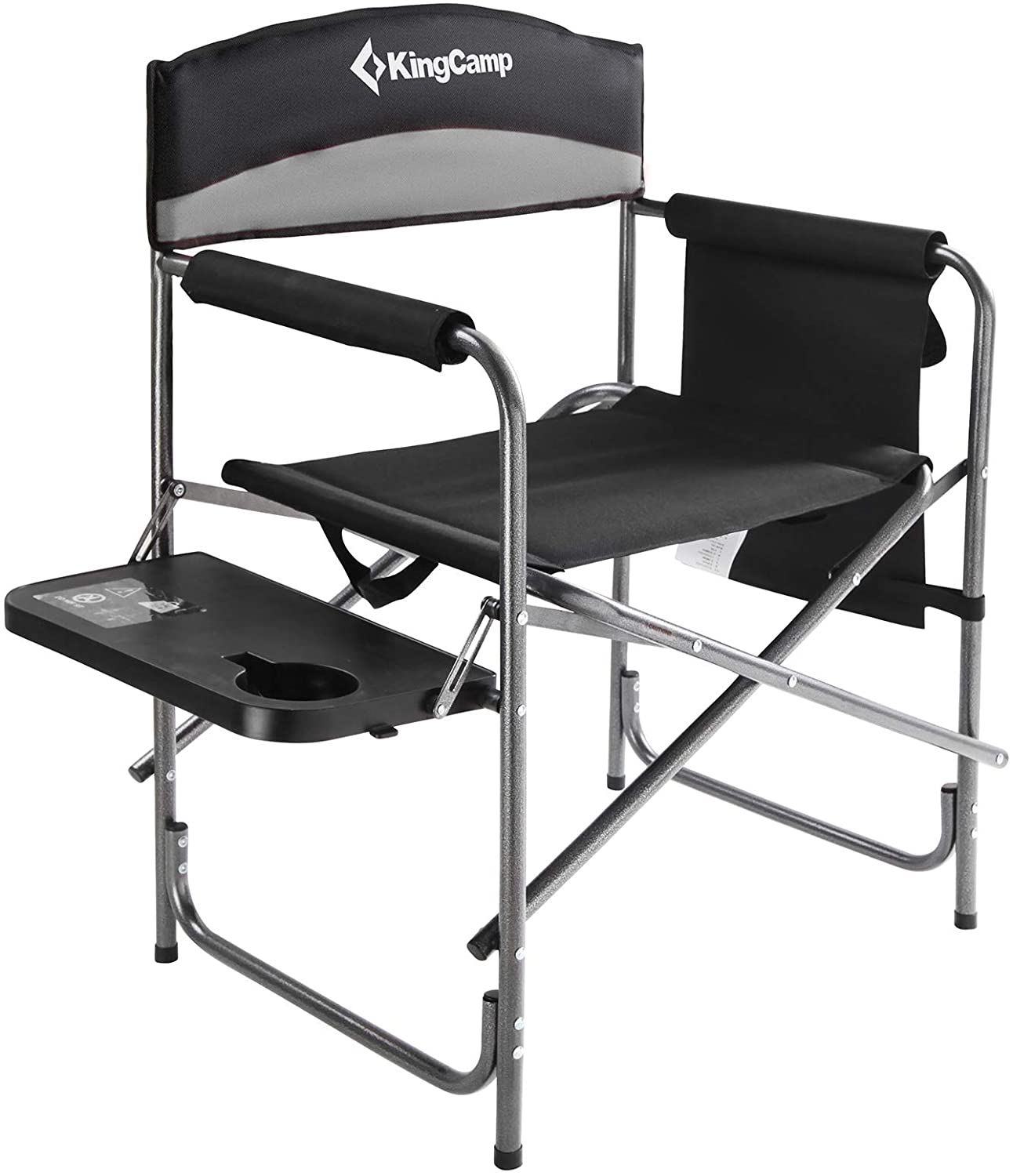 KingCamp Heavy Duty Folding Camping Chair
Breathable and durable, it has a padded back and a mesh seat that stays cool no matter the weather.
Pros:
Comes with a foldable side table and built-in cup holder
Has padded armrests
Breathable, durable, and washable
Cons:
Many users state that the seat has a tendency to sag
What Is The Most Comfortable Folding Chair?
When it comes right down to it, the most comfortable compact folding camping chair for you might not be the best one for your best friend or neighbor.
Everybody differs in what they want to get out of a chair - so be sure to shop around to find the product that's right for you.
Whether you plan on taking your chair out into the backwoods as you hike the Appalachian Trail or you just want something comfortable to relax in while you watch the football game, consider these top compact folding camping chairs - and our shopping tips - to guide you in your decision.
Now - time to relax!