Stainless Steel Gas Patio Heater
Stainless Steel Gas Patio Heater
This post may contain affiliate links so I earn a commission.
If you love the outdoors but hate chilly winter weather, a stainless steel gas patio heater might just be the perfect solution.
This helpful accessory will keep you warm and toasty while you're enjoying your patio, deck, or backyard during the colder months.
Not only will it make your outdoor space comfortable, but it'll also add a touch of elegance and sophistication to your décor.
So why stainless steel - and why gas?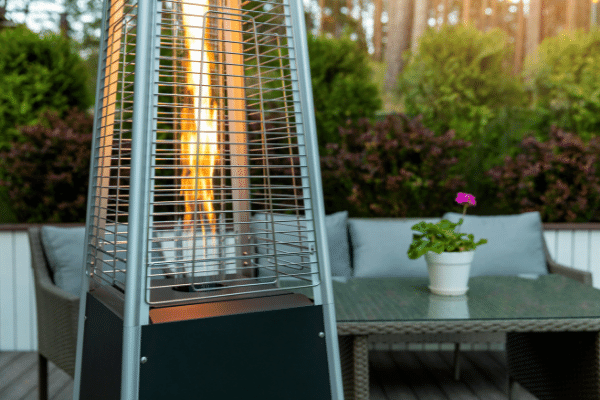 And what should you be looking for as you start your search?

Let's take a closer look at the best stainless steel gas patio heaters you can buy!
What Are The Advantages Of A Stainless Steel Gas Patio Heater?
Don't let the cold put a damper on your outdoor get-togethers!
There are countless benefits of investing in a stainless steel gas patio heater.
Let's take a closer look:
Durable and Weather-Resistant

First off, let's talk about why stainless steel is the way to go when it comes to patio heaters.
Stainless steel is a highly durable and weather-resistant material, which means your investment in a patio heater will last for many seasons.
Plus, it looks sleek and modern, adding a touch of elegance to your outdoor space.
A stainless steel gas patio heater will stand up to the elements and look amazing no matter the weather because stainless steel doesn't rust.
However, if you have a beach or ocean front home, the stainless steel may develop some brown deposits on the heater.
This is pretty normal and you can clean it with some mild detergent and then immediately wipe it down with a soft, dry cloth.
Another thing you'll notice is the stainless steel will become darker around the heater head, where the temperatures are the hottest.
This is normal, and nothing to be concerned about.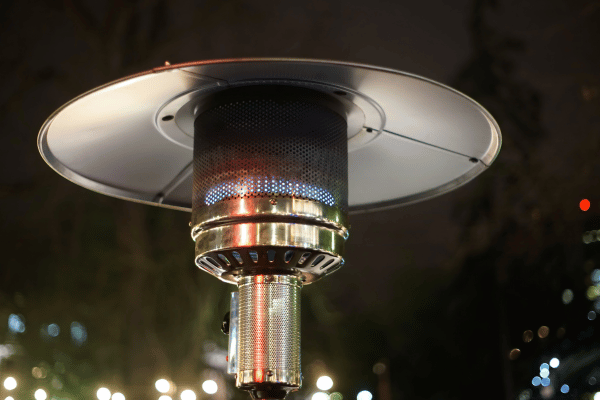 Reliable Source of Heat

One of the best things about a gas-powered patio heater is that it's a reliable heat source, no matter the conditions.
Unlike electric heaters, which can be affected by power outages or uneven heating, a gas heater will provide even, constant warmth for as long as it has fuel.
Plus, gas is often more cost-effective than electric for heating outdoor spaces, which means you can save money while staying comfortable.
How long can you expect a 20 lb propane tank to last in a patio heater?
The size and BTUs of the heater will ultimately effect how long the tank of propane will last, but on average a 40,000 BTU patio heater will run about 10 hours on a full tank of propane.
Refilling a 20 lb tank of propane is pretty easy and should cost around $15-$20.
If you're looking to save money, I've found it's cheaper to refill your original tank as opposed to swapping it out at a big box store in one of those automated vending type machines.
Safety Considerations
It's natural to be concerned about the potential hazards of an open flame, particularly if you have pets or children who will be enjoying your outdoor spaces with you.
Fortunately, modern gas patio heaters are designed with safety in mind.
They typically feature built-in safety mechanisms that prevent tipping or fire hazards, such as automatic shut-off switches.
As long as you follow proper usage and safety guidelines, a gas-powered heater is a safe and efficient way to keep your outdoor space cozy.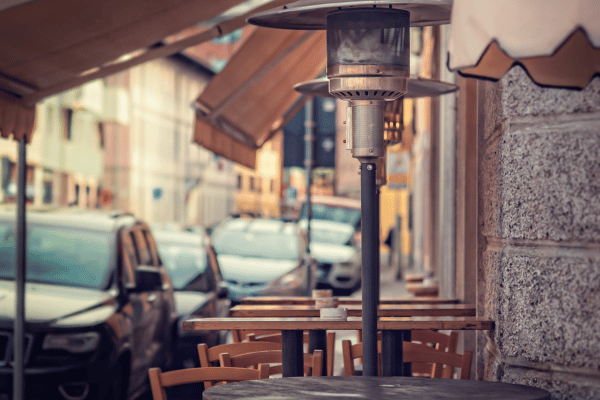 Range of Sizes and Settings
Gas patio heaters often come in a range of sizes and heating capacities, so you can choose the one that's right for your space.
Some models may heat a relatively small area, while others can radiate warmth over a larger radius.
Look for a heater with an adjustable output or thermostat control, so you can customize the temperature to your liking.
Also, be aware of the fuel source—the majority of patio heaters use propane, which means you'll need to have a supply on hand.
If you don't want to deal with propane tanks, some models run on natural gas instead (which is actually a little cheaper to operate), but you'll need a natural gas hook-up in close proximity to your deck for this option.
4 Best Stainless Steel Gas Patio Heaters
Now that you know why you should consider a stainless steel gas patio heater, here are some of the best options.
Leisure Stay Gas Patio Heater
First up is the Leisure Stay gas patio heater.
It has a powerful 48,000 BTU burner that can heat up to 210 square feet, which is perfect for both commercial and household use.
It's a safer and more reliable heater than you might expect, all thanks to its valve that automatically shuts off when gas is leaking, and the gas auto shut-down when the heater is tilting over.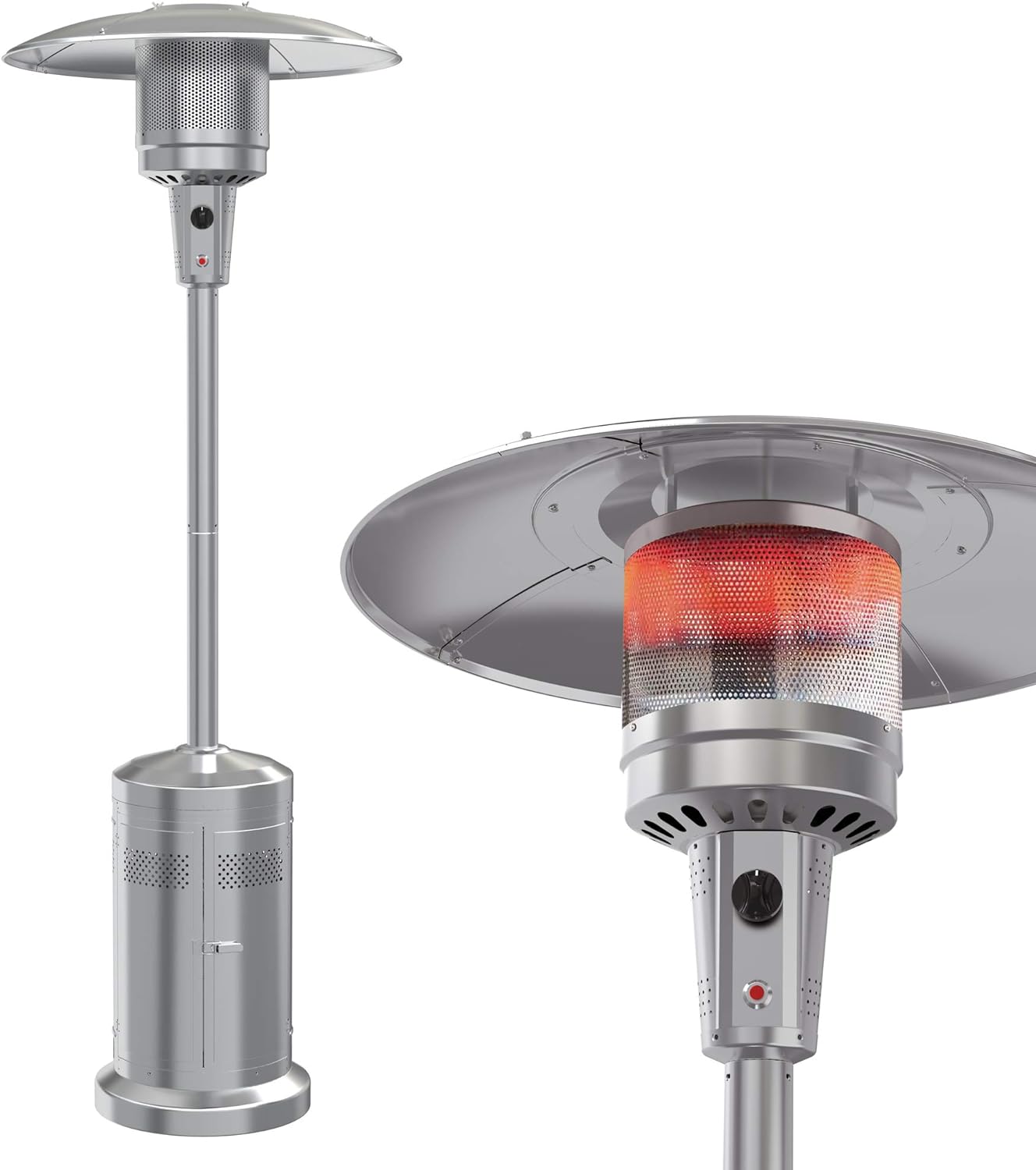 The variable-heat control knob allows you to adjust the flame, providing quiet and smooth heat without smoke or flame-up.

Plus, it's an easily accessible outdoor propane heater with electronic ignition that starts in just three seconds.
If you're worried about assembly, it's easy to assemble in just 30 minutes with the instructions provided.
Amazon Basics Stainless Steel Outdoor Propane Patio Heater
This gas heater is perfect for cafes, restaurants, or home patios and gives off 46,000 BTUs, providing heat up to nine feet away.
It features an adjustable temperature knob to control the output and has a one-touch ignition button for a quick start-up.
Amazon Basics 46,000 BTU Heater
The heater comes with wheels for easy mobility, and its stainless-steel exterior provides lasting strength.
With its tilt safety auto-shutoff valve, water box for weighing down the base, and wheel kit for easy movement, this heater is a safe and reliable option for your outdoor space.
Pamapic Patio Heater
This beauty stands tall at 89.4 inches and features a mesmerizing glass flame tube guaranteed to liven up any atmosphere.
Its durable stainless steel finish is sure to catch the eye of your partygoers.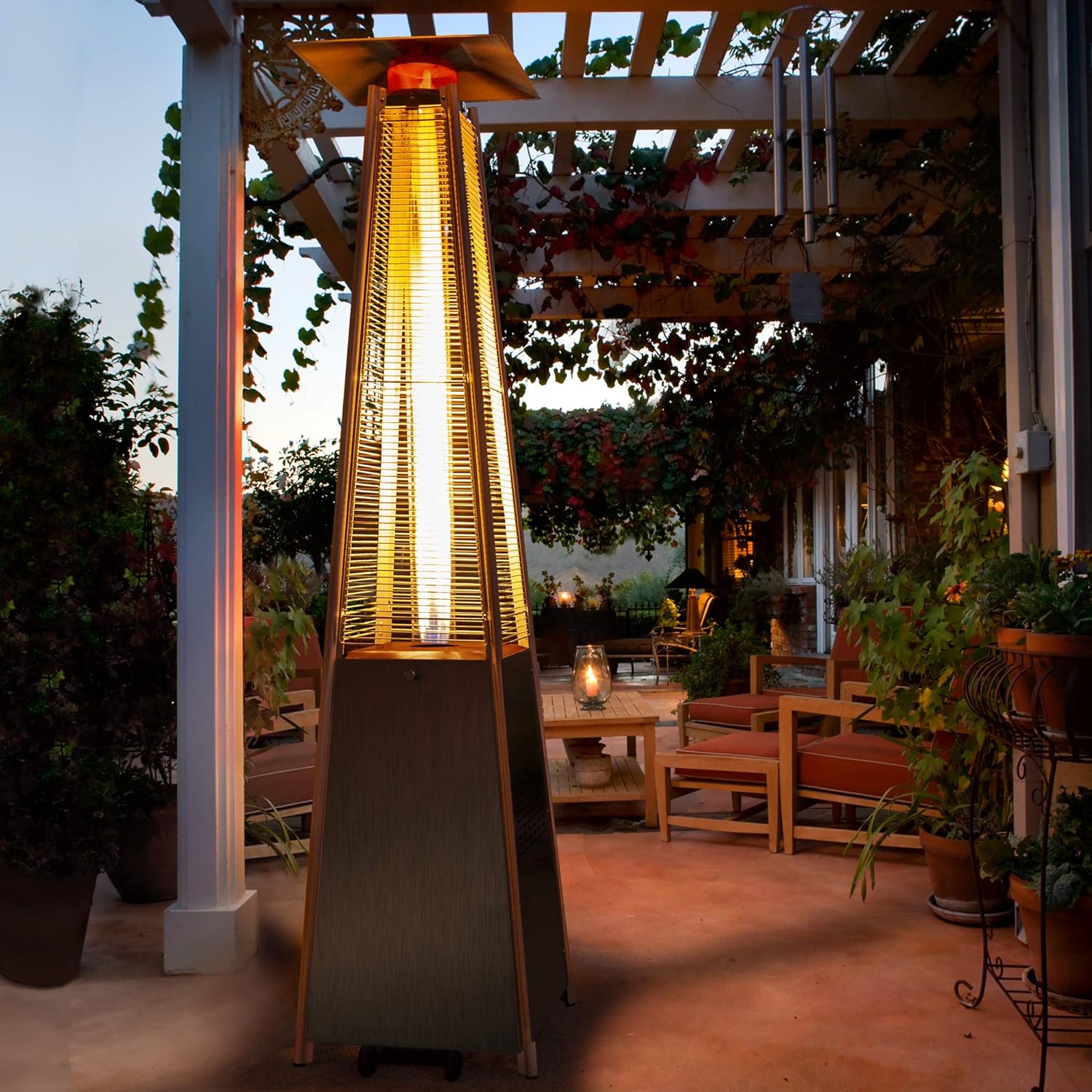 Plus, its variable heat setting and built-in control valve let you adjust the temperature to your liking.
Even better, it comes with a pyramid heater cover to protect it from the elements when not in use.
East Oak Stainless Steel Patio Heater
The East Oak stainless steel patio heater boasts a heat output of 50,000 BTUs, making it perfect for outdoor gatherings with friends or family.
Not only that, but it has a heating range of up to an 18-foot radius, making sure all guests feel the warmth and comfort!
But in addition to its heating power, the East Oak patio heater is made of high-quality 304 stainless steel throughout, making it sturdy and rust-proof for longevity.
East Oak Stainless Steel Patio Heater
And let's be real - it's also pretty sleek and good-looking.
This is the patio heater that will last you season after season.
The triple-safety protection system and anchoring arms also ensure that the heater stays stable during those windy evenings.
And what's more, the one-touch ignition system allows you to start the heater with the simple press of a button.
It's never been easier to stay warm and cozy outdoors!
Assembly is easy with the East Oak stainless steel patio heater.
Some parts are already assembled before shipping, and all you have to do is follow the instructions provided.
It's simple and hassle-free!
The Best Stainless Steel Gas Patio Heater - Overall
Winter may be just around the corner, but that doesn't mean you have to start hibernating.
With a stainless steel gas patio heater, you can enjoy the great outdoors no matter what the weather brings.
Consider investing in one of these products today!