Best Propane Patio Heater
Best Propane Patio Heater
This post may contain affiliate links so I earn a commission.
As we welcome cooler weather, having the best propane patio heater can help you extend your outdoor time without feeling chilly. 

Summer is over, but that doesn't mean outdoor fun has to end!
Not only are these heaters stylish and functional, but they also come with many benefits. 
Let's dive into some reasons why you should invest in a propane patio heater - and take a look at some of the best options out there for home and business owners alike!

What Are The Benefits Of Having A Propane Patio Heater?

So, why would you want to choose a propane patio heater over another type of heat source? 
For one, a propane patio heater keeps you warm and comfortable by providing heat that radiates all around, making it perfect for chilly nights.
It's also easy to use - all you have to do is turn it on, and you'll feel the warmth right away.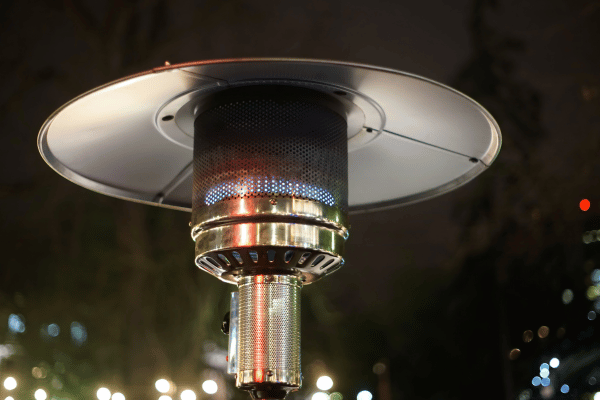 Plus, compared to traditional wood-burning fire pits, propane heaters produce no smoke, making it easier for you to breathe.

They're also versatile.
Patio heaters come in a wide range of sleek designs that complement any outdoor decor.
Whether you have a modern, classic, or rustic-style patio, you can find a heater to match.
You can also choose from various shapes and sizes that fit your space's needs and dimensions.
Not only do they look great, but they provide functional heating too.
Propane heaters require minimal maintenance, making them ideal for busy homeowners.
All you need to do is change the propane tank periodically, and you're good to go.
Unlike wood-burning heaters that require cleaning and removal of ashes after use, propane heaters save you the hassle of cleanup.
This benefit also makes it practical for outdoor spaces, since it produces no ash or embers that can cause fires or make it tough to breathe.
Last but certainly most important, propane patio heaters have various safety features that make them safe to use, even around children and pets.
There are models equipped with anti-tip safety switches that automatically turn off when knocked over, which can prevent burns and fires. 
Shopping For The Best Propane Patio Heater - Things To Consider
As the days grow shorter and the nights colder, it's natural to want to make the most of those fleeting moments of warmth.
That's where a propane patio heater comes in - these trusty devices can keep you comfortable even when the temperatures start to dip.
But with so many options on the market, how can you know what to look for when choosing the right one for you? 
Here are a few key points to consider when choosing the best propane patio heater.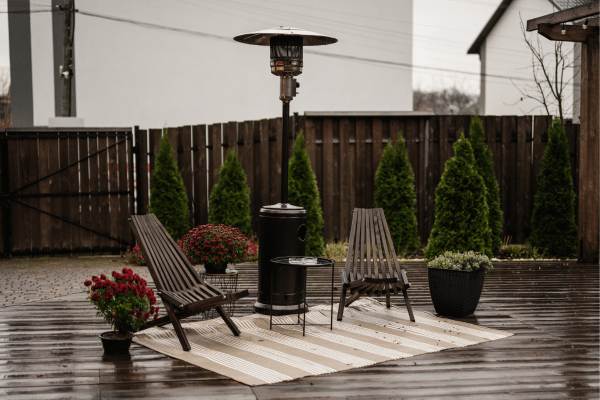 Size and Power

The first thing to consider when shopping for a propane patio heater is the size and power of the unit. 
Patio heaters come in a range of sizes and heating capacities, so you'll want to choose one that's appropriate for the space you'll be using it in. 
A small, tabletop heater may be sufficient for a balcony or small patio, while a larger, freestanding heater is better suited to a larger outdoor area.
BTU or British Thermal Unit is a measurement used to determine how much heat is required to raise one pound of water by one degree.
Heating units, like propane patio heaters, use BTUs to let us know how much heat they generate per hour, and what size space they should be used for.
Design and Style
Patio heaters come in a variety of designs and styles, so it's important to choose one that matches your outdoor decor. 
From classic, sleek models to more decorative, ornate designs, you're sure to find a propane heater that complements your personal style and really upgrades your outdoor space.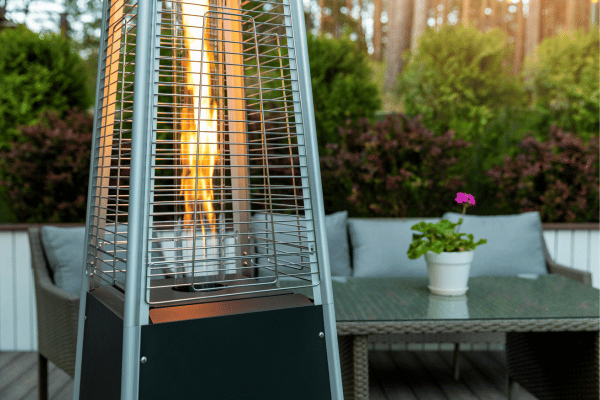 Safety Features
Safety always comes first when using propane patio heaters. 
Look for models that feature safety features like automatic shut-off valves that will turn the heater off if it's tipped over, or automatic shut-off timers that will turn the unit off after a certain amount of time.
Portability
Are you looking for a propane patio heater that you can easily move from one location to another?
If so, you'll want to choose a model that's designed for portability. 
Consider the weight, size, and shape of the unit, as well as any wheels or handles that may make it easier to move.
The Best Propane Patio Heater - Top 4 Choices
Looking for the best propane patio heater that will let you and your loved ones enjoy your outdoor spaces in comfort?
Here are our top picks.
Cuisinart COH-500 Portable Tabletop Patio Heater
Let's start with the Cuisinart COH-500 portable tabletop patio heater, which is perfect for those who want a small yet powerful heater.
It has a powerful output of 11,000 BTUs, and the round aluminum heat reflector top plate helps distribute the heat effectively.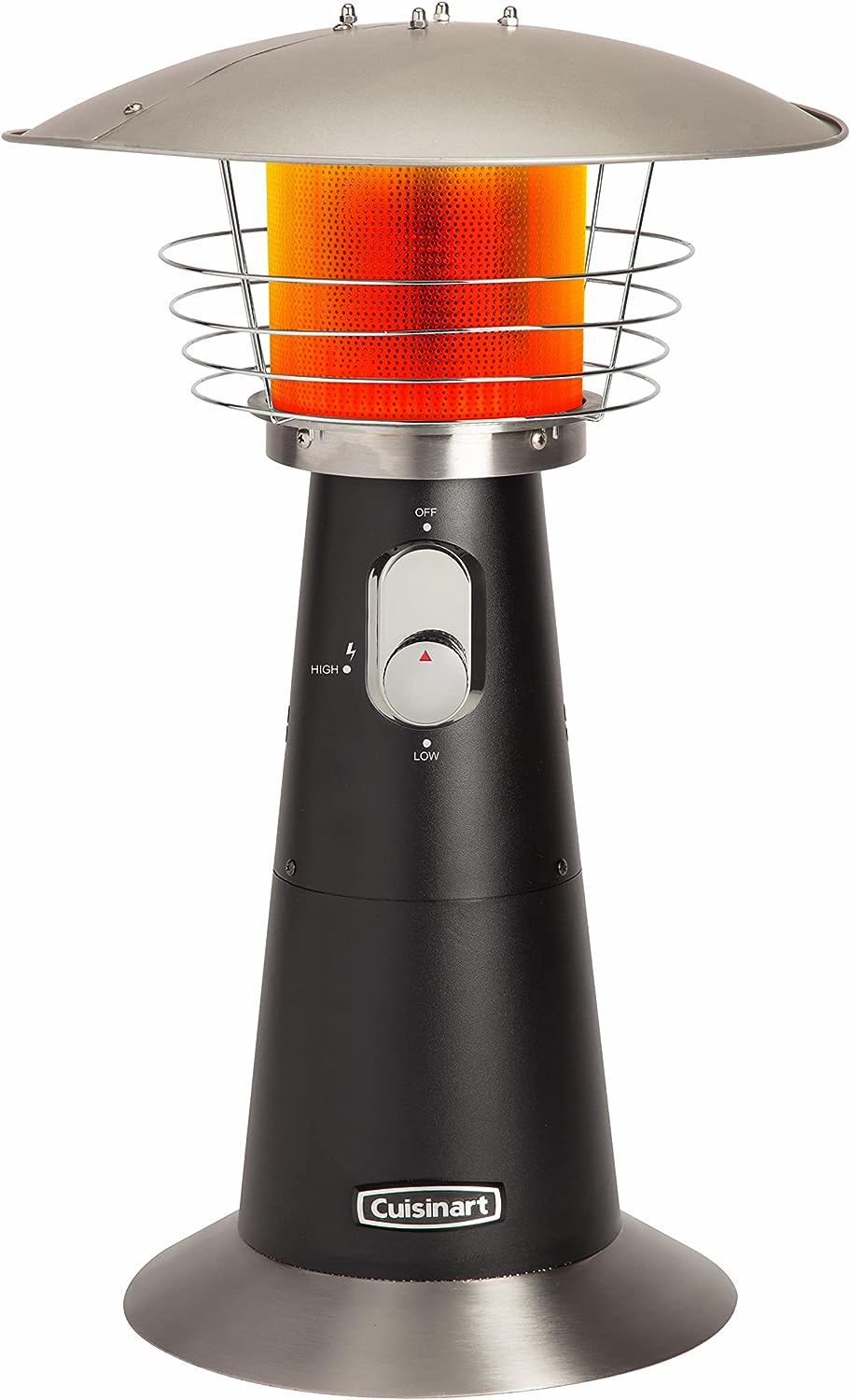 Cuisinart Portable Tabletop Patio Heater
Despite its small size, it can easily warm up your immediate surroundings, such as your patio table.
It also has a rotary dial control that allows you to adjust the heat according to your preferred comfort level.
Finally, it has a safety tilt-switch that automatically turns off the heater if it accidentally tips over.
That's a huge plus for families with pets or small children in particular!
Amazon Basics 46,000 BTU Outdoor Propane Patio Heater
This affordable option from Amazon is a powerful heater producing up to 46,000 BTUs of heat and covering a 9-foot radius, making it the perfect option for home patios, restaurants or cafes. 
The heater is also designed to be user-friendly, with a one-touch ignition button, an adjustable temperature knob and wheels for maneuvering into place. 

Amazon Basics Propane Patio Heater
Plus, it features a tilt safety auto-shut off valve, water box for weighing down the base and wheel kit, and a chain to secure the tank, all of which ensure maximum safety. 
Furthermore, its powder-coated finish guarantees that it will have lasting strength and durability - something that's especially important for any kind of equipment you plan on using outdoors!
FOOWIN Pyramid Propane Patio Heater
Next on our list is the FOOWIN propane patio heater. 
This unique heater is equipped with a pulse ignition device, making it easy to ignite with just the touch of a button.
This feature is not only convenient but also safe.
With the adjustable flame size, you can control the temperature with ease.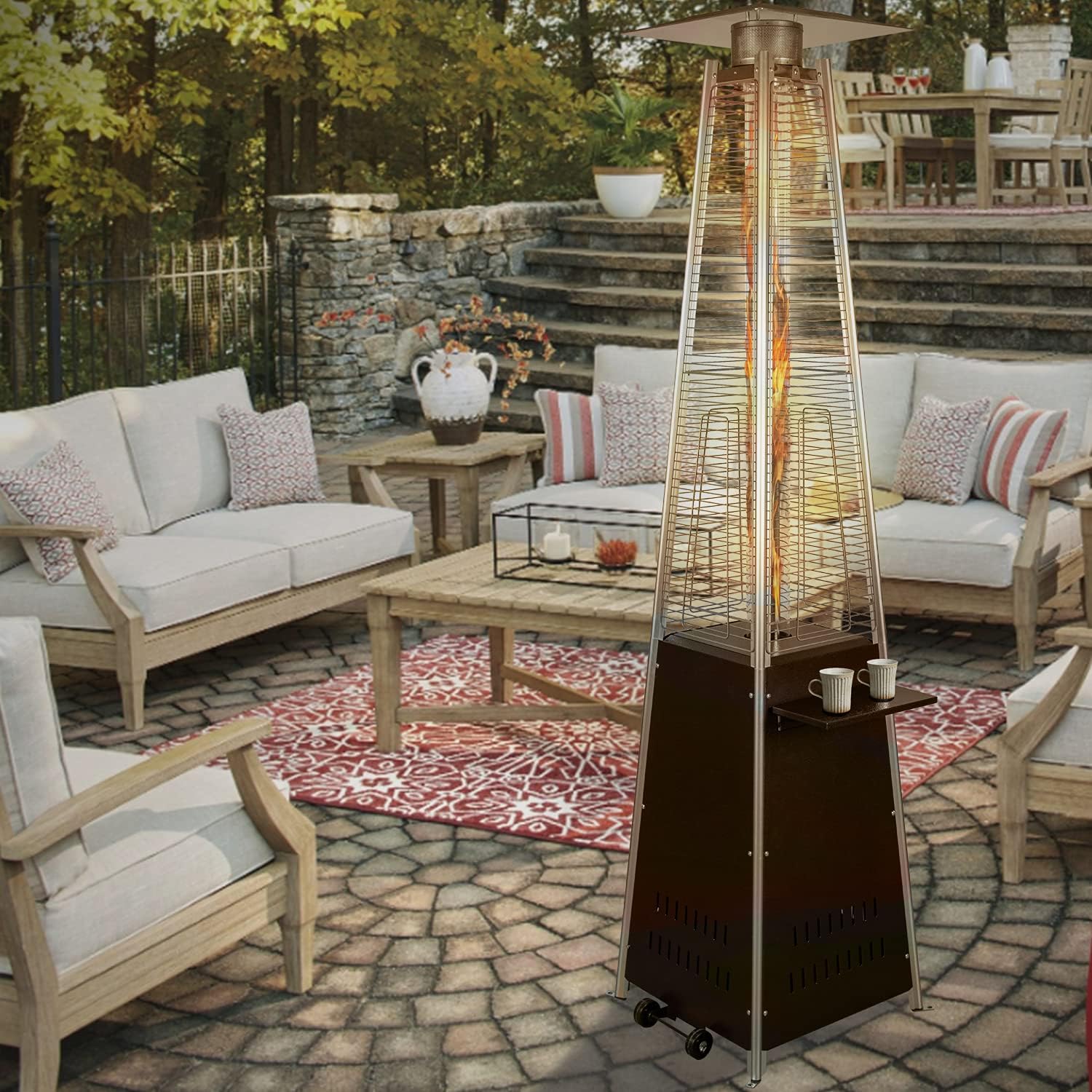 This provides the perfect atmosphere and warmth for your outdoor gathering.
This propane patio heater comes with a board that can be installed or removed.
This board provides an excellent platform for placing items such as fruit bowls, coffee cups, or even red wine glasses.
This design offers a better range of gatherings and serves to ensure that everything you need for a successful outdoor gathering is within arm's reach.
Finally, the top protective net design of the heater allows the heat to be concentrated on the top and then radiated outward to cover an area of up to 130 square feet.
This feature is impressive and provides warmth for an entire group while remaining safe and effective. 
With an option of two colors, hammered bronze and black, you can choose what complements your outdoor decor and style the best.
East Oak Outdoor Patio Heater
The East Oak outdoor patio heater boasts an impressive 50,000 BTU heating power, which can spread warmth up to an 18-foot diameter from the central heating position.
This means that you can keep everyone on your patio warm and toasty, even when it's chilly outside.
One of the standout features of this patio heater is its stainless steel double-mantle heating grid.
Unlike traditional patio heaters, this heating grid offers 304 stainless steel construction and a steel plate that increases stability and heat output.
This means it heats more evenly and is more durable than other patio heaters on the market.
The patio heater's design is also worth mentioning.
It comes with a traditional table propane tank cover, which is a great way to hide away your propane tank and keep your patio looking beautiful.
Plus, it comes in multiple colors, including bronze and white, and even has a mini size available if you have limited space.
When it comes to safety, the East Oak outdoor patio Heater has you covered.
It comes equipped with three anchoring arms that you can root into the ground to prevent it from tipping over.
It has an automatic safety valve that will shut off the gas if the flame goes out.
This ensures that you can enjoy your warm patio without worrying about accidents.
Finally, the patio heater is also incredibly easy to use.
It features a one-touch ignition system that lets you light the heater with the press of a button.
You can then adjust the heat to your liking using the control knob.
Best of all, some parts come pre-assembled, so you won't need to break out your toolbox - instead, you can start enjoying your new purchase right away.
The Best Propane Patio Heater - Overall
Remember to prioritize safety and maintenance to avoid any mishaps, and invest in a high-quality heater that can last for years to come.
By heating up your outdoor space, you can enjoy fresh air and nature year-round while staying nice, warm, and cozy.
Enjoy!