Firewood Moisture Content
Firewood Moisture Content
This post may contain affiliate links so I earn a commission.
If you want to consistently build hot, low maintenance fires, understanding firewood moisture content is a requirement.
Moisture is one of fire's worst enemies, which is why it's so important your firewood is dry if you want it to burn.
Have you ever tried to build a fire and it simply refuses to light and just smokes and sizzles?
That's a classic example of firewood that hasn't been given enough time to properly season, or dry out.
Struggling with a fire that simply doesn't want to burn can be very frustrating.....which is probably an understatement.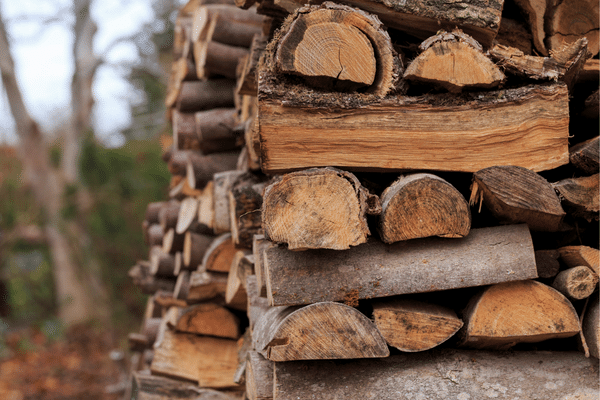 So, in order to build the perfect fire every time, it's important to understand the combustion process, along with how to dry your firewood to the proper moisture percentage so your fire lights easily, and burns clean.

Understanding The Combustion Process
Think of the combustion process as three different phases.
Phase one occurs when you place a log on the fire and the moisture inside the log begins to evaporate.
If the wood isn't properly seasoned and contains too much moisture, the log will actually steal energy and heat from the fire in order to evaporate the moisture.
This first stage is when you see the smoke and hear the sizzling coming from the log as it tries to light, but it's too wet.
Phase two occurs when the temperature starts to rise and the exterior of the wood begins to dry out.
Then, the gases released by the wood ignite and you see flames.
Although it may appear the wood itself is burning, the flames you see are actually coming from gases released from the wood that have now reached a temperature hot enough to ignite.
As you introduce more air into the fire, the flames will burn hotter with more intensity.

Phase three occurs after all of the gases have been burned off and you're left with nothing but glowing charcoal.
Can all three phases happen at the same time inside your wood stove or fireplace?
Yes, a healthy fire will foster all three stages simultaneously, creating a hot, clean burning fire. 
What's The Perfect Firewood Moisture Content?
Now that we've determined wet firewood does not burn, what's the ideal firewood moisture content for a hassle free fire?
Ideally, your firewood should be between 15-20% moisture content to burn properly.
This can be achieved by cutting firewood early in the spring, splitting it into small to medium sized pieces, and stacking it in an area that's exposed to the summer sun and wind.
Firewood that's exposed to the sun and wind will also have a far less chance of developing mold or fungus on the wood.
There's a very noticeable difference when burning partially seasoned firewood that has roughly 25% moisture content, compared to well seasoned firewood that might have 17-18% moisture content.
Even though these two percentages may seem close to each other, the drier wood at 17-18% will be much easier to light and supply noticeably more heat than the wood at 25%.
How To Determine Firewood Moisture Content
Determining how much moisture is inside your firewood is pretty easy.
The most accurate and efficient way is to simply purchase a firewood moisture meter to check the wood.
These small handheld devices are cheap, and they give you an instant reading of how much water is inside the wood.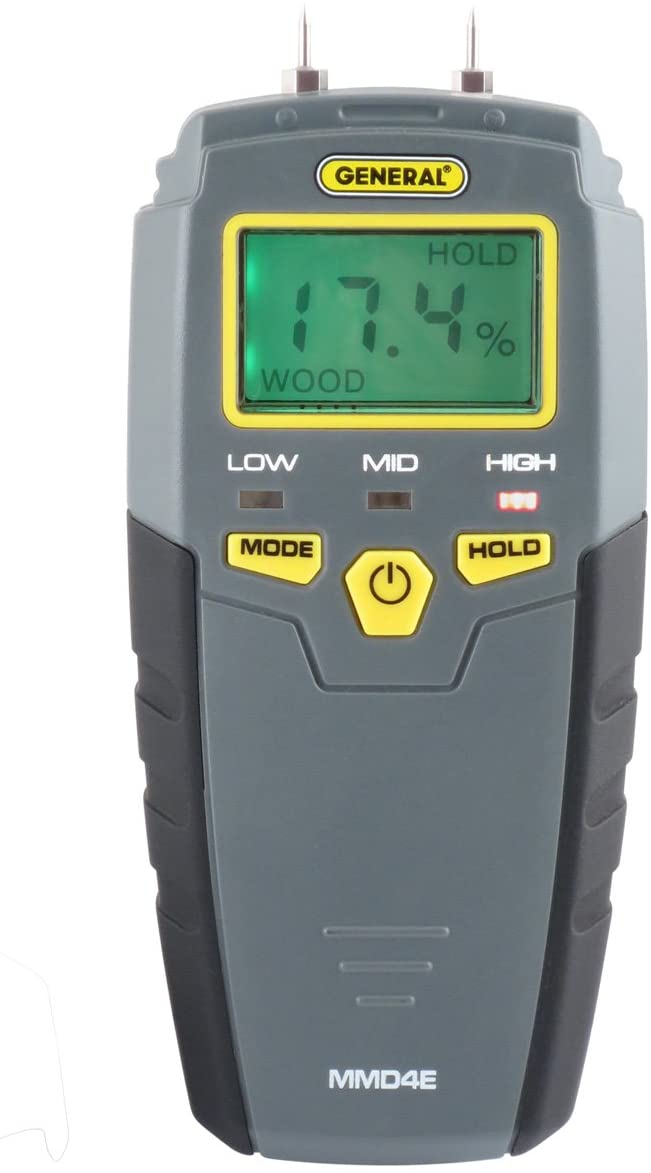 Just stick the probes into the wood, and you'll have immediate results.
If you don't want to spend the money on a moisture meter, you can learn a lot just by looking at the wood.
Dry firewood will have a dull, grey exterior with small cracks running along the ends of the wood.
In a freshly cut piece of wood, moisture can account for nearly half the total weight of the log, so a dry piece of firewood will be much lighter than a piece of green wood.
You can also take two pieces of wood and bang them together against each other.
Dry firewood will have a higher pitched ring to it, while wet firewood will create a dull thud sound.
How Long Does Firewood Take To Dry?
In general, firewood needs 6-12 months to properly season.
This is assuming the wood has been cut in the early spring, split and stacked in a location that receives plenty of sun and wind.
There are a few exceptions to this rule, such as the wood was cut too late in the year, not immediately split into smaller pieces, or stacked in a location that has poor ventilation.
Also, some trees such as oak can take up to 2 years to fully season even if you follow all of the drying steps perfectly.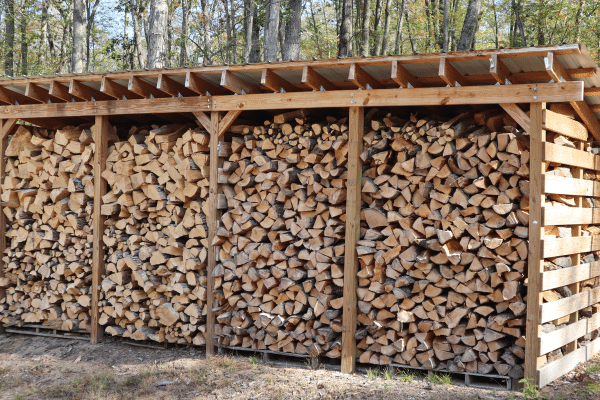 In normal climate conditions, most firewood can be cut and split in the spring, properly stored and be ready to burn in the winter.

If you're having problems getting your firewood dry, try cutting the logs at a shorter length.
Sure, it's more cutting and more handling of the wood, but logs cut at 12 inches will dry out faster than logs cut at 16 inches.
This is because moisture exits around 15-20 times faster through the ends of the wood as opposed to the sides.
You can also try splitting the wood into smaller pieces, which will burn faster in the winter, but they will dry faster in the summer.
Can Firewood Be Too Dry To Burn?
There's several different opinions on whether or not firewood can be too dry to burn.
Generally speaking no, firewood can not be too dry to burn.
Although there's always factors like elevation, climate and humidity that will effect how the firewood will dry out, it's pretty hard for any firewood that's stored outside to have a moisture content below 12-14%.
This is because the wood is naturally going to soak up moisture from the atmosphere around it.
Much of the heat generated by your wood stove can be controlled by how much wood you add to the stove.
Sure, if you overload your stove and supply the maximum amount of oxygen too it, it could become too hot and potentially damage the stove.

Today's newer EPA certified stoves generally state the wood burned inside should have at least 10-12% moisture content as a safety precaution, but again it would be very uncommon for firewood to be drier than that.
Wet firewood poses much more of a danger since it has the potential to release large amounts of creosote into your chimney.
Firewood Moisture Content - Overall
Dry firewood that contains 15-20% moisture will burn hotter, cleaner and safer than green or unseasoned firewood with a higher firewood moisture content.
If you want to effectively heat your home with firewood, follow the tips mentioned above and you'll enjoy a hot, hassle free fire that everyone is sure to love.